FILM
By Scott Renshaw
In 1971, a 25-year-old college dropout named Steven Spielberg—who at that point had just a couple of TV-series episode credits—was picked to direct an ABC TV-movie. It was an adaptation of a story by legendary Twilight Zone contributor Richard Matheson about a traveling salesman engaged in a deadly struggle with a faceless trucker on stretch of Southwest highway—a story called DUEL. Originally broadcast at a tight, taut 74 minutes, Duel has at times been referred to as the greatest made-for-TV movie ever. That ghetto-izing compliment doesn't do the film justice. The minimalist narrative allowed for all sorts of metaphorical interpretations—for example, Dennis Weaver's emasculated protagonist being named David Mann—but it's really a triumph of the kind of pure suspense filmmaking that made Spielberg a star. All he had to work with was a guy in a car and a grimy 1955 Peterbilt, and he managed to create a white-knuckle masterpiece that foreshadowed the unprecedented success he'd go on to enjoy as master of the big-screen thrill-ride. So does Duel work on a big screen? European audiences got to find out when it was released there in 1973; Americans generally haven't had the opportunity. So, as prelude to the return of Indiana Jones this summer, catch a midnight showing of the movie that launched the Spielberg legacy. And keep an eye on the rearview mirror on the way home. Duel @ Tower Theatre, 876 E. 900 South, 321-0310, March 21-22, midnight. TowerTheatre.com

VISUAL ARTS

By Brian Staker
In the exploration of our state's wilderness, there has been no shortage of iconic figures. But EVERETT RUESS has held a special place in our popular imaginations, not only because of his tragic disappearance that ended his wandering of the colorful country of southern Utah with only a couple of burros but also the eloquent accounts of his travels that were discovered after he went missing that expressed the Los Angelino's incredible affection for the red-rock territory. Also a gifted printmaker and watercolorist, Ruess met with Maynard Dixon, Ansel Adams and Edward Weston. Nearly 75 years after his disappearance at barely 20 years old, spectators of Plan B Theatre Company's The End of the Horizon, a drama depicting his family (see review), may also view woodcuts by Ruess himself that illustrate the scenery through his eyes. Done in a straightforward style typical of the 1930s, the dramatic shapes of rocks, trees and clouds create a direct yet slightly impressionistic narrative that complements his words. The last five years of his life are summarized as one spent amid profound beauty. Simultaneously, an assemblage of artworks and memorabilia from older brother Waldo and parents Stella and Christopher Ruess, as well as some of Ruess' works, are on display at Ken Sanders Rare Books. Poignant letters as well as personal objects show that there's a little of Everett to be found everywhere in this state and the spirit of those who live here. Everett Ruess Found! @ Ken Sanders Rare Books, 268 S. 200 East, 521-3819. Everett Ruess woodcuts @ Rose Wagner Theatre, 138 W. 300 South, 355-ARTS. Both through March 30.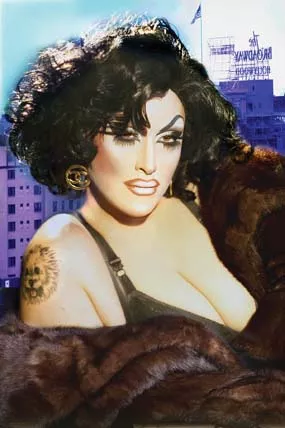 PARTY
By Princess Kennedy
The Trapp Door invites you to come celebrate four years of alternative nightlife at its ANNIVERSARY BASH featuring the unpredictable, cutting edge, burnt-sugar vocal stylings of drag superstar JACKIE BEAT. Self proclaimed "world's biggest bitch," Beat has been entertaining audiences across the U.S. and in Europe for more than 10 years with her razor-sharp comedy and hysterical song parodies. Beat not only warps hits by Britney Spears, Madonna, Cher, Mary J. Blige, Christina Aguilera and others, but she flawlessly sings her twisted new versions live—hitting every last note. Beat's stand-up has also been featured in comedy clubs across the country. The busy Beat has also appeared on TV shows (including Sex and the City and as the voice of Bertha on Nickelodeon's animated series Kung-Fu Spy Troll) and in movies (including the cult hit Wigstock: The Movie). This diva has toured with Roseanne Barr as her opening act and is lead singer of the popular electro-rock band Dirty Sanchez. The Trapp Door, located near The Gateway, is an all-lifestyles dance club. Though primarily a gay club, everyone is welcome. Also on the night's agenda, Saturday night resident DJ Tony Marinos will be spinning his booty shakin' house hits. Special giveaways and door prizes round out the night's festivities. And, of course, as always, hot go-go dancers. Come celebrate! Fourth Anniversary Bash with Jackie Beat @ The Trapp Door, 100 S. 615 West, 533-0173, Saturday, March 22, 9 p.m.–2 a.m.

Here & Now: Other New Happenings This Week
MICHAEL KODAS The Pulitzer Prize-winning reporter and photographer discusses his new book High Crimes: The Fate of Everest in an Age of Greed. Sam Weller's Bookstore, 254 S. Main, 328-2586, Thursday, March 20, 7 p.m. SamWellers.com

PRINCE BRAT & THE WHIPPING BOY The Children's Theatre presents the Utah premiere of Sid Fleishman's musical adaptation of his children's book. Children's Theatre, 237 S. State, 532-6000, March 21–April 19. ChildrensTheatreAndSchool.org

TCHAIKOVSKY'S SYMPHONY NO. 4 Guest conductor JoAnn Falletta leads the Utah Symphony program, also including Colin Currie on Higdon's Percussion Concerto. Abravanel Hall, 123 W. South Temple, 355-ARTS, March 21-22, 8 p.m. UtahSymphonyOpera.org

ENIGMAS A collaborative installation by artists Suzanne Kanatsiz and Jake Gilson. "A" Gallery, 1321 S. 2100 East, 583-4800, reception March 21, 6-9 p.m., through April 30.

JEFF DYE The winner of the 2007 Giggles Laugh-Off in Seattle headlines in Ogden, rapidly becoming Utah's funniest city (intentionally, even). Wiseguys Comedy Café, 269 25th St., Ogden, 801-622-5588, March 21-22, 8 & 10 p.m. WiseguysComedy.com

CREATE ART AT UMFA Participate in the creation of a collaborative art work with artists Sheila Pepe and Colby Brewer. Utah Museum of Fine Arts, 410 Campus Center Dr., 581-7332, Saturday, March 22, 11 a.m.–4 p.m. UMFA.Utah.edu

HARDBOILED BOOK CLUB Begin a planned monthly discussion of pulp, crime fiction and graphic novels with Jess Walters' The Zero. Sam Weller's Bookstore, 254 S. Main, 328-2586, Tuesday, March 25, 7 p.m. SamWellers.com

ABOUT LOVE The Transfusion Hype dance company presents a program of new works in a variety of forms touching on love and romance. Rose Wagner Center, 138 W. 300 South, 355-ARTS, March 26-28, 8 p.m. TransfusionHype.com

BRANCHING OUT: KAY RYAN ON EMILY DICKINSON Ryan discusses the reclusive poet. City Library Auditorium, 210 E. 400 South, 524-8200, Wednesday, March 26, 7 p.m.