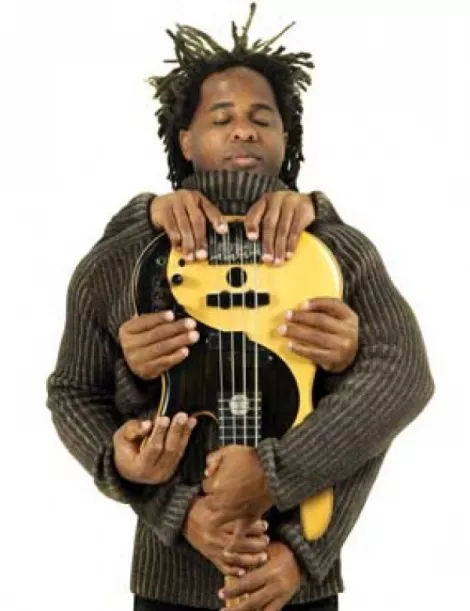 MUSIC
By Kris Heitkamp
What's that onstage? It's a musician. No, it's an electric-bass player. No, it's the six-armed Bass Hero,
VICTOR WOOTEN
!Who is he, you ask? If you haven't experienced the super power of Wooten's soul music funk, well, you're in luck. This week at The Paladium, the Victor Wooten Band is performing. Wooten plays with the Grammy award-winning band Béla Fleck and the Flecktones as well as touring with his solo group. Since learning bass at the age of 3, Wooten has been slapping a four-stringed mahogany box into life with his intense double-thumb plucks, two-handed tapping and sliding harmonics.Back in the Zephyr Club days, I had my very first Wooten encounter. I don't play bass or even own a guitar, nor do I have a subscription to
Bass Player
magazine. But that night at the Zephyr, Wooten had me at his first pluck of a steel string. I gawked, looking down from the balcony in complete amazement at his ability to draw such a variety of sounds from a bass guitar. Soon after the show began, I felt the pull of his rhythm and left my drink and date for some dancing and an up-close look at his technique. His fingers moved like fire. His soulful sound resonated. Along with being an unbelievable musician, Wooten performs a wildly exciting show. Whether you're a bass lover or not, the show will inspire the bass player in all of us.
Victor Wooten Band @ The Paladium, 415 W. 600 North, Monday, May 6, 9 p.m.
EVENT
By Trevor Hale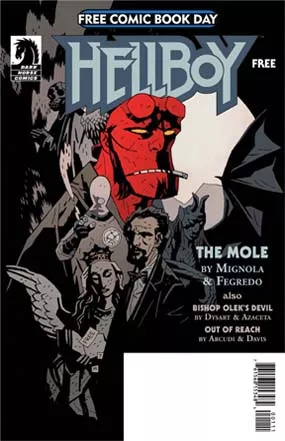 In 2001, comic-book retailer Joe Field of Concord, Calif., came up with an idea to use the huge publicity push of the upcoming Spider-Man movie to lure fans, both new and old, into comic shops. He published his idea in a comic and videogame magazine and it attracted the attention of Diamond Comics, the industry's largest distributor, which agreed to coordinate the event. Now, each year around the beginning of May (or whenever the first big comic movie opens), just about every major comic company participates and puts together a title that best represents what it has in store for the year to come.To coincide with the first big comic-book movie of the year opening this weekend (Iron Man), comic shops around the state are participating in the seventh annual FREE COMIC BOOK DAY event. Retailers are taking the opportunity to make a daylong event out of Free Comic Book Day, and many of them invite special guest creators to sign books and generally hang out with fans all day.Two of Utah's premiere shops have lined up several notable talents, so make sure you stop in to check them out. Bill Galvin of Archie Comics and Derek Hunter of Pirate Club will be signing at Night Flight's Murray location (6222 S. State) 3-6:30 p.m. Down south at Dragon's Keep in Provo (260 N. University Ave.), DC Countdown artist Chad Hardin and Mandy MacMurray from Marvel Comics Presents will be on hand to sign for fans from 10 a.m.Bill Galvin and Derek Hunter @ Night Flight, 6222 S. State, 3-6:30 p.m., May 3; Chad Hardin and Mandy MacMurray @ Dragon's Keep, 260 N. University Ave., Provo., from 10 a.m., May 3. FreeComicBookDay.com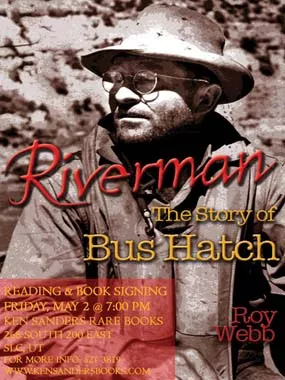 BOOKS
By Scott Renshaw
Local history comes to life most vividly when we get a glimpse not just of events, but the real-life characters behind them. ROY WEBB's 1989 biography Riverman painted just such a portrait of pioneering white-water adventurer and guide Robert Rafael "Bus" Hatch—and nearly 20 years after it first appeared, Riverman is returning to print.Webb sets up his story with simple background of turn-of-the-century Vernal, and Hatch's evolution from Jack Mormon to devout lover of the natural world. But the core of the book is a series of detailed narratives describing Hatch's growing fascination with running the West's untamed rivers—the Green, the Colorado, the Salmon—at every available opportunity. And Webb brings Hatch and his frequent companions fully to life, describing not just their experiments in outfitting their trips but some of their more endearing quirks, like spending nearly all of one expedition's funds on bottles of beer, assuming they could hunt for their food.An archivist for the University of Utah Marriott Library's Special Collections, Webb has gone on to write other books about river-runners, including Call of the Colorado and If We Had a Boat. In Riverman, his simple affection for his subject, and the precision with which he recounts Hatch's most challenging travels, turns it into something more intriguing than a mere historical footnote. Hear him share these stories in person this week.Roy Webb @ Ken Sanders Rare Books, 268 S. 200 East, 521-3819, Friday, May 2, 7 p.m. KenSandersRareBooks.com
Here & Now: Other New Happenings This Week
SARAH BURNINGHAM The author of How to Raise Your Parents: A Teen Girl's Survival Guide talks intergenerational communication and mutual understanding with lighthearted insight. The King's English Bookshop, 1511 S. 1500 East, 484-9100, Thursday, May 1, 7 p.m.
PARK CITY FOLLIES Egyptian Theatre Company presents its annual lighthearted spring skewering of life in a certain mountain town. Egyptian Theatre, 328 Main St., Park City, 435-649-9371, May 1-3, EgyptianTheatreCompany.org
CAROLINE, OR CHANGE Wasatch Theatre Company presents Tony Kushner's story of racial tension in a Jewish household in 1960s Louisiana. Rose Wagner Studio Theater, 138 W. 300 South, 355-2787, May 1-17, WasatchTheatre.com
GENESIS Provo's new Sego Art Center debuts with work by nine emerging and mid-career artists, including Hyunmee Lee, Ryan Neely and Valerie Atkisson. Sego Art Center, 169 N. University Ave., Provo, 801-599-0680, May 2-31.
BIG RIVER The musical interpretation of Huckleberry Finn and runaway slave Jim on the mighty Mississippi. Salt Lake Community College Grand Theatre, 1575 S. Main, 957-3322, May 2-17, The-Grand.org
AMERICAN FRONTIER RENDEZVOUS Costumed re-creation of 19th-century Western life, including craft demonstrations and shooting competitions. This Is The Place Heritage Park, 2601 Sunnyside Ave., 582-1847, May 2-4, ThisIsThePlace.org
JOEY MEDINA One of the "Original Kings of Latin Comedy" headlines an adult-material show also featuring Christopher "Kid" Reid and Luenell. Kingsbury Hall, 1395 E. Presidents Circle, 581-7100, Saturday, May 3, 8 p.m. KingsburyHall.org
STEPHANIE PEARL-McPHEE The blogosphere's "Yarn Harlot" shares stories from her popular knitting books, including At Knit's End. Main Library Auditorium, 210 E. 400 South, 524-8200, Sunday, May 4, 3 p.m.
EDWARD LUEDERS Utah author and World War II veteran presents his autobiographical war novel The Wake of the General Bliss. First Unitarian Church, 569 S. 1300 East, 484-9100, Monday, May 5, 7 p.m.