VISUAL ARTS
By Dallas Robbins
In the small town of Springville, you'll find one of the best museums in Utah. And now until July 6 is the
84TH ANNUAL
SPRING SALON
at the Springville Museum of Art. With close to 300 works of art in a diversity of styles and approaches, you will find something for everyone's taste: painting, sculpture, drawing, photography, mixed media, and occasionally pieces that are difficult to categorize. The annual Salon takes the pulse of the Utah art world and what artists have been up to lately, from the traditional to the shock of the new with everything in between.Included are works by established and popular artists such as Brian Kershisnik, James Christensen and Lee Udall Bennion. But you'll also encounter promising and emerging artists, such as first-place winner Justin Taylor with his beautiful and contemplative portrayal of a young woman in "Clarity at the End of Things" (pictured).Other works worth taking the trip to see include: the haunting portraits in "Nine Hooded Figures" by Jeffrey Hein; the surreal abstract recalling Salt Lake City's racist past in "Sunday Dinner at Coon Chicken Inn" by Leslie D. Pippen; and the evocative and minimalist "Sacred" by second-place winner Thomas G. Carlson. The humorous, the perplexing, the beautiful and sometimes even the ugly are represented. And if you like a piece, you might even be able to buy it—but only if you go soon.
84th Annual Spring Salon @ Springville Museum of Art, 126 E. 400 South, Springville, 801-489-2727. April 27-July 6. SMOFA.org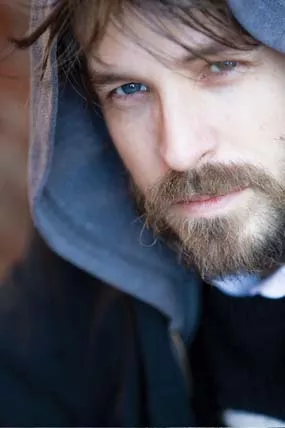 COMICS
By Trevor Hale
MATT FRACTION used to be the comic-book industry's best-kept secret. Having honed his craft on numerous indie titles like The Five Fists of Science and Cassanova, he recently graduated to the Big Time, and his talent is now on display for the world to see. Fraction has become one of Marvel's go-to guys, given the reins to just about any character they have to offer from Spider-Man to The Punisher to his new, high-profile series starring a little-known character named Iron Man. 2007 was definitely a breakout year for Fraction, as he was nominated for Eisner Awards (the comic industry equivalent of an Oscar) for Best Single Issue (Spider-Man: To Have and to Hold) and Best New Series (for Immortal Iron Fist, which he co-writes with Ed Brubaker). This year is shaping up to be just as busy with new announcements rolling in one after another.In addition to his writing, Matt Fraction is also the cofounder of ArtBomb.net, a Website designed to introduce people to the world of graphic novels. The site arranges its books by genre—ranging from romance to manga to history—or by author, in hopes that everyone will be able to find something that interests them. Local retailer Black Cat Comics has made high-profile creator appearances an annual tradition, and with Matt Fraction on his way to town, this year is no different. So get your books, and get down to the shop. Matt Fraction @ Black Cat Comics, 2265 S. Highland Dr., 461-4228, Saturday, May 8, 11 a.m.–3 p.m. BlackCat-Comics.com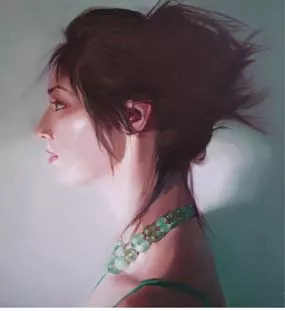 VISUAL ARTS
By Scott Renshaw
"That face, that face, that fabulous face," sings the character Leo Bloom in Mel Brooks' musical comedy The Producers. And while his statement may be a romantic confession, artist LINDSAY FREI appears to have her own take on the same sentiment.While the Pioneer Theatre Company stages The Producers on its main stage, the Loge Gallery hosts a multi-artist exhibit that also includes fine work by Lane Bennion, Jared Gillett and Zachary Proctor. But it's Frei's distinctive series of portraits that presents the most intriguing artistic vision. "Lexi" (pictured) finds Frei playing with lighting sources; "Shades" skillfully employs the negative space of a goldenrod field, the subject pinned into the lower left-hand corner from which she peers. Even more compelling is a sequence of three images grouped together on one wall, united by a unique characteristic. "Katie" portrays a defiant young woman, her wild hair covering most of her face. A hat hides the upper half of the face in "Seamstress II" while her mouth conveys a tight-lipped discomfort, juxtaposed with "Teresa's" playful smirk. In all three, Frei presents herself with the challenge of drawing personality from her subjects while denying subjects a glimpse into their eyes. And it's testimony to her skill that every one of her subjects bursts fully to life, even without the "windows to the soul." The faces are fabulous, it's true, but what makes them fascinating is that you can feel the living, breathing person to whom it's attached. Lindsay Frei @ Pioneer Memorial Theatre Loge Gallery, 300 S. 1400 East, through May 10. PioneerTheatre.org
Here & Now: Other New Happenings This Week

COME TOGETHER Get your Beatles tribute on in Park City as a Fab Faux-some performs the band's classics. Egyptian Theatre, 328 Main St., Park City, 435-649-9371, May 8-10, 8 p.m. EgyptianTheatreCompany.org
LOCOMOTION FILM FESTIVAL The seventh annual showcase for work by aspiring filmmakers age 15-19. Main Library Auditorium, 210 E. 400 South, 524-8200, Friday, May 9, 11:30 a.m.–1 p.m.
FROM THE MASSES TO THE MASSES Exhibit of folk art-influenced works by China's Yan'an Cave Artists Group. Utah Cultural Celebration Center, 1355 W. 3100 South, West Valley, 965-5100, May 9–June 18, opening reception May 9, 6-8:30 p.m. CulturalCelebration.org
DON GIOVANNI Mozart's epic interpretation of the life of Don Juan, brought to life by Utah Opera. Capitol Theatre, 50 W. 200 South, 355-2787, May 10-18, UtahSymphonyOpera.org
RIPPLETALES' HOW I BECAME A PIRATE Mary Johnston-Coursey and Rosalind Newmark use music and movement to tell a family-friendly tale. Rose Wagner Center, 138 W. 300 South, 355-2787, Saturday, May 10, 11 a.m. RDTUtah.org
SALT LAKE BRIDGE TOURNAMENT Learn the game from scratch, or match your bidding and ruffing skills against others. Marriott University Park Hotel, 500 Wakara Way, 918-8450, May 12-17, UtahBridge.com
TED KERASOTE The Utah author recounts his relationship with a found companion-animal in Merle's Door: Lessons from a Freethinking Dog. The King's English Bookshop, 1511 S. 1500 East, 484-9100, Monday, May 12, 7 p.m. KingsEnglish.Booksense.com
LAUGHTER IS GOOD MEDICINE II An evening of American Indian comedy featuring James Junes, Ernie Tsosie III and James Bilagody. Indian Walk-In Center Auditorium, 120 W. 1300 South, 486-4877, Tuesday, May 13, 7 p.m.
HARLAND WILLIAMS The actor and comedian (Half Baked, Sorority Boys) brings his stand-up stylings to Utah. Wiseguys Comedy Café, 269 25th St., Ogden, 801-622-5588, Wednesday, May 14, 7 p.m. & 9 p.m. WiseguysComedy.com