BOOKS
By Dallas Robbins
DAVID EBERSHOFF
's moving and humorous story
THE 19th WIFE
explores the unlikely lives of two remarkable characters: Jordan Scott, a 21st-century "lost boy" and hardscrabble gay man, who travels from Los Angeles back to the site of his polygamous upbringing to help absolve his mother of the murder of his father; and Ann Eliza Winters, the novel's namesake, who divorced Brigham Young and lectured against polygamy across 19th-century America.
Ebershoff accomplishes what few do in tackling the subject of polygamy: He creates complex characters with depth, along with their strengths and weaknesses that reflect the complexity of belief itself. It's easy to employ broad black-and-white strokes in dealing with the issue of polygamy, but Ebershoff approaches the facts through various techniques and styles, from secret historical documents and letters to a Wikipedia entry to memoir excerpts and the narratives of Ann Eliza and Jordan. The "truth" becomes slippery and elusive; The 19th Wife could easily be the first postmodern polygamy novel.
Despite Ebershoff's extensive research in Mormonism, he still dabbles in a few tempting clichés that reveal an unsavvy approach that Utah readers may find unintentionally funny. But the great strength of The 19th Wife comes from protagonists Ann Eliza and Jordan and the faith they explore, apropos of our political age of religious fervor. Part murder mystery, part historical mystery, the novel is a wonderfully realized portrait of American diversity. Hear Ebershoff read from the novel this week.
David Ebershoff: The 19th Wife @ The King's English Bookshop, 1511 S. 1500 East, 484-9100, Friday, Sept. 12, 7 p.m. KingsEnglish.Booksense.com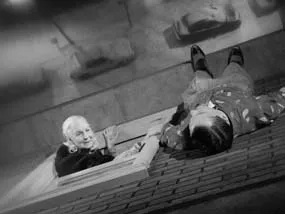 FILM
By Scott Renshaw
"Canadian" and "audacious"—you don't see those two adjectives in conjunction very often. And "audacious" as a descriptor might actually be too limiting for the sly work of director Guy Maddin (The Saddest Music in the World), a filmmaker who revels in the iconography of silent film yet employs subliminally quick editing to create something uniquely modern.

MY WINNIPEG finds Maddin lingering in the past again, but to different effect. Labeled a "documentary fantasia," the film is a snow-covered mix of Freudian autobiography and history lesson, as Maddin explores the secrets of his hometown—and his own childhood—to understand why he can't seem to leave Winnipeg behind.

How much of Maddin's "history" can be taken seriously as fact? It's hard to know, since his narration insists that his own mother is playing herself in re-creations of family events, yet it's actually actress Ann Savage as Mama Maddin. So does Winnipeg really have a sleepwalking rate 10 times greater than normal? Did a team of horses really flee into a river and wind up frozen in place? Was there really a long-running Canadian TV series called Ledge Man, about a guy who threatened suicide every day (pictured)?

The answer is that it doesn't really matter. With stylized flair (including a séance that becomes a ballet) and a wry sense of humor, My Winnipeg finds one of the 21st century's master filmmakers brilliantly exploring the myths we create about the places that created us.

My Winnipeg @ Broadway Centre Cinemas, 111 E. 300 South, 321-0310. Opens Friday, Sept. 12. SaltLakeFilmSociety.org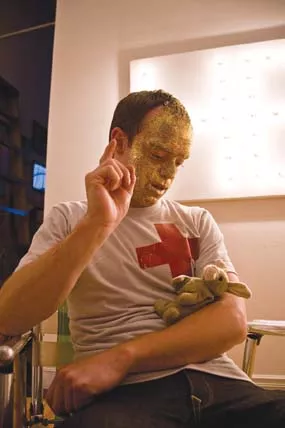 DANCE
By Jacob Stringer
The idea driving Dance Theatre Coalition's annual artistic showcase PROVING GROUND is a simple one—not to mention a particularly great one. Curated by DTC's Amy Caron, the evening comprises contemporary works specifically designed to question just about everything while pushing all sorts of boundaries—thematically, creatively and aesthetically.

Since its inception in 1997, this evening of short, multidisciplinary performance art has become a cutting-edge venue for innovative, provocative and often mind-bending premieres of local, national and international origins alike. Although in years past Proving Ground hasn't always lived up to its tremendous hype, without fail, it has always lived up to its name.

This year, local choreographers Pamela Geber, Juan Adalpe and Ashley Mott will be among those presenting work alongside out-of-town artists including Seattle's Jessica Jobaris, Provo's Jason Metcalf and San Diego-based sound artist Author & Punisher (aka Tristan Shone). As with past productions, pieces run the gamut from film, dance and theater to sound and hybrid performance art. Tyrone Davies and Juston McBride have created a work that combines video with live theater; a piece by Salt Lake Acting Company's Michael Dorrell and actor Alexandra Harbold combines dance and theater.

As Caron herself likes to describe it, "This show is not for the faint of art." Simply put, this Proving Ground proves its point.

Dance Theatre Coalition: Proving Ground @ Rose Wagner Black Box Theatre, 138 W. 300 South, 355-ARTS, Sept. 13-14, DanceTheatreCoalition.org

Here&Now: Other New Happenings This Week
"WHAT I THOUGHT I SAW" An exhibit of photography exploring first impressions and preconceptions. Jewish Community Center, 2 N. Medical Dr., 581-0098, Sept. 8-26, reception and discussion Thursday, Sept. 11, 6:30 p.m. SLCJCC.org

COWBOY POETRY IN VERSE AND LYRICS Babcock Performing Readers present poets Sam DeLeeuw and Doug Brewer reading original work, plus Western music. New Little Theater, University of Utah Union Building, Thursday, Sept. 11, 7:30 p.m. BabcockReaders.com

AST DEW TOUR TOYOTA CHALLENGE Skate, BMX and FMX pros show their high-flying stuff. EnergySolutions Arena, 301 W. South Temple, 325-SEAT, Sept. 11-14. AST.com

PAGE-TO-STAGE FESTIVAL Wasatch Theatre Company presents a repertory of staged readings, full-length works and shorts, plus workshops. Rose Wagner Studio Theatre, 138 W. 300 South, 355-ARTS, Sept. 11-27. WasatchTheatre.org

A. VAN JORDAN/BEN MARCUS The Salt Lake Arts Council's 14th annual Guest Writers Series kicks off with poet Jordan and fiction writer Marcus. Finch Lane Gallery, 1325 E. 100 South, 596-5000, Thursday, Sept. 11, 7 p.m. SLCGov.com/Arts

PAGEANT Six beautiful and talented "women" compete for the title of Miss Glamouresse 2008. Egyptian Theatre, 328 Main St., Park City, 435-649-9371, Sept. 12–Oct. 18. EgyptianTheatreCompany.org

UTAH SYMPHONY: ODE TO JOY The new season—Keith Lockhart's final as Musical Director—kicks off with Beethoven's soaring Symphony No. 9. Abravanel Hall, 123 W. South Temple, 533-NOTE, Sept. 12-13. UtahSymphony.org

INDIA FEST The 22nd annual event includes the dramatic Pageant of the Ramayana, plus food, traditional music and dance. Krishna Temple, 8628 S. Main, Spanish Fork, 798-3559, Saturday, Sept. 13, 4 p.m. UtahKrishnas.com

RING AROUND THE ROSE Repertory Dance Theatre's family-friendly series presents a morning of Brazilian drumming and dance. Rose Wagner Black Box Theatre, 138 W. 300 South, 355-ARTS, Saturday, Sept. 13, 11 a.m. RDTUtah.org