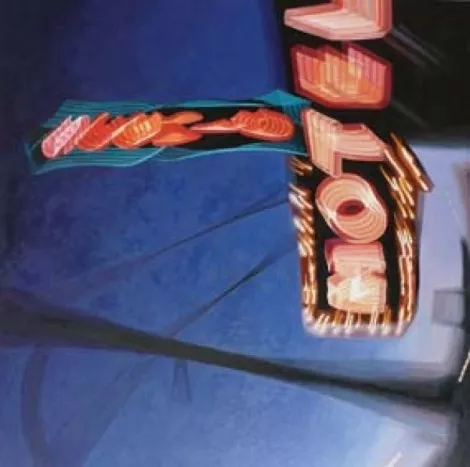 nVISUAL ARTS
n
By Brian Staker
nIn the age of digital imaging,
trompe l'oeil
(literally "trick of the eye") in the art of painting is disappearing. After all, when you can create any effect in PhotoShop, why even bother picking up a brush? German-born artist
DANIEL RAMJOUE
still takes the time to make every brushstroke count towards the final effect. And the result, viewed across the room, is the slightly blurred neon of a photograph, almost vibrating with energy—until you look close up and see that it's an oil painting, masterfully done. It's almost like two art works in one. n
Not only stunning works of art, these Signs of Life are documents of lost or fading landmarks in the nightlife atmosphere of Salt Lake City, like the Deeburger clown, Scenic Motel and Bill and Nada's Café. In the case of the long-gone Deeburger emissary, Ramjoue built a scale replica as a model to paint. What emerges from his painstaking labor is a sense of place unlike anything local artists have created recently, but also a transformation of these mundane signposts into something transcendent, a moment in space and time motioning towards something beyond itself, still alive and vibrant.
n
Capitol Hill Construction, whose office houses the gallery, is a smallish venue in which to see Ramjoue's works—but also fitting, since he utilizes an attention to detail not unlike an architect. The textures and blending of colors he brings to bear just wouldn't look the same on a computer.
n
Signs of Life: Daniel Ramjoue @ 814 Gallery, 814 E. 100 South, 533-0204, through November 30.
n
DINING
nBy Ted Scheffler
nIf I could attend but one wine-swilling event each year, it would be Deer Valley Resort's annual NOUVEAU BEAUJOLAIS FESTIVAL this weekend. Says Deer Valley wine diva Kris Anderson of the Wasatch Food & Wine Society-sponsored event, "Now in its 26th year, the festival has become a cherished occasion."
n
It's an event you don't want to miss: an over-the-top buffet of classic French fare such as cassoulet, Filet de Boeuf, escargot, rillettes, regional cured meats and imported cheeses, roasted vegetables, stews, fresh-baked baguettes and other breads and a stupendous array of desserts made in-house from executive pastry chef Letty Flatt's kitchen. But, of course, the main draw is Nouveau Beaujolais, the friendly little French red wine released on the third Thursday of each November (see Grapevine, p. 30). Deer Valley will be pouring this year's Georges DuBoeuf Nouveau Beaujolais (DuBoeuf is the undisputed Beaujolais king of France) from both the cask and bottle.
n
In addition, this year, the Deer Valley Nouveau Beaujolais Festival will also feature the 2007 Georges DuBoeuf Beaujolais Villages wine, which will give festival attendees an opportunity to contrast Nouveau Beaujolais with the step-up Beaujolais Villages, both made from the Gamay grape.
n
Reservations are required and can be made by phone or by mailing a check for $80 per person to Kris Anderson, Deer Valley Resort, P.O. Box 889, Park City, UT 84060. Guests will not receive actual tickets; names will simply be on a list at the door.
n
Nouveau Beaujolais Festival @ Deer Valley Resort Silver Lake Lodge, 435-645-6640 or 800-424-3337, Sunday, Nov. 23, 3–6 p.m. DeerValley.com
n n
SPORTS
nBy Geoff Griffin
nIn the coming week, up on the hill, a team known for putting together a double-digit win streak and going undefeated in the Mountain West Conference is taking on a nationally ranked squad—and it will have nothing to do with cleats, helmets or the BCS. The UNIVERSITY OF UTAH WOMEN'S BASKETBALL team—which ran off 22 straight wins last year, including a perfect 16-0 in the MWC—hosts Louisville, ranked No. 10 in the AP pre-season polls.
n
Last year's win streak was a notable success for the team, but success is certainly nothing new to the program run by head coach Elaine Elliot over the past 25 seasons—23 of which ended with winning records. During that time, Utah has made 15 appearances in the NCAA tournament—including a trip to the Elite Eight in 2006—while claiming over 500 wins. The 2008 team is led by All-American senior guard Morgan Warburton (pictured), who is the third of three sisters to play NCAA Division I basketball.
n
Look, nobody's claiming this is anywhere near as big as a certain contest that will take place at the U Saturday afternoon. But regardless of the sport or gender, a solidly built program that has enjoyed success over a long period of time deserves honor in its own right. Besides, if you can't afford scalped tickets to get in to Rice-Eccles on the weekend, Tuesday's entry fee into the Huntsman Center tops out at $5.
n
Utah Women's Basketball vs. No. 10 Louisville @ Huntsman Center, 1825 S. Campus Dr., 581-8849, Tuesday, Nov. 25, 7:30 p.m. UtahUtes.CSTV.com
n n
Here&Now Other New Happenings This Week
n
WESTERNS OF THE WORLD INTERNATIONAL FILM FESTIVAL The spirit of John Wayne evoked in cinema from Japan to Russia to the U.S. of A. University of Utah Post Theatre, 245 Ft. Douglas Blvd., Nov. 20-23, AWC.Utah.edu
n
JOYRIDE Introducing new choreography by Repertory Dance Theatre dancers Chara Huckins-Malaret, Aaron Wood and Nicholas Cendese Rose Wagner Center, 138 W. 300 South, 355-2787, Nov. 21-22. RDTUtah.org
n
BACKYARDIGANS LIVE! TALE OF THE MIGHTY KNIGHTS The Nickelodeon TV characters embark on a musical mission to entertain your family. Capitol Theatre, 50 W. 200 South, 355-2787, Nov. 21, 7 p.m.; & 22, 11 a.m., 2 p.m. & 5 p.m., ArtTix.org
n
THE MUSIC MAN There's trouble, right here in Park City, with a capital "T" and that rhymes with "E" and that stands for … Egyptian Theatre Company, 328 Main St., Park City, 435-649-9371, Nov. 21–Dec. 28, EgyptianTheatreCompany.org
n
THE BLACK HOLE OF UTAH COLLECTORS: STAN SANDERS From the pages of last week's City Weekly, a show and sale of dozens of rare items. Ken Sanders Rare Books, 268 S. 200 East, 521-3819, reception Nov. 21, 6-9 p.m., sale Nov. 22, 9 a.m.–3 p.m. & 11/23, 10 a.m.–2 p.m.
n
MARK ENGLAND The Utah artist's new oil on linen works explore images from Mexico, Germany, Italy and more. Finch Lane Gallery, 54 Finch Lane, 596-5000, Nov. 21–Jan. 2, reception Nov. 21, 6-9 p.m. SLCGov.com/Arts
n
UTAH CULTURAL CELEBRATION CENTER WINTER MARKET A showcase of local arts & crafts, plus live music and dance performances. Cultural Celebration Center, 1355 W. 3100 South, 965-5100, Nov. 22, 10 a.m.–8 p.m. CulturalCelebration.org