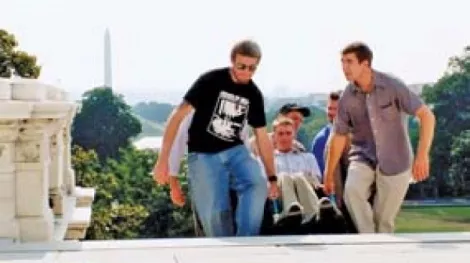 FILM
By Kris Heitkamp
Do you suffer from acute confusion regarding the Iraq war? Do you often feel anxiety over the causalities, costs and statistics? Ever feel detached from the veracity of the war? If you've felt these symptoms over the last six years, you may be experiencing IWSS (Iraq War Sheltered Shock); a severe detachment from the brutality of war. Ask your doctor if a dose of reality is right for you. Side affects may include post-traumatic stress, extreme war awareness and a blow to your ethos.
With the elections right around the corner and the Iraq war a crucial issue, BODY OF WAR provides a podium for an untold American story. Produced by Phil Donahue and Ellen Spiro, this documentary exposes the brutal narrative of Tomas Young, a 25-year-old Iraq war veteran. After only five days on the job, Young was paralyzed from the waist down but perseveres to attain a normal life and continue his pursuit of patriotism. The film offers a close-up of Young's struggle in his post-war body and his cross-country trek to raise awareness and bring home our troops. The footage hides nothing and tells all.
Body of War will be shown as a part of SLC Film Center's series RAUCOUS CAUCUS weekend of films to see before you vote. Along with special guests Phil Donahue, Michael Kirk and Naomi Wolf, there will be screenings of several short films. Each film will be followed by a Q & A with producers.
Raucous Caucus Weekend Conversations and Cinemocracy @ Rose Wagner Center, 138 West 300 South, October 24-26. SLCFilmCenter.org
COMEDY
By Randy Harward
The Utah comedy scene is burgeoning. How burgeoning is it? Oh, forget it—we have a few local Sheckys who are good at tellin' jokes. Like Last Comic Standing alums Ryan Hamilton and single-named organism Marcus. Then there's Underground Comedy Scene mover and shaker Sina Amedson (pictured), who is determed to get local comics more stage time and opportunities. Like Hamilton and Marcus—who almost won LCS—Amedson is looking to expand his horizons beyond Salt Lake City, starting with the ROCKY MOUNTAIN LAUGH-OFF (which Marcus actually did win).
The RMLO is staged by comedian and Wiseguys founder Keith Stubbs, and it showcases local and national comedians over six nights. The event stretches from Rock Springs, Wyo., to West Valley to Ogden for the finale at Peery's Egyptian Theatre. Amedson will compete alongside 16 other comics, including Seattle's Xung Lam. "He has this dry, Mitch Hedberg-y wit, really smart material," says Amedson. "Stuff that comics hate—'Goddamn it, I wish I would've thought of that!'"
After the RMLO, Amedson heads to Los Angeles to take his shot. "The film and comedy scene here is great, but you can't really go to the next level here in Utah," says Amedson. "If you wanna get steady work and get on television, you've gotta get out to Los Angeles, New York. SNL doesn't recruit from Salt Lake City. … Maybe I'll be someone's little Persian discovery. I wanna be their Aladdin. I always thought that was a true story. I haven't stopped rubbing my lamp since."
Ta-moo-am, Sina. (Go see him and find out what it means.)
Rocky Mountain Laugh-Off @ venues in Utah and Wyoming, Oct. 22-27. WiseguysComedy.com
LITERARY
By Scott Renshaw
In the digital age, the idea of a UTAH HUMANITIES BOOK FESTIVAL is beginning to sound almost quaint. But from its humble beginnings in a tent in 1998, the event continues to grow as a celebration of the local literary arts.
Book Festival events take place around the state from Oct. 22-25, but the centerpiece event takes over the Main Library on Saturday, Oct. 25. It's a chance to hear Terry Tempest Williams discuss her latest book, Finding Beauty in a Broken World. Panel discussions address "Wallace Stegner's Utah" and Stephen Trimble's Bargaining for Eden. Poets including Katharine Coles and Wanda Coleman reading their original compositions. The state's complex history is explored in lectures by the authors of On Zion's Mount and Massacre at Mountain Meadows. Children's and young-adult literature takes center-stage with authors Paul Fleischman and Sara Zarr.
But more than being a writers' festival, this truly is a "book festival." Workshops for children and adults provide "book arts" instruction, from turning pulp into your own paper to binding. Teens get a chance to create works of art from old children's board books. Even your own book treasures can join the fun, as Ken Sanders and Tony Weller examine maps, documents and texts for a "Rare Books Roadshow."
In last month's Artys issue, we called it the "Best Place to Meet Cool Literary Types." Fact is, by joining in, you kind of become one of the cool literary types.
Utah Humanities Book Festival @ Various venues, Oct. 22-25, UtahHumanities.org
Here & Now: Other New Happenings This Week
THE FUTURE OF KOREA Charles "Jack" Pritchard, Bush administration envoy to North Korea, leads a panel addressing political and economic issues facing North and South Korea. Westminster College Gore Auditorium, 1840 S. 1300 East, Thursday, Oct. 23, 7 p.m.
LITTLE SHOP OF HORRORS The horror B-movie about an unstoppable carnivorous plant that became a musical about an unstoppable carnivorous plant. Clearfield Community Center Little Theater, 140 E. Center St., Clearfield, 801-525-2790, Oct. 23-27.
RADIO HOUR: FRANKENSTEIN Plan-B Theatre Company interprets Mary Shelley's classic horror tale in the style of vintage radio productions. Rose Wagner Center, 138 W. 300 South, 355-ARTS, Oct. 24-Nov. 2. PlanBTheatreCompany.org
WAIT UNTIL DARK The Empress Theatre presents the classic thriller about a blind woman unwittingly holding criminals' drugs. Empress Theatre, 9104 W. 2700 South, Magna, 801-347-7373, Oct. 24-Nov. 17. EmpressTheatre.com.
UTAH GRIZZLIES Fresh off a playoff season, the ECHL affiliate of the New York Islanders skates at home against the Alaska Aces. "E" Center, 3200 S. Decker Lake Dr., West Valley, 988-8000, Oct. 24-25, 7:05 p.m. UtahGrizzlies.com
WITCHES' NIGHT OUT A gathering of pointy hats and broomsticks, with a parade and prize drawings. Gardner Village, 1100 W. 7800 South, West Jordan, 566-8903, Oct. 24-25, 6-10 p.m. GardnerVillage.com
ANIME BANZAI The fifth annual family-friendly convention celebrating Japanese animation, featuring guests, panel discussions and costume contests. Sheraton City Center, 150 W. 500 South, info@animebanzai.org. Oct. 24-25, 9 a.m.-midnight. AnimeBanzai.org
HALLOWEEN HIGH-JINKS CONCERT Utah Symphony's 17th annual family-oriented seasonal performance, complete with costume contest. Abravanel Hall, 123 W. South Temple, 355-ARTS, Oct. 25, 7 p.m. UtahSymphonyOpera.com
PETALBUMP From Air Supply's Graham Russell comes a youth-oriented original ballet about an encounter with the land of fairies. Rose Wagner Center, 138 W. 300 South, 355-ARTS, Oct. 27-30. Petalbump.com