Page 2 of 3
Blue-Ribbon Defense
Thomas, the Sandy Police detective, sees Marchet's "thing" in ominous tones. When he entered Marchet's two-floor Sandy condominium to arrest him for rape in 2005, the property was like "a model home," containing clubbing clothes, cologne and jewelry, a TV and a room set up for making porn. Thomas concluded that "the consumption of Marchet's life was to lure women to his bedroom and have sex with them—with or without their consent." Thomas found two spiral notebooks full of female names, including Laila's name with "in the alley" penned next to it, a reference to where she was raped. Many other names had locations as well, making Thomas believe that there are more victims to be found.
One of those other victims was then 23-year-old Jessica Campbell, who went to the Sandy Police in June 2005. Thomas took her statement that a man whom she met at a nightclub, later identified as Marchet, had invited her to his house so they could go out for drinks. When she went to his Sandy condominium, he raped her in his bedroom, biting her shoulder and repeatedly pulling her head back with her hair to force her to watch the assault in the mirror. "He was getting more violent," Andruzzi says.
Thomas called other police stations across the valley, looking for information on Marchet. In a 2004 Salt Lake City Police report of a bar-room brawl, Brooklynn Fobbs told an officer she had been raped by Marchet in 2002. Fobbs' story, and that of another Marchet victim, Melissa Person, bore strong similarities to Campbell's.
Salt Lake County Prosecutor John K. Johnson took Campbell's case and asked 3rd District Court Judge Timothy Hansen to allow him to present to the jury not only Campbell's story, but also testimony by Shauna Wallace, whom Marchet had raped in a parking lot, and Pam Collins, whom he'd allegedly assaulted in a nightclub stairwell. To do so, he cited controversial rule 404B, which allows for the introduction of evidence of prior criminal acts to demonstrate, among other things, a pattern of behavior or scheme clearly identifiable to a specific individual. But Hansen ruled against Johnson. "We need to bring this case on its own merits," Hansen told the court. To allow the other evidence in "is so prejudicial that it becomes unfair."
After the jury returned a not-guilty verdict on Aug. 26, 2005, Marchet gave his defense attorney, Greg Skordas, a blue 1st-place ribbon, although a bailiff stopped him from giving the prosecutor Johnson a 2nd-place ribbon.
Campbell's knees buckled and she fell sobbing to the floor. At the prosecution table, Thomas felt like he'd been punched in the stomach as he listened to her sobs behind him.
After Marchet's acquittal, Thomas says three other Marchet cases stalled until February 2007. That's when Lohra Miller, who recently had been elected district attorney, brought in Andruzzi to head up sex-crimes prosecutions at the Salt Lake County District Attorney's Office. Andruzzi decided to reopen the Marchet case. "Some prosecutors are totally afraid to go to court unless they know they can win," Thomas says. "Michaela is not afraid. She'll go to trial."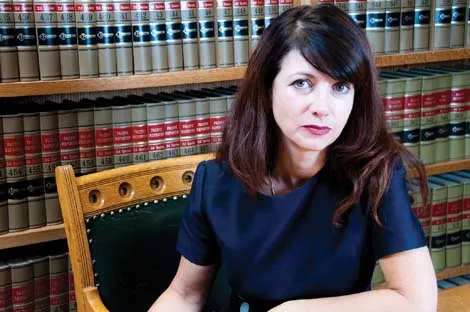 Andruzzi's passion for rape cases stems from dealing with her best friend at college, whom, Andruzzi says, was raped in the mid-'80s. In the aftermath of the assault, Andruzzi witnessed a disbelieving detective question her distraught friend, only for the charge to be dismissed as part of a plea bargain. "If I dismiss it, isn't that saying it didn't happen?" Andruzzi asks.
Andruzzi asked for all of the cases involving Marchet and spent a weekend with Thomas and a paralegal breaking down the 10 assaults he allegedly had committed into two patterns, four that took place in Marchet's apartment, six in or near nightclubs. She filed a 404B motion with 3rd District Court Judge Robert Hilder that took a different tack from Johnson's, addressing Marchet's two distinct sexual-assault schemes.
When Marchet stood trial in 2007 for the rape of Brooklynn Fobbs in his apartment, Andruzzi asked Hilder to allow the testimony of Person and Campbell, whose rapes in Marchet's apartment were strikingly similar to Fobbs'. After three hearings, Hilder ruled the jury could hear all three women.
Hilder's 404B ruling shifted the 50-50 shot at a conviction, she says, to 55-45. Rule 404B, which applies both at a federal and state level, "tries to straddle the fence of fairness to the defendant and accuracy to the system," says U of U S.J. Quinney College of Law professor Daniel Medwed. "Prosecutors shouldn't have to prove more than in other areas, but in practical matters, [in rape cases] they have to." The social stigma that surrounds rape effectively demands the prosecution stack the deck with all the evidence they can muster.
Defense attorneys, expressing concern that juries would apply such testimony to the defendant's character rather than using it to assess his modus operandi, saw it differently. "It's like a slow car wreck, watching [the testimony] accumulate in the jury's eyes," former Marchet attorney Clayton Simms says. Marchet agrees. "When you start bringing in X, Y and Z, all reasonable doubt gets thrown out of the window."
Fobbs met Marchet at Club Axis one November night in 2002. He persistently asked her to come to his house to watch a movie. Once there, she realized "he was bad news." A video-camera tripod was set up in front of a TV, and on a message board were "tons of pics of girls naked, half naked."
When he started raping her, she screamed at him to stop. "You know you wouldn't be here if you didn't want it," he told her. She blamed herself for the rape, and it took two years of counseling to understand that she "didn't deserve it and didn't ask for it." When Fobbs and several friends ran into Marchet at a club in September 2004, one of her friends accused him of raping Fobbs. Marchet allegedly broke a beer bottle over Fobbs' head.
She told police officers who interviewed her in the hospital that she wanted to press charges for the bar-room assault and the rape. Their response reinforced the doubts that kept her from originally reporting the rape. "I almost felt like they didn't believe me, that they almost questioned me. They did exactly what I thought they would do in not believing me ... I was already the victim. Why were they victimizing me again?"
No Is Not Enough
Despite Hilder's ruling, Andruzzi had to convince a jury to believe a 6-year-old case that the victim had taken two years to report and that lacked physical evidence. In that trial, as in every other rape trial, Andruzzi wanted the jury to viscerally and emotionally understand the events. "I want them to feel it, see it and smell it. They have to understand what she was experiencing and what her options were at that moment."
Andruzzi had Fobbs testify first, then Person, then Campbell. "I put my most compelling witness last. Jessica's emotions were so raw at that point after the acquittal. It was really hard for her."
Skordas, however, didn't cross-examine the 404B witnesses. Andruzzi says it was "a shrewd move, giving the impression he did not find them important."
Fobbs recalls, "Melissa and Jessica corroborated everything I said." When the jury came back with a guilty verdict, she says she and the other victims "started bawling. Finally, someone listened."
Campbell, who Andruzzi says is "the glue" that holds the other victims together, says she took comfort knowing that her trial had provided a blueprint for Andruzzi.
Prosecuting the Victim
In 2008, Marchet faced his third trial, for raping young widow Melissa Person.
Person recalls Marchet in black leather pants and a racing-car leather jacket trying to pick her up at Club Naked on July 1, 2004, where she had gone with girlfriends to dance. "I didn't want to hurt his feelings," she says. "I didn't know how to let him down."
She went to his apartment to watch a movie, in the hope that would be sufficient to placate him. Instead, he raped her twice, during which Person tried to push him off until she says she heard her dead husband's voice telling her to "stay calm so you can get home to our kids."
Person had a code-R examination at a Sandy hospital and reported the crime to the police. The district attorney's office, however, declined to press charges. Three years went by, the first of which Person spent in her bedroom battling depression, abdicating the raising of her three young children to her nanny. Then, in 2008, Andruzzi called, wanting her to testify at Marchet's trial for Fobbs' rape.
During the trial, Marchet's defense attorney Scott Wilson characterized all three women as consenting to sex, and then later feeling "scorned and used." He questioned Person about her attire and her use of makeup prior to going to Club Naked, suggesting she was interested in finding a sexual partner. "Just the name of [the club] would give you some inference of what's going on there."
On rebuttal, Andruzzi said, "I have a sleeveless top on underneath my jacket today, lipstick, high heels; doesn't mean I'm looking to get laid."
The jury convicted Marchet of rape for a second time.