Page 3 of 3
Reviving the Dead
Andruzzi and her co-counsel, Mike Postma, turned their attention to the parking-lot rapes, but hit a serious roadblock when the fourth trial victim, Shauna Wallace, initially refused to testify.
Marchet lured Wallace out of a nightclub to see his new Escalade, then flipped her around between several cars, "and the next thing I knew he was inside me. It seemed like forever."
Four days later, after the code-R examination, a female detective interviewed her, but Wallace felt she did not believe her. Several months later, a police officer called to say the district attorney's office declined to press charges for lack of sufficient evidence. "I was completely and utterly devastated. Something so awful happened to me and they could just say 'he said, she said.' "
When Marchet was arrested for raping Campbell, Wallace says she called then-assistant district attorney William Kendall, who had declined her case, day after day for three months, but he never returned her calls. Finally, she went to the district attorney's office and demanded to see him. "I made him look me in the eye and told him for an hour and a half what happened. Five days later, my case was filed." Now working at the U.S. Attorneys office, Kendall declined to comment.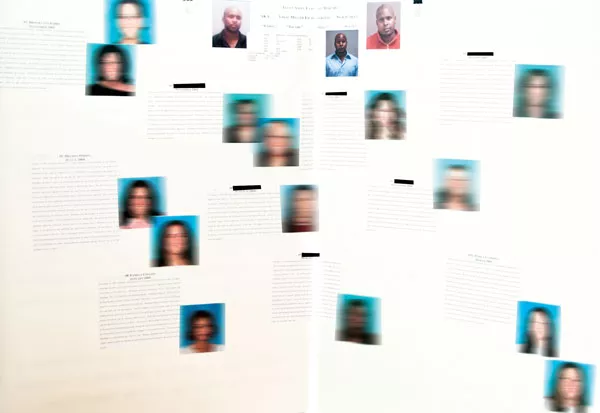 But as months dragged on and the case was repeatedly postponed, Wallace became sick of the anguish as she prepared to face her rapist in court. Finally she told a district attorney's social worker she had had enough. Postma told her she had no choice; she had to go through with it. When Wallace saw a board in Andruzzi's office, with the photographs of 11 of Marchet's suspected victims and descriptions of their rapes, "I couldn't stop crying at the realization that he did this to so many girls who don't get the chance to face him."
Clayton Simms defended Marchet for the fourth trial. "It was like trying to perform CPR on a corpse," he says. "Win or lose, he was still going back to prison." After the jury found Marchet guilty, he had to be dragged from the court by nine bailiffs.
Faith and Trust
Wallace wasn't the only victim reluctant to testify. Laila spent six years struggling to put her life back together. When she got a subpoena in the mail, she begged Andruzzi to drop the case. "We need you to help put him away for life," Andruzzi told her.
She agreed, but when she saw Marchet in the courthouse, it "felt like someone had just unlocked the vault to my deepest, darkest nightmare."
Postma's opening words to the jury of six women and three men were stark: "Don't move. I need to come." That's what Marchet told Laila, Postma said, as he first sodomized then raped her.
Marchet's lawyer, Chad Steur, assigned by Salt Lake Legal Defenders as conflict counsel for Marchet after he fired Simms, reminded the jury his client was presumed innocent and said that the sex was consensual. "Her behavior and her words indicated to Mr. Marchet—and any reasonable man—she wanted sexual intercourse and when she said no, he stopped."
Testifying were Shauna Wallace and another alleged victim, nurse Pam Collins. Collins recalled meeting Marchet at the Sky Bar in January 2005. She told the jury that after he asked for her phone number, he pulled her into a stairwell and started kissing her. "I don't even know you," she said. He flipped her around and held her arms to her side with one arm while pulling down her skirt. "I know you want it, I just want to rub it on you," she heard him say. Eventually, she got away from him and ran to her car. "He tried to rape me," she told a friend.
When Laila took the stand, her hand shook as she took the oath. She recalled meeting Marchet and giving him her home phone number because she had a "difficult time being assertive." The next week, Marchet called her a "fake-number giver" and, as she was leaving the club, pulled her aside to talk. Her friends got into her car while she went with Marchet down the street. She thought she'd tell him she had a boyfriend and that would be the end of it, but instead he told her she had "a nice ass," grabbed her by the wrists and led her down a dark alley.
She looked down, rocking slightly, as she recounted the rape. "It [hurt], very much so." She told the jury, "I was screaming 'No!' but he just continued to have sex with me."
On cross-examination, Steur asked Laila if she was flirting with Marchet when they went down the alley. "I wouldn't call it flirting," she said, although she agreed that she was going along with his advances.
Steur bent over to demonstrate the position Marchet had forced Laila into while he sodomized her, then, still bent over, asked her if that position didn't indicate a willingness to "engage in this activity."
Laila blinked back tears and angrily told Steur she was scared out of her mind and in searing pain.
"Would it be accurate to say you engaged in a sexual act with Mr. Marchet that you felt guilty after it occurred?"
"Not guilty. Dirty."
Andruzzi, on redirect, asked Laila if she ever consented. No, she replied. "I had a 6-foot-7 man who outweighed me by 100 pounds in a dark alley. I was terrified out of my mind."
Marchet declined to testify, the first time he had done so in one of his trials.
The next morning, in her closing argument, Andruzzi reinforced to the jury that, despite Laila's pleas to stop, Marchet "shoved his unlubricated penis into her anus, and we're wondering if she consented to that."
Steur, however, reminded them about the conversation after the rape that Marchet had recorded, and also suggested, again, that her failure to stand up was an indication of consent.
In her rebuttal, Andruzzi told the jury, "I guess the defendant forgot to give out a brochure on how rape victims are supposed to behave," she said. "Come on. Do we really put rape victims on trial here?"
Ghost Town

Laila waited in the largely empty courtroom for the verdict. She thought about Marchet, in a holding cell on the other side of the court wall, facing 30 years in prison for the 60 seconds he had assaulted her. "I have to live with this, in my own little purgatory. But I have my freedom. He's in a cell."
At 2:30 p.m., the jury delivered the verdict: guilty on both counts. Laila held her teenage daughters' hands, bracing herself for Marchet's rage that never came.
Afterward, the passageway on the third floor of the Matheson courthouse was "like a ghost town," Laila says. She asked to talk to the jury and waited for them to exit on the ground floor. When the elevator opened, eight people walked toward her. Several were crying, and each one hugged her. For Laila, that was the best vindication.
"It made me feel good. I was doubted for so long," she says. If she hadn't talked to the jury, "I would still be carrying around the sense that people don't believe you, that people blame you."
The jury drifted out into the gathering night. Laila lingered for a moment, not quite wanting to leave.
Then, she says, "It was like exhale, finally breathe. It felt complete." CW
Online exclusive: Below, prosecutors seek to admit evidence of past rapes in one of several rape trials Marchet faced. The document details most fully the long stretch of crimes that the government believes he committed.