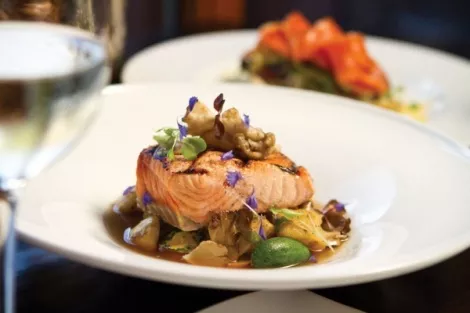 In March, I wrote an article about the new and improved dining scene at Canyons Resort, which had recently been acquired by Talisker Corp. In that piece, I touched on places like the Alpine House, Cloud Dine, Umbrella Bar, Bruges Waffles, Red Tail Grill and others, such as The Farm, which had then only been open a couple of weeks. While I enjoyed The Farm very much, I sort of gave it short shrift since it was so new.
Well, The Farm has now been in business for six months, so I thought it was time to check in and see how the place is doing. Business, according to management, has been booming. "We've been much busier than we'd anticipated," said a manager at The Farm, "so it's been a little hard to plan for staffing and such." But that's a much better problem to have than an empty restaurant. "A lot of people from Salt Lake City have been coming up for dinner," I was told.
Is The Farm worth a drive from SLC? You betcha. I was impressed by the food and service at The Farm when it was still wet behind the ears. And now that it's been operating for six-plus months, I'm even more of a fan.
One of the joys of dining at The Farm is the chance you'll get to experience top-notch service from one of the managers—Gordon Montana—and his staff. Montana has been a fixture on the Park City dining scene for years, and whenever I see him, I know I'm in for a great time. Montana is one of the few restaurant managers I know of—other than Cucina Toscana's Valter Nassi—who can get away with hugging customers. "What can I say? I'm a hugger," Montana says.
Sufficiently hugged, we strolled to a corner table at The Farm to peruse the menu and an excellent wine list, the latter compiled by Talisker Corp's sommelier and director of wine, Sean Marron. The two-sided menu is unpretentious, with one side listing "starters," and the other "mains." Starters run from $7 to $16, and mains are priced from $18 to $32.
The culinary foundation of The Farm is the use of fresh, local ingredients, the majority of which come from farms and producers located within a 200-mile radius of Park City. According to Talisker executive chef John Murcko, "The Farm is a great way for us to support the incredible local purveyors that surround Park City while also delivering a great new dining experience to our guests."
And so, it's common to spot locally sourced ingredients on the menu like Zoe's Garden honey, Gold Creek cheddar cheese, Creminelli cured meats, Nu Nooz pasta, Beehive cheese, locally foraged mushrooms, Morgan Valley lamb, Slide Ridge honey, local heirloom fruits and vegetables and more. A lot of restaurants these days give lip service to using local purveyors; the folks at The Farm seem to actually be doing it.
The housemade gravlox ($12) is a nice way to kick off a meal—cured steelhead salmon with dill and cracked peppercorns, pickled trumpet mushrooms and a tangy horseradish potato salad. And how could anyone resist a dish as simple and delicious as asparagus drizzled with olive oil and grilled, along with a poached farm-fresh egg and truffled toast ($12)? Another excellent starter is The Farm's onion soup ($8). This ain't your daddy's onion soup. It's made with roasted grass-fed beef oxtails—mmmm … marrow!—and topped with Beehive Cheese Company's Barely Buzzed cheddar cheese. It's rich and hearty enough for enjoying during a January blizzard, but I loved it just as much on a warm summer evening.
One of the more unusual "salads" I've ever come across is the "Chopped Utah Creminelli Salad" ($14). It consists of a variety of chopped Creminelli cured meats, all pressed into a round with chopped citrus olives and artisan cheeses and finished with a sage dressing. It's certainly the meatiest "salad" I've ever encountered and was very tasty. I suggest splitting the Creminelli salad, though, because a little of the rich flavor goes a long way. Finally, I can't move on to the main dishes without a mention of my favorite Farm starter, a terrine of chicken-liver mousse, made in-house with all-natural chicken and served with grainy mustard, pickled haricot verts, Riesling-soaked currants and rustic, grilled bread wedges ($16). The chicken liver was delightfully airy, light and delicious.
While Mr. Montana was telling us about how he managed to escape the Vietnam War unscathed but got shot five times as a Detroit cop, a buttermilk sous vide game hen ($26) arrived. "Getting shot didn't make me mad," said Montana. "What really made me angry was when the guy stepped on my sunglasses. That made me mad!" Madly delicious is how I'd describe the sous vide game hen (cooked in a sealed pouch at an exact temperature to ensure tenderness). The hen was marvelously juicy and served with "cracklins" made from the skin, which is removed and fried separately, then chopped and served atop the hen pieces, along with cinnamon-scented faro, Thumbelina carrots, kale, Port-soaked cherries and natural jus. Wow, this dish was killer.
Columbia River king salmon ($28) was also very good, served with hen-of-the-woods mushrooms, summer squash, sake-cured salmon roe, basil bouillon and, sadly, too few of the delectable golden potato gnocchi. A fave of my 11-year-old, not surprisingly, was the mac & cheese ($18), an upgraded version of the popular comfort dish made with Nu-Nooz maccheroni, Beehive cheddar cheese and Colosimo smoked sausage.
Fully satiated, happy and content following a tremendous dinner at The Farm, there was only one thing I still needed from Mr. Montana. "Gotta hug for me?" I asked. And he did.

THE FARM AT CANYONS RESORT
4000 Canyons Resort Drive
Park City
435-615-8080
TheCanyons.com