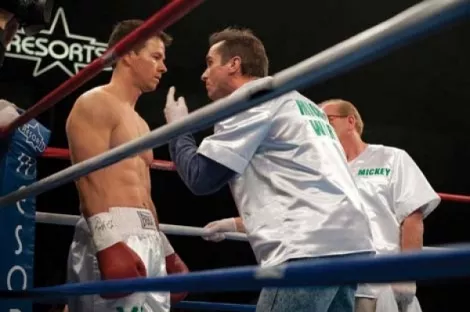 As a story about a scrappy, working-class nobody who gets an unexpected shot at the title, David O. Russell's
The Fighter
was bound to earn comparisons to
Rocky
. And the comparisons are justified—not just because of its plot, but because of its concern for quirky characters and a sense of place.
Over the opening credits, we watch "Irish" Micky Ward (Mark Wahlberg) and his half-brother, Dickie Ecklund (Christian Bale) walking the streets of Lowell, Mass. in 1993. Dickie, who once went toe-to-toe with Sugar Ray Leonard but subsequently fell into crack addiction, is being followed by a documentary film crew; Micky, still pursuing his own boxing career, has Dickie as his trainer and his mother, Alice (Melissa Leo) as his manager. But between Dickie's drug-induced unreliability and Alice's lack of connections, Micky has hit a losing streak, and a likely drift into obscurity.
Ordinarily, that would be the cue for a conflict between a kid staying true to his dream and staying true to his roots, especially once Micky hooks up with a bartender named Charlene (Amy Adams) who encourages him to look out for himself. But Russell focuses on smaller character moments, like Charlene's tense introduction to Micky's gauntlet of sisters. Sure, there's the obligatory "winning-streak montage," but the way Russell allows the story room to breathe makes its bows to genre structure feel far less conventional. And the performances—particularly Bale's sensational, motor-mouthed Dickie and Leo as the controlling Alice—get similar room to breathe.
Of course, eventually we're going to need to see Micky in the ring getting his improbable title shot. And, there's nothing overtly wrong with the fight scenes themselves; there's just nothing particularly interesting about them, particularly after the looser, funkier opening 90 minutes. Like Rocky, The Fighter understands that we need to care just as much about what happens when the hero isn't wearing a pair of gloves.
THE FIGHTER




Mark Wahlberg, Christian Bale, Amy Adams
Rated R