For being so vital to the Beehive State, the Utah Department of Transportation is an agency that's largely invisible to Utahns. UDOT is, after all, everywhere and nowhere at once, as anonymous as the 6,000 miles of roads it's tasked to keep safe and pothole-free for every Utahn who's behind a wheel or about to cross a road. Usually, the name only spills from the lips of Utahns (accompanied by an expletive) at the sight of a flashing sign warning of construction or a traffic jam around the bend.
But the agency is also a major conduit for state and federal cash, and City Weekly has learned through a number of public-records requests that millions of dollars in contracts have been paid to third-party firms that had the good sense to hire former UDOT employees and top-level managers.
City Weekly found that in multiple instances, former UDOT employees took the express lane from public service to the private sector, where they assisted their new employers in winning contracts with UDOT to help do their former government jobs.
The cost of these taxpayer-funded contracts are considerably more than what it would cost for UDOT to hire new full-time employees. In two contracts that City Weekly found, UDOT paid $639,601 combined to help replace the work of four employees, whose salaries—including benefits—had totaled $307,670.
UDOT argues that it's smarter to pay more for tech-savvy and innovative contractors to come in on specific projects than to hire and train full-time staffers who might cost the state more in the long run. In a written statement to City Weekly, UDOT spokesman John Gleason says the agency's hand-in-glove work with the private sector delivers results.
"A great example of this is the I-15 CORE project, the fastest billion-dollar public highway project completed in U.S. history—and $260 million under budget," he says.
But though third-party contractors may in some cases be quicker, smarter and more creative than civil servants, firms that invest in hiring retired civil servants also seem to gain the upper hand against their competitors when bidding on lucrative contracts.
And speaking of that billion-dollar I-15 CORE Project, City Weekly also found through records requests that some of UDOT's top staff overseeing the CORE project left UDOT to join firms that then turned around and snatched up some particularly juicy contracts worth more than $5.4 million combined.
While the major dollars passing from UDOT to contracts involving their former employees can raise eyebrows for taxpayers, the practice is not illegal, and UDOT says the contracts have all followed state and federal guidelines. UDOT, like any state agency, operates in a political climate that emphasizes smaller, leaner government working with the free market and not against it.
But for David Irvine of Alliance for a Better Utah, a political-ethics advocacy organization, taxpayers should be concerned about civil servants forming close ties with private companies.
"I don't know specifically what UDOT represented to you, but I can imagine that it would be some kind of explanation that 'in the long run this saves money and blah blah blah,' " Irvine says. "But basically what this is about is a way for people who leave government to continue to earn [in the private sector] by playing off the expertise and the information they were privy to as government employees. That ought to raise a question as to whether there is some influence-peddling going on."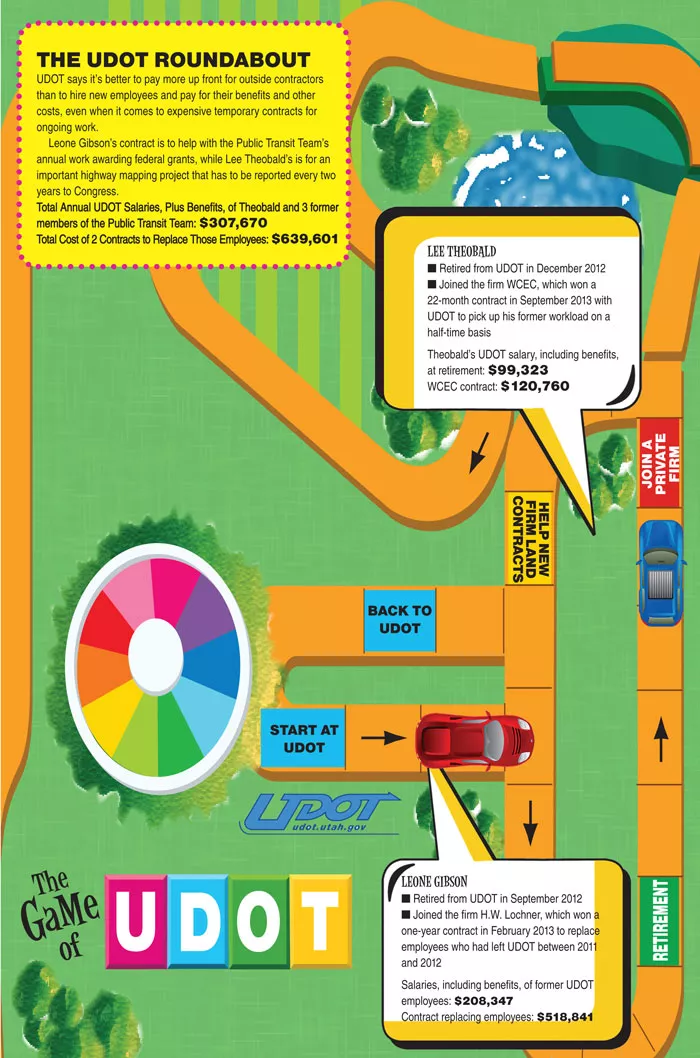 Retirement Roundabout
As City Weekly reported in September 2013, UDOT has an informal policy of deciding that contract work ought to, in some cases, replace the work of employees whose positions with the agency could be upended by a sudden fluctuation in federal cash.
Before her retirement, Leone Gibson was the head of UDOT's Public Transit Team, which administers federal funds to state public-transit projects. After retiring in September 2012, she was hired by H.W. Lochner—a firm to which she'd awarded a $149,769 contract in 2012, according to public records.
Gibson helped H.W. Lochner with its pitch for a UDOT contract to do the work of Gibson's former assistant, who had also left the agency and had been making a salary of $39,707 (not counting benefits). Lochner won the $518,841 contract, and Gibson not only came back to UDOT full-time as part of the contract to replace her former assistant, but also got an office there, where she resumed work assisting the Public Transit Team in awarding federal grants.
Gibson had not responded to requests for comment by press time.
Though UDOT told City Weekly in September 2013 that the contract was to replace the work of Gibson's assistant, UDOT said in response to questions for this story that the contract was to replace Gibson's assistant and two other employees who had left the Public Transit Team, including one who left in 2011 and was never replaced.
"Through contracting, UDOT significantly reduces risk and has the ability to modify or cancel a contract if federal funding fluctuates significantly or if the contractor is not performing," UDOT spokesman Gleason wrote in an e-mailed response. "For example, in the public-transit department, there has been significant turnover, which creates challenges that make it more difficult to manage a project of this nature and complexity, and ultimately impacts the quality and service provided to the public."
Paying half a million dollars for one year of contract work to replace lost staff was, Gleason says, the best fit for the circumstances. The contract was flexible enough to respond to possible dips in federal funding while also efficiently delivering services. The high price tag, UDOT says, also accounts for the contractor's overhead.
In the long term, Gleason says, not having to micromanage contractors and not having to pay costs like holiday pay, sick leave, overtime and other benefits just makes outside help a better alternative to hiring new staff.
Two others who left UDOT in 2012 were also hired by private firms that went on to nab contracts aiding the departments that the individuals had called home when they were state employees.
Steve Nielsen, who was active in construction engineering for UDOT, retired on June 15, 2012. Less than two weeks later, he was included on a $103,033 contract for the firm Stanley Consultants and was approved June 21, 2012, to do the same work he'd done when he was a state employee.
Lee Theobald, a planning engineer, also said adieu to UDOT in 2012, only to come back later that year, working half time as part of a 22-month, $120,760 contract with WCEC Engineers.
These two firms were selected out of large pools of potential bidders from two different areas of expertise—construction engineering and planning. Qualifying firms are placed in the pool with the top three all-around most qualified candidates ranked by the agency.
In both of the above cases, Stanley and WCEC were not listed in the top three overall contenders.
Gleason says that the top three firms don't necessarily win every contract; other qualified bidders might be best suited to certain contracts. The selection for a specific project is an "entirely different process and the rankings in the pool were not relevant," he says.
Angela Richey, spokeswoman for Stanley Consultants, says that Nielsen was an excellent addition to their team. "Yeah, we have a few former UDOT employees," she says. "They are great to have on your team."
A representative for WCEC did not return comment for this story.
Richey says that not every former UDOT employee is fit for contract work, but that skilled candidates who know UDOT's standards make good employees. She adds that all "the leaders in the industry" have former UDOT employees on staff.
"From a business-development perspective, it certainly brings value to your team," she says.
Rep. Johnny Anderson, R-Taylorsville, the chairman of both the Legislature's House Transportation Committee as well as the appropriations committee that's responsible for funding transportation in the state, says there is nothing wrong with former state employees working in the private sector. When it comes to laws covering government procurement, he says, the only concern is making sure that a state employee doesn't work to secure a contract for a future private-sector employer while punching the clock for the state.
Gleason says that in all the cases of the retired employees detouring into private firms and then coming to work at UDOT, there were no attempts by any outgoing employees to set up their own contracts while still working for the state.
That includes some former UDOT bosses who have left public service and taken the express lane straight to top positions in the private-transportation game.
Road Warriors
The Interstate 15 CORE project was hailed in 2009 as exactly the kind of "shovel-ready" project that federal stimulus dollars were meant to invest in to get people back to work in the wake of the recession.
But in 2010, it was revealed that the agency had changed its mind on the $1.1 billion construction contract it had awarded to a company, and had taken it back and given it instead to a company that had generously donated to Gov. Gary Herbert's re-election campaign. UDOT quietly settled with the losing bidder for $13 million and later fired the employee who'd allegedly leaked the story to the press.
Still, Herbert cruised to victory and UDOT really put its shovels to work on the project, completing it in a record 35 months.
Herbert donned an orange UDOT hardhat and vest at a January 2013 press conference commemorating the end of the CORE construction. The record-breaking speed at which the project was completed was a cause for celebration and seemed proof that the right firms had been hired for the job and that the scandal was anything but.
The project was also a cause for celebration for some of the highest-ranking UDOT bosses who had been directly involved in it.
Tracy Conti retired in 2010 as UDOT's engineer of operations, a role that put him over the agency's construction projects and just below UDOT's then-deputy chief, Carlos Braceras.
When Conti left, he joined the Pleasant Grove company Horrocks Engineers and became the project manager for an Aug. 30, 2012, contract between his new company and UDOT worth $1,030,984 to study traffic patterns for various north/south corridors.
Conti also was part of another contract, dated Jan. 11, 2012, acting as "special-projects support" on a $200,000 contract to help UDOT with its statewide fiber-optics effort.
In 2010, David Nazare left his role as director of UDOT's Region 3—which covers six counties in central Utah, including Utah County, where the majority of the I-15 CORE project was focused—and joined the private firm HDR, which landed a significant contract for the state in late 2012 to study the Uintah Basin Energy Corridor.
The $907,168 study not only examined the possibility of rail, road and other infrastructure construction in the oil & gas-rich Uintah Basin, but also actively sought to survey all the potential energy resources and estimated profits by coordinating with existing energy companies in the area. Through this survey of economic potential of the basin, HDR would determine for UDOT how valuable the basin's resources are, and how much fossil-fuel profits might be able to offset the costs of building a transportation network in the area.
Dal Hawks, who left UDOT in 2011 after being tasked as the I-15 CORE project director, joined the HNTB Corporation and was listed as the company's senior project director on a 2013 contract it won to widen the lanes between State Road 76 in Tooele and 123000 South in Draper. The two-year contract is worth $3,407,454.
Neither Nazare, HDR, Hawks nor HNTB would comment for this story.
Jim Horrocks, president of Horrocks Engineers, says that former top UDOT manager Conti has been a great asset to his company, but that UDOT is very careful about contracting and requires disclosures of selection-team members about any conflicts of interest.
Though Conti may have been involved in procurement while he was a UDOT employee, Horrocks says he didn't plan anything with Horrocks ahead of time; if Conti did do contracting, it would have been for construction materials, something that Horrocks' company isn't involved in.
Horrocks also says that the transportation business is fluid, and he's probably had more employees leave to work for UDOT than vice versa.
"It's not just a one-way street," Horrocks says.
A Nimble Bureaucracy
Rep. Johnny Anderson, R-Taylorsville, the chairman of the Legislature's House Transportation Committee and the appropriations committee responsible for funding transportation in the state, says UDOT's contracting strategy has worked well so far. "The operating model that UDOT uses is that they do like to contract as much of their operation as they can while still maintaining a large enough—but still a small, nimble—workforce," Anderson says.
Anderson says that while he's not aware of the specific contracts referenced in this story, in general, contracts that plug temporary holes make more financial and administrative sense than hiring new career employees for work that might be only temporary.
Besides that, Anderson says, the private sector is often better equipped, possessing the latest technology and the know-how to use it. But in two of the examples City Weekly looked at, the work was not always that temporary, nor did it require technology not already in use by UDOT.
The $500,000 contract to pick up the slack in the Public Transit Team was for roughly a year, but was to help a very permanent function of UDOT, which is to help administer federal grant money.
It seems WCEC scored a major win when it hired Theobald. A March 29, 2012, a post on UDOT's website credits Theobald's leadership, saying that "by inspiring employees and leading with vision," he was able to unite disparate groups "into a cohesive, collaborative team." In the post, Theobald was named the UDOT Leader of the Year for building an efficient team that was tasked with many responsibilities, chief among them being "the uber-important Highway Performance Monitoring System which is tied to more than half of UDOT's federal funding."
The Highway Performance Monitoring System catalogs the conditions of roads throughout the states, and its results are reported every two years to Congress. The $120,000 contract with UDOT that WCEC won after Theobald joined the company was to help UDOT with conducting its Highway Performance Monitoring System reporting.
It's a major and ongoing task, and is one that doesn't require technology that UDOT doesn't already have. According to the 2013 contract, the firm would be using "Google Earth, Street View," "UDOT's 2012 Roadview" and updating data using Oracle—which UDOT already uses.
Public Service vs. Profit
While money in the hundreds of millions passes through UDOT, it is still a simple state agency; its office is filled with gray cubicles decorated with photos of Southern Utah, family portraits and pictures of employees' cats and dogs. Besides the profitable retirement trajectories of a few outgoing bosses, it's an agency that's filled mostly with working-class Utahns, not some debauched Wall Street trading floor with people throwing money in the air and trading on lies and deception.
But for David Irvine of Alliance for a Better Utah, the dealings of even a few should worry taxpayers when it involves millions of dollars of public money.
If a public-private partnership means too cozy of a relationship between a civil servant and a private company, the public should worry, Irvine says, about whether a state employee's interest is in making the most of taxpayer dollars or simply making the most of his or her connections for a very happy retirement.
"The concern," he says, "always ought to be if companies are receiving unusually favorable treatment because someone has the expectation that at the end of the road there will be a golden parachute for when I bail from my state position."