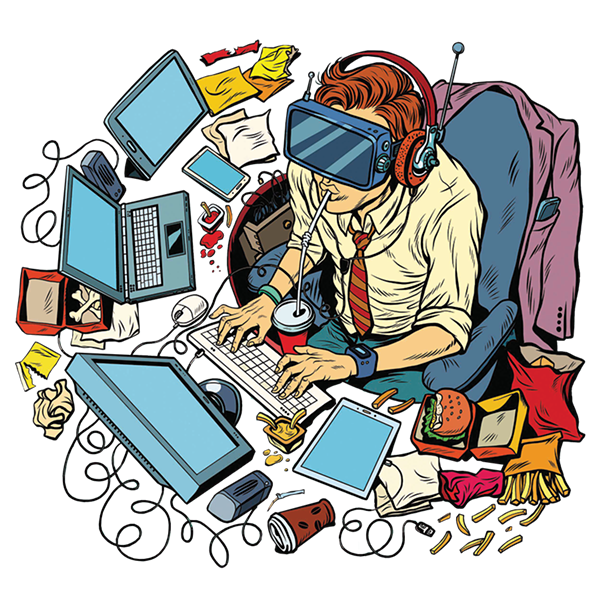 For most of my 50-plus years on this earth, most of the things I loved—comic books, genre movies, theme parks, role-playing games—made me a weirdo. You found support in whatever pockets you could, but the world seemed to be built for those a bit less interested in fantasy, a bit less imaginative, a bit less ... geeky.
In 2019, the geeks have practically inherited the earth, from the omnipresence of the digital world to the box-office behemoths based on super-heroes and galaxies far, far away. In Utah, the annual FanX convention has become one of the state's largest events—not surprising, considering the 2014 designation by the real estate website Estately that Utah was the "nerdiest state in America." We can't get enough of fantastical worlds; love of those worlds can practically define who we are.
City Weekly's first-ever Geek Issue is a celebration of the people and organizations that make Utah such a distinctive haven for those with a geek sensibility. Within you'll find an interview with FanX's founder, profiles of people who have turned their nerdy loves into livelihoods and personal stories about letting the geek flag fly, along with a look at the many different local gatherings of fan communities. There's no more need to feel like a weirdo. Your tribe welcomes you.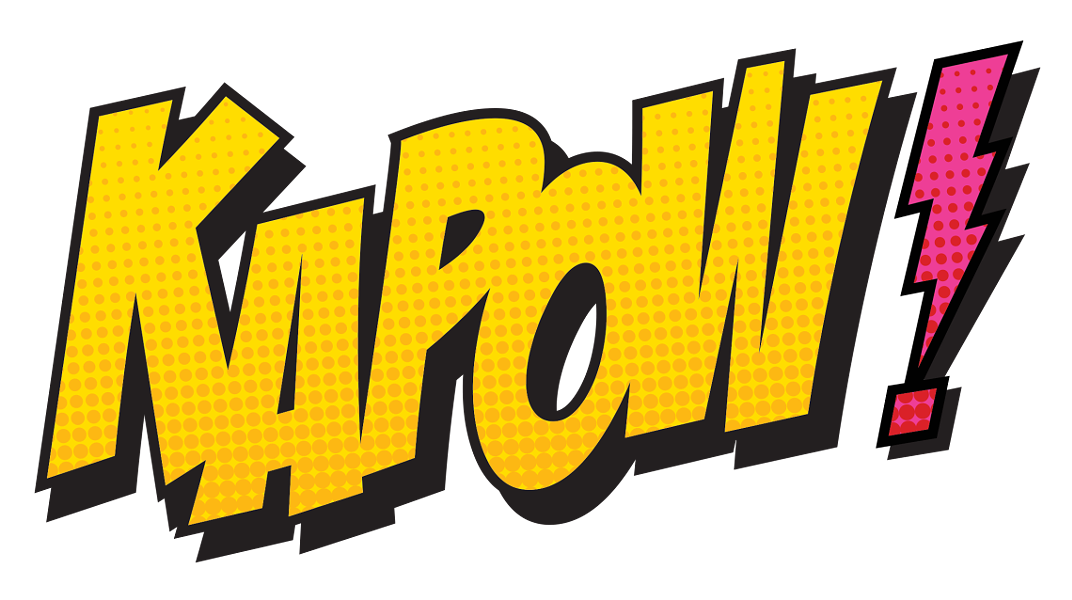 —Scott Renshaw,
Arts & Entertainment Editor

---
Geek Family
The panelists of Geekshow Podcast feel the impact of creating a true community.
By Scott Renshaw
Mike Anderson
Clockwise from left: Rebecca Frost, Kerry Jackson, Tony Eccles, Jay Whittaker, Shannon Barnson and Leigh George Kade.
In a basement recording studio, a group of friends gathers on a Saturday afternoon in July to nerd out, and to record that nerding out for posterity—and for the entertainment of listeners. It's the home of X96 radio personality Kerry Jackson, who serves as a sort of ringmaster for the crew of Geekshow Podcast, a celebration of fandoms in all their many forms that has become a fixture not just in Utah, but nationally and internationally.
If you close your eyes and try to picture the room where such a geeky bull session might take place, you'll probably be visualizing something pretty close to Jackson's basement. Shelves on every wall are filled with action figures and models, many (if not most) still in original packaging; any space not occupied by those shelves is for movie posters. It's practically a museum of all the pop-culture stuff people have been—until fairly recently—mocked for loving.
Around the recording table, Jackson gathers with his fellow panelists—Shannon Barnson, Leigh George Kade, Rebecca Frost and producer "Quad T" Tony Eccles—to deal with preliminary business before they get down to recording; comedian Jay Whittaker, one of the regular Geekshow crew, was unable to make it due to flight delays returning from gigs in Texas. They'll record three episodes on that day, and the order in which they might choose to record them is complicated by the fact that the San Diego Comic-Con is going on at that very moment, and they might want to include breaking news. You can't be a Geekshow Podcast without acknowledging the information coming out of America's largest pop-culture gathering—and after all, being part of a bigger geek community is what this thing is all about. It's practically a family. And it's a family that, like all families, sometimes has to deal with heartbreak.
The origins of Geekshow Podcast trace back 20 years, to an informal gathering that would occasionally take place during X96's morning Radio From Hell show, where Jackson is one-third of the regular host team with Bill Allred and Gina Barberi. On some days when Allred was on vacation or otherwise not present for the show, Jackson would invite several of his friends onto Radio From Hell—including Barnson, TV critic Scott Pierce and film critic Jeff Vice—to turn the broadcast into a conversation about comic books, movies, TV, games and the like.
"We'd have different rotating people now and then, [Kade] would occasionally come on when he could," Jackson recalls. "Gina loved it because she got to leave early. And we'd talk about the shit we talked about in my basement, but on the radio."
As geek culture rose in visibility in the early 2000s with popular Spider-Man and X-Men movies and the launch of the Marvel Cinematic Universe, Jackson approached X96's marketing department to talk about the possibility of turning their occasional morning conversation into a more regular radio show. While management wasn't interested, someone Jackson describes as "a kid in the IT department" made an alternate suggestion. "He said, 'You should do a podcast,'" Jackson says. "I said, 'What's a podcast? And when is it on?'"
With a tiny budget, Jackson and company decided to give it a try. "I didn't think anything of it, was just happy to be hanging out with my friends and talking about my favorite shit," he says. "About a year later, we took [download numbers] to management , and asked, 'Is this something the company could sell and make money off?' They said, 'This podcast was such a great idea that we had. I'm glad you took that idea and ran with it.' But they kind of half-assed it, didn't give us any more budget. And radio salespeople ... had to learn to sell it on their own. It just kind of languished while we were owned by Simmons [Media, X96's parent company before a sale to Broadway Media]. I don't think they really grasped what they had until it was too late."
Back in the basement, the Geekshow crew rattles through their regular range of arcane topics—a Netflix show starring Stranger Things' David Harbour titled Frankenstein's Monster's Monster Frankenstein; comic-book publisher apps—but are willing to talk about their own origins as geeks and the feeling of isolation they experienced. Jackson recalls growing up in small-town Utah, and getting beat up for wearing his Star Trek T-shirt to school. Finding even one friend with whom you could share those passions was a big deal. For Jackson, it was the one non-Mormon kid in his small-town Utah neighborhood in the 1970s, with whom he could bond "over Groucho Marx, Mad Magazine and Star Trek;" Kade remembers scoping out a house on his paper route that had a Star Wars AT-AT walker in the yard, "to see if there was a cool kid my age who lived there. And sure enough, there was, and we were best friends."
"You had to seek these people out," Jackson says. "There was no internet. You'd just casually see someone doodling the Enterprise or an X-wing in their notebook, and you'd go, 'Oh yeah, I know the code.'"
For many geeks in their Gen X age cohort, it took the opening of local comic-book stores to create a place where these far-flung people could gather and find friendships. "It used to be if you wanted to have that big nerdy conversation," Barnson says, "it was at the comic-book store. That was my first inkling of a geek community."
"Those were the cathedrals," Kade adds, "and church was every Wednesday [when new comics were released]."
Then came the internet, which all the panelists acknowledge has been both blessing and curse for fandom as a wider community. "We have this double-edged sword of the internet," Kade says, "where it brought us all together, and I can talk with friends in Taipei or Australia about this thing that we love. At the same time, it can be very toxic. You get this group that decides they hate Rey in Star Wars, so they rally and have this huge clarion call to lash out against this thing. That's why we're seeing this resurgence of the physical geek community. If I go to a convention, or a store that celebrates this thing that I like, I'm going to find that sense of community and that physical interaction that we don't have in the digital world."
And celebrating the things that unite them in joy is what the Geekshow crew is all about, not "gatekeeping" and deciding which fans are "real fans" and which shows or movies are the only ones worth caring about. "There's a guy I butt heads with constantly over whether Star Wars is better than Star Trek, and I'm just like, 'Dude, just be glad they're there,'" Kade says. "For that matter, let's be happy that Babylon 5 is there, let's be happy that Farscape is there. These aren't shows that I watch, but I'm so happy they're there. Because if that makes you happy, then we should celebrate those things for a few minutes."
That sense of celebration, and the authentic friendship between the panelists, are part of what has given the Geekshow Podcast a feeling of family. When the Geekshow family has been hurting, the more far-flung parts of their community—which Jackson says includes regular listeners from Scotland to Japan—have rallied to their support.
In 2015, Geekshow suffered a loss when founding panelist Jeff Vice died of cardiac arrest after a massive asthma attack at the age of 48. Then, in June of this year, panelist Jimmy Martin—who had been Vice's co-host on the locally-produced Big Movie Mouth-Off—died at the age of 37 after an accident in his home. The Geekshow Podcast Facebook page was filled with expressions of love and support, all for someone the majority of them had never met, but felt like he was part of their tribe.
"I've had personal tragedy that they've come together and helped me out with," Barnson says of the Geekshow fans. "Five years ago, within less than a year, my mom, my dad and my brother all died—and that was the same year that Jeff Vice died. I had to take care of all of the expenses. They came together and helped me out. And I just want to thank everyone again. I hope people know how much love and support we get from people."
Listeners of the show also sent financial support after Martin's passing. "We've covered a memorial here, we've covered a celebration here, we covered funeral costs, and a service for Jimmy's family in Atlanta," Kade says. "And that was all covered by fans, and there was enough money left over that we're able to donate to a good organization [SpyHop] that would have meant a lot to Jimmy."
Jackson reads a letter from a listener, following up on an interaction the listener had with them three years earlier. The writer recalled reaching out to the Geekshow crew after the death of her brother from cancer: "I remember Leigh saying that some day I'd be able to share Star Wars with my then 6-month-old son, and that I would receive so much joy in watching him play with Uncle Ryan's toys. I just wanted you to know that today was that day. He found Uncle Ryan's lightsaber and proceeded to do lightsaber battles all over the house. I had to share this with you guys. Thanks for what you do, and know that you are loved." Jackson's voice breaks with emotion as he reads.
"In my mind, when I feel like I'm going to get overwhelmed with sadness about something that we lose," Kade says, "I remember that it's the things we share with those people that keeps them with us. It's the movies we shared together, the TV shows we got together to watch."
"That's what makes the family," Eccles adds. "Maybe they are blood relations, probably not. It doesn't matter. We all come together over the things that we love, and create experiences together."






FanX Foundations
Salt Lake's geeky convention founder shares his thoughts on the event's highs and lows.
By Scott Renshaw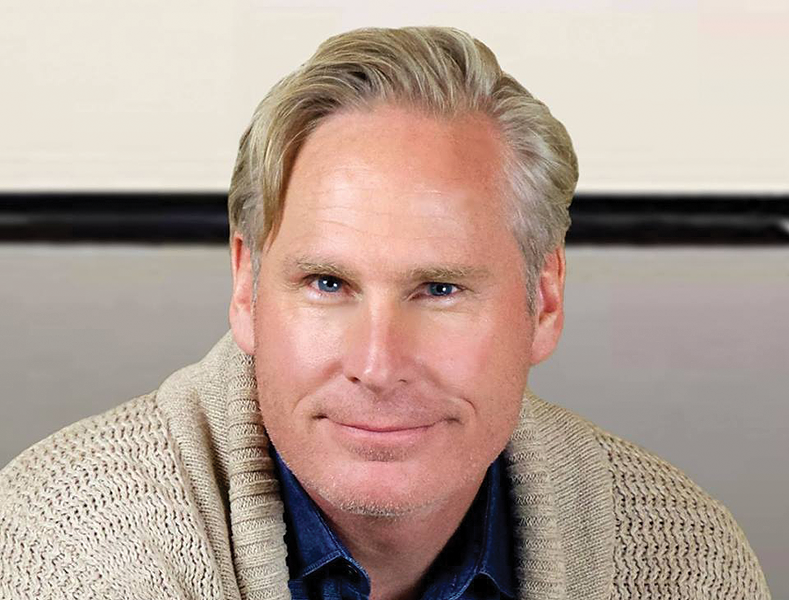 Dan Farr, founder of FanX, sat down for an hourlong conversation about the beginnings and success of the event, and the challenges that have faced it over the past two years.
CW: Before the first event, what did you see in Utah that told you this was a place that had that kind of community to support its own pop-culture convention.
Dan Farr: I am married to a fangirl, nerd girl. I didn't really understand why she wanted to buy Star Wars figurines and put up posters around the house. I always enjoyed the movies, I enjoyed Star Wars and Raiders of the Lost Ark, watched all of the Star Trek movies, but I wasn't the guy that went and bought a T-shirt because I loved the show. I didn't get into it at that level. I saw the way my wife was, and I'd heard anecdotes that when certain movies like the Harry Potter movies were released, Utah theaters were the top theaters for those movies. I just saw the evidence for that excitement. ... Originally, I started pitching to a company that would tour around and do those shows, "Why don't you do one in Salt Lake?" They said, "Well, we sent someone out there and looked, there's a nice venue for it, but we just don't think it's on the list yet of cities for us to do this." So basically, my wife and I started talking, and some friends I started talking to, and said, "You know what? Let's go for it."
What do you remember of your reaction when you got a sense for how big the first Salt Lake Comic Con was going to be?
We were thinking there was maybe an off chance that we could get to 20,000 people just starting out, but let's plan reasonably, maybe 10,000 people. What we did have that was very fortunate, is that people started buying tickets right away, which isn't typical. People like to wait until the last minute, and if they're still open that weekend, they'll go to the event; some promoters [for other conventions] would see 50-75% of their tickets sold on site. For us, to have so much early adoption was big. We started announcing a few more guests because we were confident that we'd have people there. Then as we announced more guests, more tickets would sell. Then we announced William Shatner, and it really blew up, probably doubled our ticket sales in a couple of weeks. ... It was the perfect storm that built, right up to the week of the convention.
Logistically speaking, was the first event so successful that you actually weren't really prepared for it?
I hear stories about other promoters, their favorite thing is to see people standing in a line to get in. And I just care too much for the attendees to think of that happening. It really bothered me to have people standing in the heat and the lines to get in. It was your best dream come true, and your worst nightmare.
What stood out to you in terms of the fan reaction to the first event?
This has happened later on, because at the first one I could walk around and not really have people know who I was. Since that time, I get stopped all the time, for people to thank me about what it's meant to them, just those cherished memories, different experiences. There was a dad who's got a newfound relationship with his daughter, where he sews the costumes for her. Now that's their time together, coming to the convention. ... I hear stories about people saying, "I didn't think I fit in. People didn't really understand what I was interested in. But I found a family here, to share the love of cosplay, or love of comic books, or whatever it may be." For me, when I first looked at this idea, I figured it would be like the circus coming to town: The circus comes, and then it goes. I had no concept of the community that would build up around it. No idea that there would be people who work on costumes for months or a year preparing for it, looking forward to that event. For me, that's probably been the biggest awakening, how happy people are when they're having this experience.
When the first event was a success, you dove right into having another event the following spring. Why did you decide to get so ambitious so quickly?
Well, there were a lot of factors that went into it. Because it was so successful, we had a great time doing it, and we realized the fans had a great time. And we didn't want to wait another year. So we just gave it a shot, and said "Hey, let's do another one in the spring and see what happens, let's go for it. It may be bigger, it may not, we're OK with that." So we just went full speed at it. I think because the novelty was still there, and the excitement.
Was there ever a time, as the legal battle over the "Comic Con" name with San Diego Comic-Con was playing out, that you wondered, "Are we going to come out on the other side of this?"
That process has been a huge financial strain on us. We've been able to power through it, but we're up to $3 million we've paid out to attorneys, and that's all money that we would have liked to invest back into the event. My personal resources have taken a huge hit in the process. ... I've always had the confidence that we're going to get through this, but there's definitely been times, financially being on the ropes a bit, and emotionally, it's a huge emotional toll. I don't enjoy conflict. I'm somebody who will try to work anything out before jumping into conflict with people. ... I'll have some people tell me, "I hate that event [San Diego Comic-Con] now." I don't want to hear it, or encourage anybody. If they want to go there and have a good time, and have that be the Holy Grail for them, I don't want to foster any negativity against it. It's not worth it.
Last year, there was controversy with how FanX responded to someone raising concerns about inappropriate behavior by a guest. In hindsight, how do you feel that your organization responded, and is there anything you wish you would have done differently?
Obviously, I think about this a lot. When you're going through a difficult time, sometimes you don't see the purpose of it. For us, the Community Council that's come out of this, and also our relationship with the Attorney General's office where people will have that hotline available to them, I think those two things would not have come about ... I wouldn't have even thought there would be a need for it. I have to say, I personally feel like I was blissfully unaware that there were people who had experiences at a level that they felt uncomfortable. I think the biggest issue people felt is that we as show-runners were somehow shielding people, or creating an opportunity for that behavior. If we had the Community Council, I can't say that we wouldn't have come up with the same response we gave, but if it came from an outside party rather than me, it would have been stronger than me giving that response, so that it never came across that I was playing favorites with someone. ... There's been a lot of awareness that's come out of this, so hopefully people in general have a better knowledge of respecting boundaries.
How do you feel about the fact that some people who previously were attendees or guests, at least so far, don't feel like they're comfortable back at FanX yet?
I hate thinking that people feel like they can't participate. Clearly, if there's people that feel unsafe there, that's a big problem. That's huge. ... I feel like we do have channels for people to express their concerns. Or, their feelings may be more in regard to the fact that we had that situation to begin with, and that's why they don't feel good about coming back. But hopefully, people who are seeing what we're doing feel that we are sincere and that we're making efforts that will make a difference.
Seven years in, generally speaking there's been a lot of success. What is the next step, the big dream for the future?
I think the lawsuit has hindered our ability to be what I feel like we're destined to become. We still have the appeal ongoing; if the appeal is successful, that's going to open up a lot of pathways to grow the convention the way it should. ... I'd like to see it expand within the downtown area even on a bigger level. Or potentially go to a four-day convention. I think we have a lot of potential. Each event we've gotten better, so I think we've got a lot of room to grow.
Is there a fan group that you have discovered that you maybe didn't know existed before launching this event?
I'll tell you, I'm a fan of the fans. I love seeing that star-struck moment when someone is meeting a hero of theirs. I still do the Halloween haunts, and people would see all the stuff I have, and say, "Wow, you must be a big fan of Halloween." No, I'm a fan of entertaining people, and Halloween became an excuse for doing that. And that was part of the motivation for doing the convention.

Editor's note: This interview was edited for clarity and length.


How to FanX
The insider guide on getting the most out of your convention experience.
By Scott Renshaw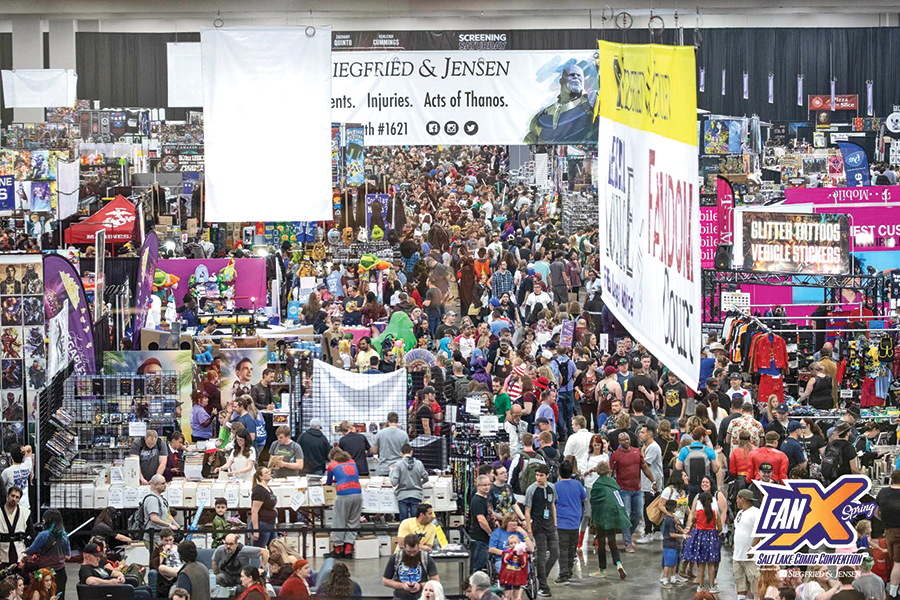 After seven years and (now) a dozen events, FanX has become a kind of Utah institution. While some attendees have been coming since Day 1, there are always newcomers learning the ins and outs of a massive pop-culture event. With the understanding that everyone's idea of a great convention is going to be different, and there's no one-size-fits-all way to do FanX, here are a few tips on optimizing your experience.


• Create a Tentative Schedule for Each Day You'll Attend. Sure, showing up and seeing where the winds carry you is one way to do things; it also tends to be a way to ensure that certain things never happen. Scout through the schedule online or via the convention app, and prioritize which events featuring the big-name guests or subject-specific panel discussions you simply must see. Can you get from the panel that ends at 11:50 a.m. in time for the guest event that starts at noon? Have you slotted a time to grab something to eat? It's best to know ahead of time.
• Be Prepared to Improvise. Sometimes, panel discussions fill up; it's just the nature of a popular, well-attended event. Have a plan B, whether it means changing the time you planned to go browsing on the show floor, or considering another panel that was a slightly lower priority.
• Make Use of ZipQ. Depending on what kind of ticket you purchased, you have the ability to schedule a certain number of slots in a reserved, near-the-front seat for events in the Main Ballroom with the ZipQ system. The kiosks are located on the main level of the convention center. While VIP get unlimited use, Gold or multi-day passholders get only one or two, respectively, over the course of the three days—so choose wisely.
• Consider Your Food Options, and Your Budget. It's never cheap to eat at big events. Fortunately, you have options beyond the eats in the Salt Palace itself, including the food court at City Creek and the range of food trucks that generally line West Temple. Consider eating at off-peak times to avoid long waits, and be sure you've planned for the cost.
• Support Local Artists. Celebrity guests and booths full of cool merchandise are understandable draws for FanX attendees. Just don't miss out on the Artist Alley, full of local (and national) artists creating comics, paintings and other amazing work, often celebrating some of your favorite pop-culture characters.
• Expand Your Horizons. Most people go to the panels and guest Q&As for stuff they already know and love in detail. FanX is also a great opportunity to get your geek on about games, books, movies and more that you didn't know about previously, in a way that might inspire you to dig deeper. Or catch one of the panels that involve challenging conversations about representation of women, people of color, LGBTQ and disability in popular culture.
• Be Considerate. Everyone is there to have fun, and you can make it that much easier. Be patient with volunteers. Take care when moving through crowds, especially if you're in cosplay that takes up a lot of space. If you spot another cosplayer whose attire makes you want to snap a photo, ask politely. And always, ALWAYS, nobody should be touched without their consent.


Support the Troopers
Don't be fooled by the armor—the 501st Legion are the good guys.
By Scott Renshaw
For anyone who has grown up with more than 40 years of Star Wars, the white armor of Imperial Stormtroopers has been a symbol of enforcing villainy (and also maybe the need for more marksmanship training). But for nearly half of that time, one group of Star Wars fans has attempted to claim that image as a symbol of kindness and charity—or, as Erika McKinney, public relations officer for the Utah-based Alpine Garrison of the 501st Legion puts it, "bad guys doing good."
The 501st Legion traces its national origins back to 1997, when a South Carolina-based Star Wars enthusiast named Albin Johnson and a bunch of his friends started cosplaying in homemade stormtrooper armor, first going under the name of Vader's Fist. According to McKinney, the group started showing up at movies together, and Johnson launched a website which became a home for photos of other homemade stormtrooper costumes around the country. Membership swelled to the point that 200 members of the 501st marched in the 2007 Tournament of Roses Parade, in which George Lucas was the Grand Marshall.
McKinney herself has been a member of Utah's Alpine Garrison (ut501st.com)—now in its 16th year, one of the many national and international chapters of the 501st—since 2014, but traces her Star Wars fandom back much further than that. "I've been a huge Star Wars fan my entire life," she says. "When Star Wars came out in '77, my dad took us five times in a row. My husband and I, our first date was Episode I."
While the group started specifically focused on the classic white stormtrooper armor, the 501st has come to encompass cosplay as a wide variety of characters generally associated with the villain side of the Star Wars universe—officers, Imperial Guards, Sith Lords and more. McKinney notes that her own characters include Asajj Ventress, from the Star Wars: The Clone Wars animated series, and that there can be a variety of reasons for choosing a specific costume or character for a specific occasion. "Some costumes are very comfortable," she says. "Some, you don't want to walk in a parade in. Some stormtroopers can't sit down. Does a mask bother you? If so, you might want to choose something that has makeup and a hood." There are even practical considerations where some costumes have peripheral vision concerns, making it necessary for an out-of-costume "handler" to assist the costumed character with stairs and other potential obstacles.
What is consistent for the group, however, is a focus on public service, including working with groups like Make-A-Wish Foundation, Ronald McDonald House and Primary Children's Hospital. According to McKinney, depending on the time of year, the Alpine Garrison might participate in an event every week. And that's leaving aside special occasions like "May the 4th Be With You" day, when there could be more than a dozen events. "Some people call it 'The Gauntlet,' trying to do all of them," McKinney says.
It might seem counter-intuitive to have a now-iconic representation of power-hungry evil out doing charity events for children, but McKinney sees nothing strange about it. "I grew up always wanting to be a bad guy," she says. "I can't tell you how many times, when we've gone to a hospital, a child will walk right up to a stormtrooper and give them a hug. Everybody loves a stormtrooper. Everybody loves Darth Vader. There's no fear. Maybe our scariest characters aren't actually that scary."
McKinney is aware that some people think there might be a financial obstacle to getting involved in a group of this kind, if you're not someone with the funds or know-how to create your own costume. But she encourages people not to worry whether there's a way for them to participate. "A good way to get started is as handlers, or cadets, with no costume," she says. "Come and help someone in a costume, and you'll meet people and make friends. ... If they don't know how to build [costumes], we're here, we know how to help you. We have armor parties."
As for the events themselves, they're often more than opportunities to dress up. "Sometimes we can get really busy with life, and have the worst days," McKinney says. "You go to a troop event, and just forget about everything. Your heart gets so full."
Perhaps you can't judge a hero by their armor.


Running the Game
Natasha Ence turns the storytelling of being a role-playing game master into a career.
By Bryan Young
Natasha Ence remembers being 7 years old when she played her first role-playing game. Her father thought Dungeons & Dragons would be a little too intense for her, so he introduced her to Traveller, a science fiction role-playing game that came out in 1977 and is one of the more complex RPG systems out there. Together, they played everywhere.
"I remember taking all of these different road trips with my dad where we would play Traveller in the car. We used the little cup holder as a dice tray," Natasha, now 25, says. "It was great"
The role-playing adventures that began all those years ago haven't ended for Ence, but they certainly sent her down her career path. Today, she's a professional game master (or GM). Ence is based in Utah, and juggles dozens of clients and games—both in person and online—under the banner of Tales off the Table (talesoffthetable.com), the business she started to bring gaming to those who couldn't find a group or game master of their own.
This wasn't exactly the career she expected to find herself in. She wasn't quite sure what she wanted to do, but her love of gaming fostered a love of storytelling, which is why she went to college to study literature, teaching and creative writing. In 2017, Ence was in graduate school working on her Master's degree in creative writing and was teaching literature, writing and introductory English. She began looking around for something that could combine her love of gaming and her degree. That's when Tales off the Table was born.
"Role-playing is more popular than ever," Ence says, and it's hard to argue. The most recent edition of Dungeons & Dragons is the best-selling version of the game ever, and Ence has some theories as to why that demand for social storytelling games is on the rise. For one, it's part of pop culture. "Almost every comedy or retro show will have a Dungeons & Dragons episode or a roleplaying game episode where they bring it in. Community did this. Stranger Things did it. Big Bang Theory did it. It's becoming more widely recognized as a thing, so there's naturally more curiosity about it. It's to the point where I can go to the salon, and my hairdresser knows what Dungeons & Dragons is."
There's also the element of parents like Ence's who grew up on these games bringing their kids into the fold. Dungeons & Dragons has only been around since 1974, so the culture is just now seeing second and third generations that grew up on the game.
Role-playing isn't just popular, though; Ence feels that it's important. It builds communities and relationships, and seeing that idea play out with strangers through her business is a rewarding prospect to her. "Any time you're playing a game that's designed to help you cooperate, you're going to strengthen a relationship," she says. "I've always said that role-playing games are like a form of therapy. Playing them allows you to put yourself in someone else's shoes and consider things from someone else's perspective."
Ence designs her games to broaden that diversity and strengthen empathy in her players, whether they realize it or not. And she plays to that concept, righting wrongs in fiction and real life through the use of the games, taking elements from established universes and twisting them in subtle ways to help teach subtle lessons to players.
While Ence believes hers could be a valid career path for burgeoning storytellers, she also adds a caveat. While she estimates that she spends about 60 hours a week on this job, and much of it is spent gaming, there is also the logistical work that comes with running a small business. "I'm writing and I'm producing work," she says, "but I do panels and travel and do taxes and invoicing, and keeping my website up to date, and all of these other things that you don't think of when you decide you want to be a professional game master."
She has enough demand to hire more game masters, but doesn't want to. "Then what would happen," she says, "is I would transfer to the back end and I would end up just hiring and managing people and dealing with HR issues, and that's not what I want to be. So, I decided to keep my operation small, and I'm happy there."
For those who want to book Ence for a game, she has options to work with any budget and time availability. Some of her gigs are one-shots, like special events or birthday parties. There are games one could play online in a bespoke chatroom with her, stretching a four-hour game into a week so you can sneak in a few minutes here or there. She has regular openings, as well as a waiting list for her more established games that are played online. She's not limited to Dungeons & Dragons, either, running any system in any setting. And her prices are affordable. "I try to match my prices to what it would cost you to go see a movie and buy concessions," Ence says, with a typical rate coming in at $15 per three-to-four-hour online session. More than that, she'll even turn a gaming session into prose for a small fee.
But Ence doesn't play just for money, either. "I still play for fun," she says. "I just love it. I play with different friend groups for social aspects, and others to just deconstruct mechanics of games and how they tell stories. It's just part of me."
And really, that's the sort of person you want running a game for you.


Confessions of a Geek Girl
Being a female fan isn't always easy when The Fans push back.
By Rebecca Frost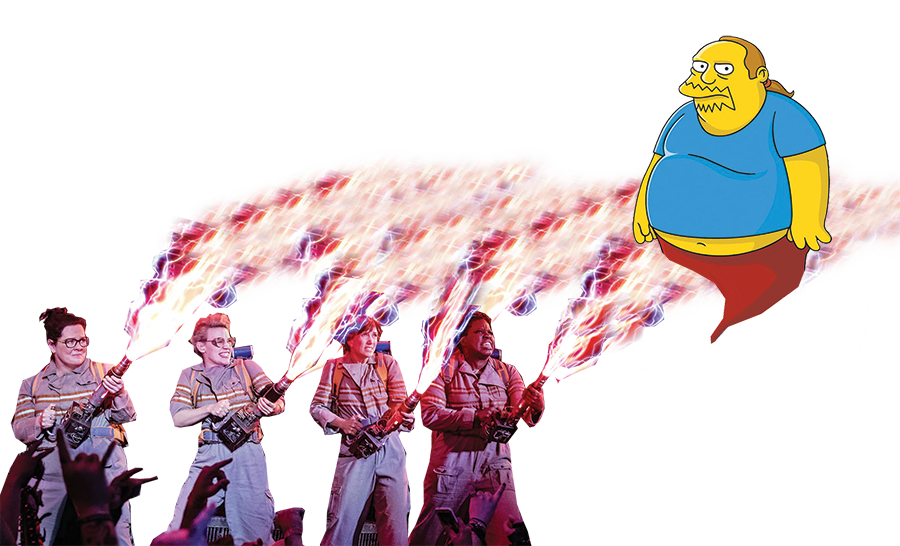 In my 30 years of being an absolute dork, I've been very lucky. I have been given opportunities to surround myself with other dorky, geeky women and friends. By surrounding myself with these like-minded people, I've been able to flourish as a geeky female podcaster in the geekiest city in the U.S.
My time has not been without hardships, though. It wasn't until I really started podcasting that I started noticing the nasty side of fandoms—and, in particular, The Fans (read: straight white men). As I would scour the internet for stories to talk about, both on "the air" and with peers, I noticed the comments sections getting meaner and meaner. The new movies and rebooted comic books that Marvel and DC were putting out belonged to The Fans and The Fans alone. If you liked it then you didn't know what you were talking about.
I was part of a Ghostbusters panel at (then) Salt Lake Comic Con the same day as the announcement of the new 2016 cast. I am a (ugh, this term) female comedian, and the announcement of comedic women accepting the leading roles was revolutionary and incredibly emotional to me. Did I know much about Ghostbusters? Not really. Did I know enough? I thought I did. Sitting on a panel stage with five other men as they shat all over the concept of a woman wearing a "heavy backpack" when instead they should be a love interest and a side character, anyway let's talk about the Ghostbusters video game ... it was the first time I felt rage over blatant, in-my-face sexism, and I didn't think I could do anything about it. After all, what business did women have in any of these things The Fans liked?
Being protective, possessive and defensive about something you love is one of our lizard-brain instincts. When that thing starts to become beloved by the rest of the world, it's easy to feel like you're losing control of the one tiny piece of the thing you love. Making fun of people for only being into things "now that they're cool" stems from this, and pointing fingers is easy when we don't have to see our reflection in the computer screen. And thus, the downward spiral that began at the comments section began to accelerate, often ending with a SWAT team at a woman's door—a woman who was just trying to create a video game. In 2014, video game developer Zoe Quinn was publicly shamed on the internet and accused of sleeping with video game reviewers. The avalanche that followed included rape threats, death wishes and a forced abandonment of a place she called home.
While I've been able to watch some of my dearest male friends go through an evolution of recognizing their toxicity toward other fans, and growing to become better people, I think every day about the mud my female friends have been dragged through. I still give pep talks to women about how they shouldn't be afraid to ask for what they want in a comic book store, or how cosplay is for everybody, and every body. I have to. We're still subject to insane vitriol for existing and claiming to enjoy [insert literally anything].
I'm quick to give a pep talk and a confidence boost to anyone who needs it, telling people they have no reason to apologize for not being omniscient, but I still find myself apologizing for liking things. I still say "sorry, but ..." if I am correcting someone. Why should I be sorry? Sorry that the reason Kylo Ren's lightsaber looks like that is a fact, and that you weren't correct? Sorry that I as a woman had to correct you on this thing of which you thought you were all knowing?
Since the beginning of comics, male characters have had a female equivalent, but now with shows like She-Hulk and Ms. Marvel on the horizon, do The Fans think that's "too far?" Doctor Who, a TV show with a time- and space-traveling alien who can change its appearance, saw its main character become a woman after looking like a man since the 1960s—so people ran to their keyboards to cry "pandering!" Women are finally getting their own shows, comics and movies—and The Fans take it upon themselves to blame studios for catering to feminism and the #MeToo movement, despite the fact that women make up half of the world's population. I'm sorry ... for existing?"
As fandoms become more self-aware of their destructive nature, the echo chamber grows larger. Loving and forgiving parts of the internet can only watch as the nasty, horrible, poisonous side yells itself into oblivion, unwilling to hear what anyone reasonable has to say, even if it's a simple, "I understand why you're upset." All anyone wants in this life is to be happy, and this crazy world of superheroes, monsters and aliens brings us all a bit of joy.
If I have one favor to ask, it's this: Next time you start to feel possessive, angry, or upset over something in pop culture, take a step back to perceive that your view is not the same as everyone else's. You might not relate to that woman on the screen, but your little sister might. You probably don't feel represented by that person of color in that show, but maybe your friends do. Don't you want your friends to feel as happy as you have been made to feel?


Big Screen Nerds
A look at some of cinema history's most iconic misfits, dorks and weirdos.
By David Riedel
Back in sixth grade, some punk-ass called me the best dressed nerd in school. That was when to be a nerd was to be a pariah, someone with tape on his glasses, a pocket protector—all the standard clichés. I didn't have those. My big sin was being the only boy that semester who made honor roll.
You tell me whether I'm a nerd: I dig Star Trek in two of its iterations. I can take or leave Star Wars. I don't read comics, I've read zero Harry Potter books, and I only see Marvel Cinematic Universe movies because I'm paid to (I admit to enjoying The Winter Soldier).
Personal credentials aside, however, I know what makes a big-screen nerd, whether they fit the aesthetic profile or not. One thing the nerds below have in common: They're all actually pretty cool.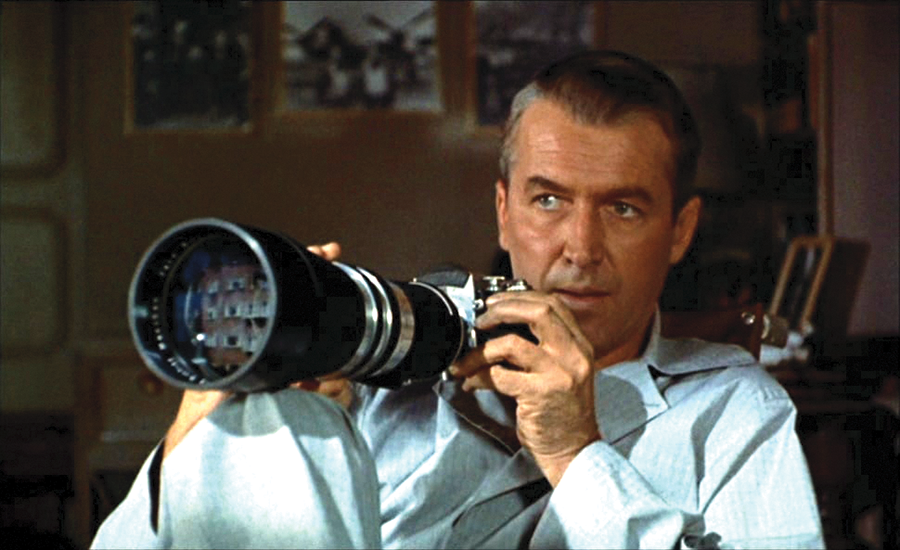 James Stewart in most of his filmography
Jimmy Stewart might seem like easy pickins—and he is! By God, look at all the movies in which he played a dweeb: Mr. Smith Goes to Washington, The Philadelphia Story, the strangely-beloved It's a Wonderful Life. And don't forget the coup de grâce, Alfred Hitchcock's Rear Window, in which his character, Scotty, spends the bulk of the picture spying on maybe-murderer Perry Mason instead of hopping into bed with his girlfriend, Lisa, who's played by Grace Kelly. Grace Kelly. God, Jimmy, you truly were a dork.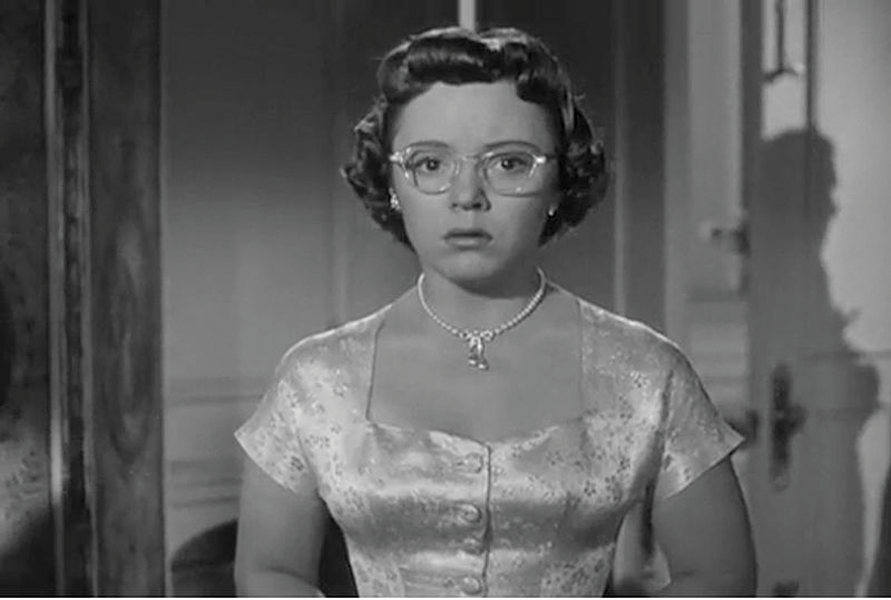 Pat Hitchcock in Strangers on a Train
Hitch's daughter turns in a gem of a performance as audience surrogate Barbara, working out the reasons the police will think Farley Granger's Guy whacked his wife so he could marry his girlfriend. Plus, she arguably helps catch the killer by hiring Guy a taxi—I'm not going to bother explaining the plot; plot summaries are for nerds—and the real killer (Robert Walker) goes into a trance while looking at her and almost kills someone else. It's nutty! Her best line: "I still think it would be wonderful to have a man love you so much he'd kill for you." Oh, Babs, you kook!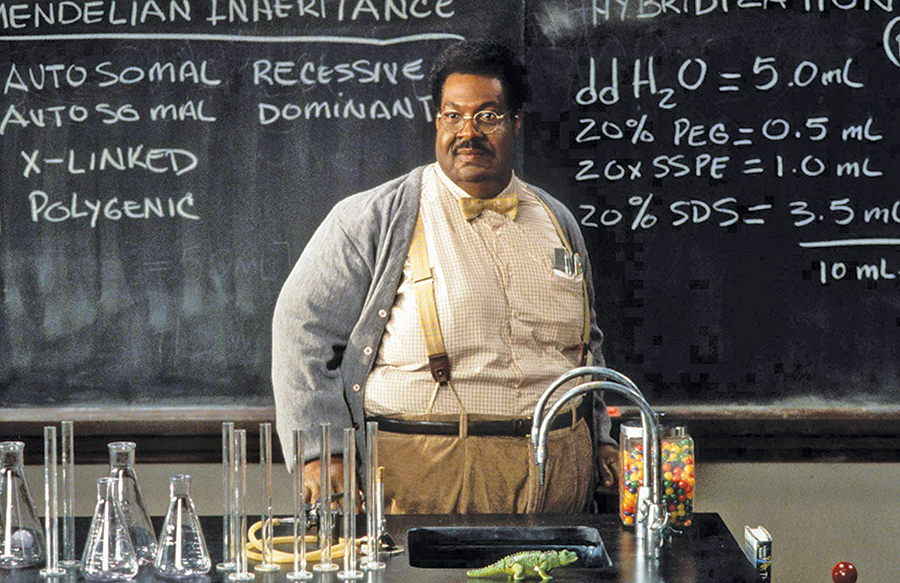 Julius Kelp and Sherman Klump from The Nutty Professor(s)
Who's the better goofus professor? Jerry Lewis as Kelp in the original or Eddie Murphy as Klump in the remake? It's a matter of personal taste, as both actors play markedly different characters (it's Lewis). Anyway, you know the story: The professor has to prevent his creation from destroying him. Watch both back-to-back on a Saturday night and argue with friends and family over which is more fun.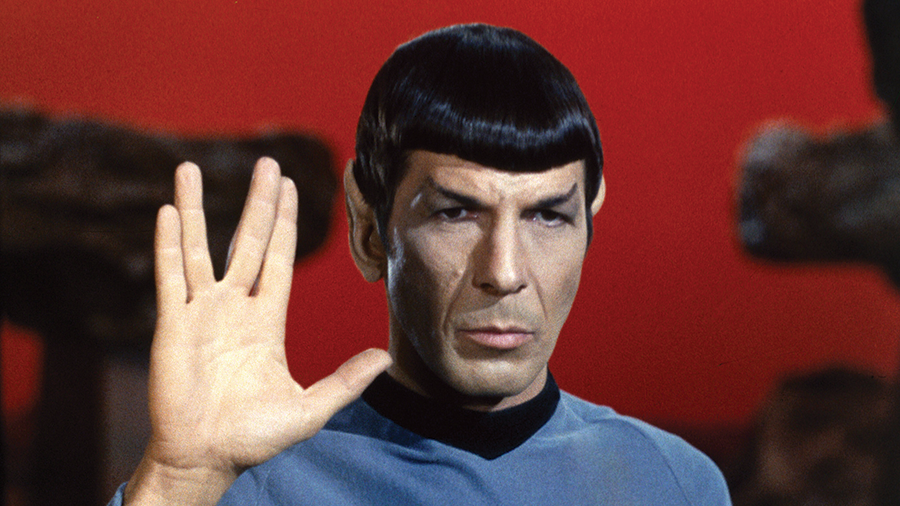 Spock
No matter who plays him—Leonard Nimoy, Zachary Quinto or Ethan Peck—Spock is the brain to beat. Who else would know the key to saving Earth is saving humpback whales? Plus, he has the integrity to back up the brains. This is the guy who sacrificed himself to save the ship—to save us all. The Vulcan Science Academy's loss is the universe's gain.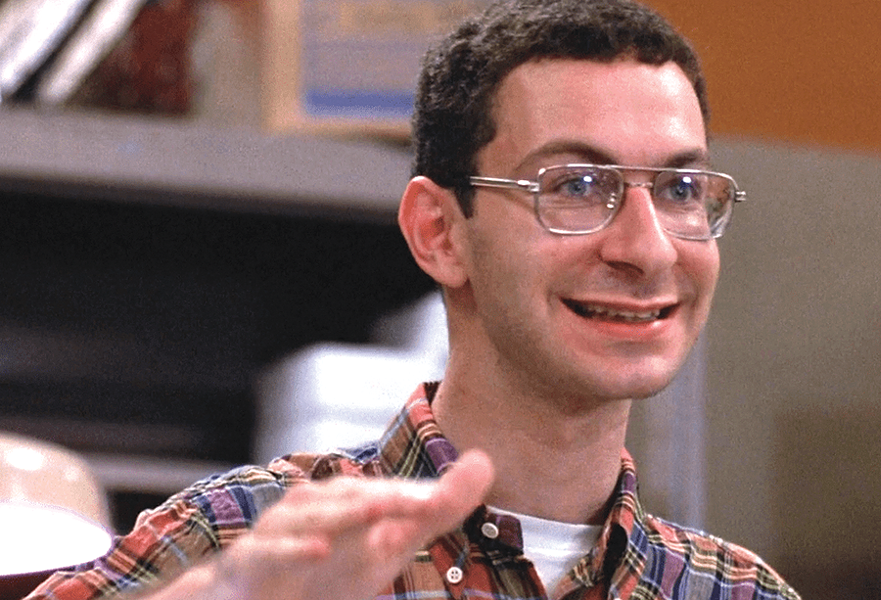 Eddie Deezen in just about every appearance
He's a computer techie who spars verbally with Maury Chaykin in WarGames and a doofus who battles a murphy bed in Million Dollar Mystery, but Deezen might be best remembered for playing Eugene in Grease (and Grease 2, the poor bastard). Out of all the actors in this piece, he's played a bozo the most, and he's been doing it for decades. If anyone deserves a lifetime achievement award for dorkitude, it's Deezen.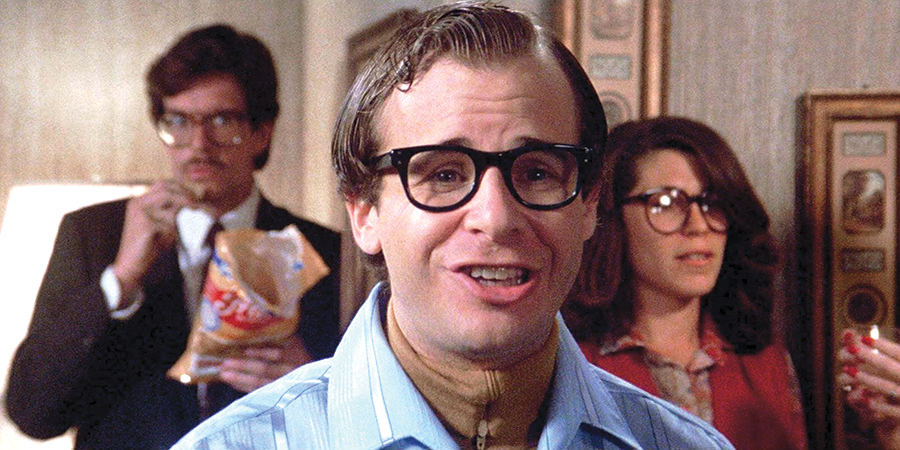 Rick Moranis as Louis in Ghostbusters, Bob McKenzie, and as goobers in Honey I Shrunk the Kids, Little Shop of Horrors and Parenthood
Aside from Deezen, Moranis might have the most social misfits under his belt of any actor. Louis in Ghostbusters is perhaps his most famous role, but with all these parts, it's hard to quantify which is the most iconic. Personally, I'm all about the MacKenzie brothers, with Louis a close second. But some people love Little Shop of Horrors. (Some people are stupid.) Moranis pretty much left show business behind in the late '90s to raise his family, the schlemiel.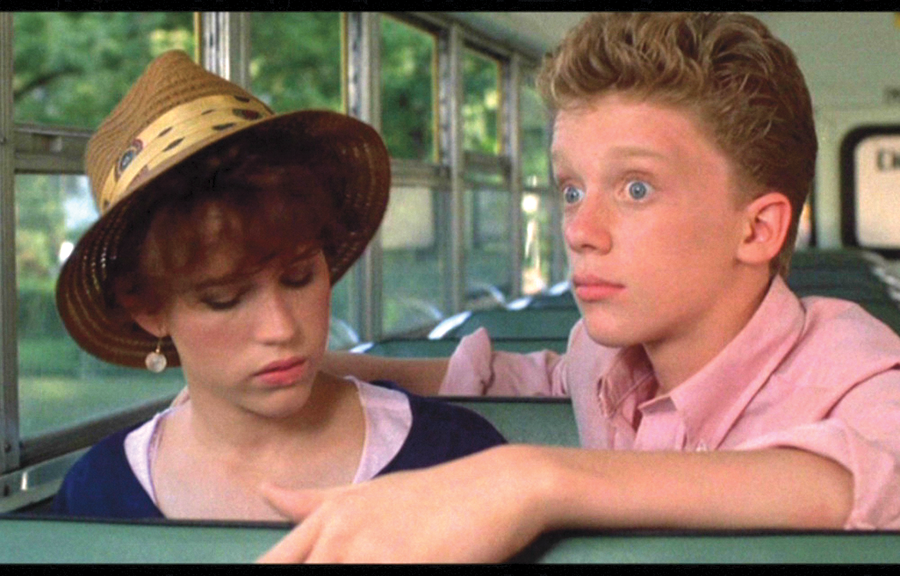 Anthony Michael Hall in all those John Hughes flicks: Sixteen Candles, Breakfast Club and Weird Science
Hall played the quintessential high-school egghead. His character Farmer Ted in Sixteen Candles is billed as "The Geek" in the closing credits. He came into his own in The Breakfast Club, and then toyed with coolness (and misogyny) in Weird Science. His weirdo career makeover as a high school heartthrob in Johnny Be Good backfired, and he's never really recovered, though he was great as the TV reporter in The Dark Knight and he pops up in the occasional prestige flick (Foxcatcher).
Tracy Flick and Elle Woods from Election and Legally Blonde
Reese Witherspoon portrayed these polar-opposites—one an overachieving high-school student with a mother who says passively horrible things to her, the other a secret nerd who's smarter than everyone else but initially afraid to show it—with such ease it makes one wonder why she had to settle for an Oscar for Walk the Line. (It's because comedies, generally, don't get the respect dramas do at awards time. Eh.) Both movies are a hoot, though Election is a little barbed for date night.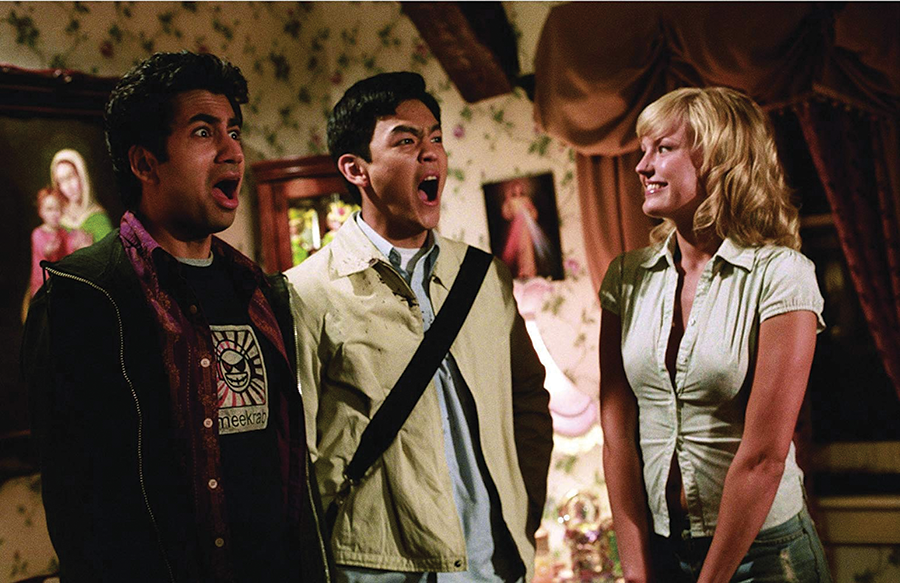 John Cho as Harold in Harold and Kumar Go to White Castle
Harold mostly comes off as a square because John Cho excels at playing them (see also: "Selfie," his interpretation of Sulu in Star Trek, the "Milf" guy in the American Pie series), and because Kumar (Kal Penn) is such a burnout. But Cho is an accomplished non-nerd, too. Check him out in Columbus as a grieving son, and Searching as a father—you guessed it—searching for his missing daughter. He's the best.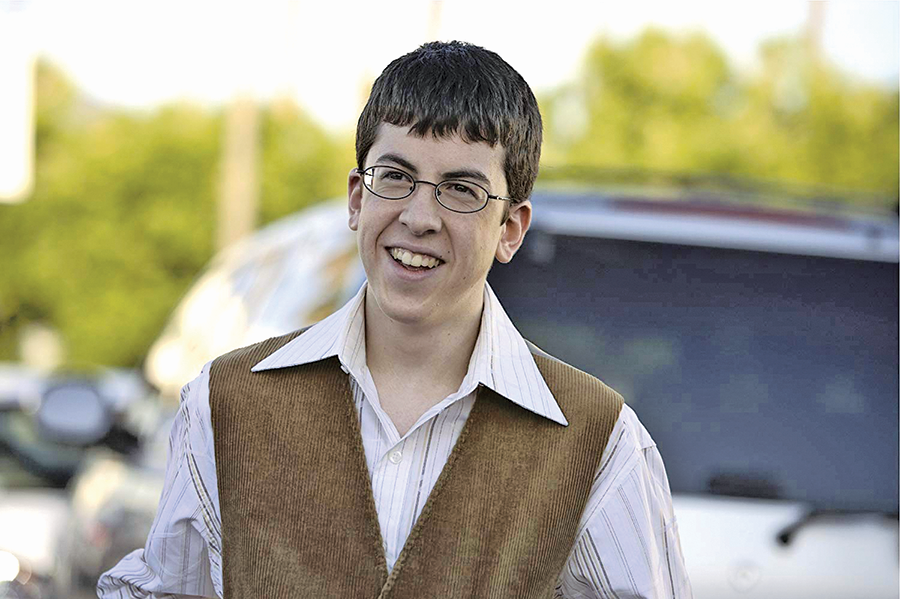 McLovin (and his marginally cooler friends Seth and Evan) in Superbad
Ah, to be young and dorky and lookin' to get laid. There was a decade when these guys wouldn't have stood a chance (the 1980s), but the times, they a-changed, and in Superbad, these young men find young women who like them back. McLovin (Christopher Mintz-Plasse), possibly the biggest on-screen dink since Deezen, has the craziest time, shooting off guns with cops and bedding the cool chick. In real life, Mintz-Plasse no longer resembles a nerd; check out his arms in Neighbors 2: Sorority Rising.
Molly and Amy from Booksmart
These two bookworms and best friends get into their dream colleges by studying their asses off, then learn all the non-nerds got into great schools, too. That leads Molly (Beanie Feldstein) and Amy (Kaitlyn Dever) down a path of booze, drugs, arrest and driving really fuckin' fast before high school graduation. Booksmart didn't burn up the box office this summer (it was released opposite Aladdin), but if there's any justice, streaming and video will launch Molly and Amy into the know-it-all Hall of Fame.


Beyond FanX
Other annual geeky Utah gatherings.
By Colette A. Finney and Scott Renshaw
FearCon
Utah goes crazy for all things Halloween, and that extends beyond corn mazes, professional haunted houses and home haunts. The annual FearCon (Oct. 11-12 at the Riverbend Event Center) is a two-day celebration of all things horrific, Halloween-y and otherwise scareifying. Interactive and participatory events are the focus, including a requirement that vendors on the show floor dress up themselves to get into the full spirit of the event. Meet celebrity guests—including Tyler Mane (Michael Myers in the Rob Zombie Halloween films) and Tara Reid (Sharknado)—or catch panel discussions on horror-themed topics. You can watch live demonstrations of special effects make-up technicians, or experience the live wonder of Vampire Circus. It's all the terror you could want in one place. fearcon.com (SR)
Anime Banzai
Loyal fans of anime never miss the yearly convention typically held in October (Oct. 18-20 this year). Within a family-friendly atmosphere, Utah's largest anime gathering is centered around the education and expansion of Anime pop-culture in Utah. Running three days from dawn until dusk are immersive activities such as gaming competitions, celebrity guests, panels, children's fun, cosplay and much more, with exciting new events added every year. Revealing inner heroes or villains, guests can participate in the popular cosplay contest, which grants numerous awards for creativity. Other attendee-driven opportunities include formal and informal dances, as well as secondhand sales and scavenger hunts. For a more relaxed adventure, visitors can play in the arcade, view the Exhibitor's Hall or take a walk down the Artist Alley showcasing the work of local and out-of-state artists. Be sure to check out the silent auction supporting local charities. animebanzai.org (CAF)
Salt Lake Gaming Con
Gamers, geeks and pop-culture aficionados from all walks look forward to the yearly Gaming Con every July. As one of the largest gaming conventions in the United States, the attraction is a fan favorite, offering a weekend of continuous entertainment. Whether a casual player or serious competitor, the event has a variety of games for all. From old school pinball and tabletop games to retro games like Tetris all the way through the latest and greatest, they feature one of the largest selection of video games around. For those eager to compete, there are over 40 tournaments via all game systems. While checking out the scene, guests can also visit the large assortment of gaming specific vendors or try Live Action Role Play (LARP). Rounding out the action are panels covering everything from gaming advice to breaking out in the business along with a chance to meet special celebrity guests. saltlakegamingcon.com (CAF)
ToshoCon
In early August, the Salt Lake County Library System's Viridian Events center hosts an anime-centric event with a unique focus on teens—not just as attendees, but as full participants in helping create it. ToshoCon is exclusively for attendees age 12-19, who get the opportunity to participate in cosplay, anime video and original art contests, with giveaways of merchandise and movie screenings. Panel programming is also created by teens, who can submit their ideas and plan and conduct the discussions for their peers. Even the vendor marketplace is all about the youth, who can sell their own original crafts, artwork and more. slcolibrary.org/teen/toshocon/ (SR)
Utah Renaissance Faire
Experience authentic medieval times at the annual Utah Renaissance Faire. Held over a weekend in August at Thanksgiving Point in Lehi, this is a family-friendly event with multi-sensory shenanigans for everyone without spending a fortune. Included in the two-day general admission ticket is access to more than 120 shows and a variety of food and merchandise vendors, as well as artisans demonstrating their crafts. Scheduled attractions like live jousting, armored combat fights, fire artists, music acts and dancers provide nonstop entertainment. Plus, kids will enjoy the wandering performers offering comedy, magic and juggling while an assortment of hands-on activities abound. Costumes are not required but certainly encouraged, along with an occasional "huzzah!" Escape to a magical time where one can find Vikings, mermaids, pirates, knights, and fairy folk sharing the same village in peace. Parades, pageantry and performers, oh my. utahrenfaire.org (CAF)