Page 3 of 8
How to FanX
The insider guide on getting the most out of your convention experience.
By Scott Renshaw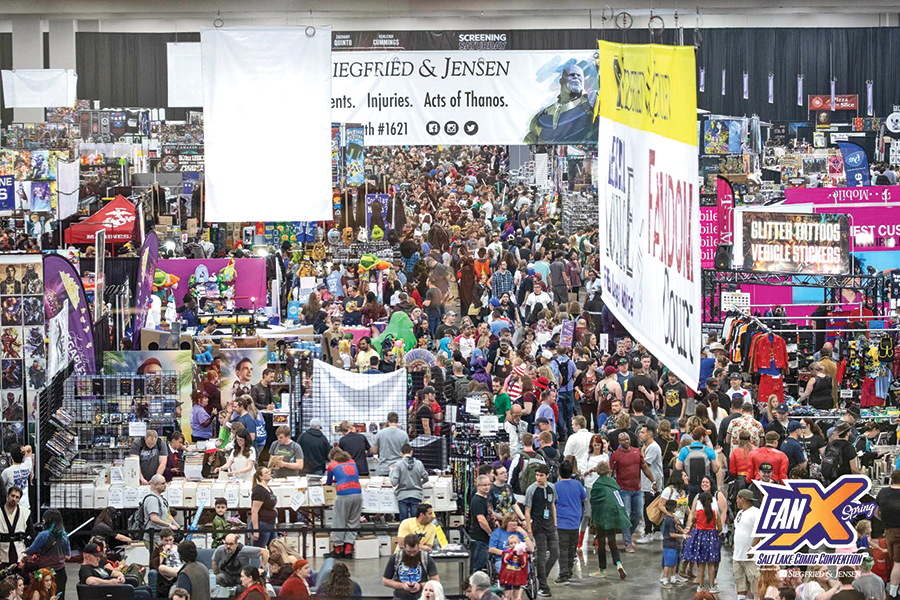 After seven years and (now) a dozen events, FanX has become a kind of Utah institution. While some attendees have been coming since Day 1, there are always newcomers learning the ins and outs of a massive pop-culture event. With the understanding that everyone's idea of a great convention is going to be different, and there's no one-size-fits-all way to do FanX, here are a few tips on optimizing your experience.


• Create a Tentative Schedule for Each Day You'll Attend. Sure, showing up and seeing where the winds carry you is one way to do things; it also tends to be a way to ensure that certain things never happen. Scout through the schedule online or via the convention app, and prioritize which events featuring the big-name guests or subject-specific panel discussions you simply must see. Can you get from the panel that ends at 11:50 a.m. in time for the guest event that starts at noon? Have you slotted a time to grab something to eat? It's best to know ahead of time.
• Be Prepared to Improvise. Sometimes, panel discussions fill up; it's just the nature of a popular, well-attended event. Have a plan B, whether it means changing the time you planned to go browsing on the show floor, or considering another panel that was a slightly lower priority.
• Make Use of ZipQ. Depending on what kind of ticket you purchased, you have the ability to schedule a certain number of slots in a reserved, near-the-front seat for events in the Main Ballroom with the ZipQ system. The kiosks are located on the main level of the convention center. While VIP get unlimited use, Gold or multi-day passholders get only one or two, respectively, over the course of the three days—so choose wisely.
• Consider Your Food Options, and Your Budget. It's never cheap to eat at big events. Fortunately, you have options beyond the eats in the Salt Palace itself, including the food court at City Creek and the range of food trucks that generally line West Temple. Consider eating at off-peak times to avoid long waits, and be sure you've planned for the cost.
• Support Local Artists. Celebrity guests and booths full of cool merchandise are understandable draws for FanX attendees. Just don't miss out on the Artist Alley, full of local (and national) artists creating comics, paintings and other amazing work, often celebrating some of your favorite pop-culture characters.
• Expand Your Horizons. Most people go to the panels and guest Q&As for stuff they already know and love in detail. FanX is also a great opportunity to get your geek on about games, books, movies and more that you didn't know about previously, in a way that might inspire you to dig deeper. Or catch one of the panels that involve challenging conversations about representation of women, people of color, LGBTQ and disability in popular culture.
• Be Considerate. Everyone is there to have fun, and you can make it that much easier. Be patient with volunteers. Take care when moving through crowds, especially if you're in cosplay that takes up a lot of space. If you spot another cosplayer whose attire makes you want to snap a photo, ask politely. And always, ALWAYS, nobody should be touched without their consent.