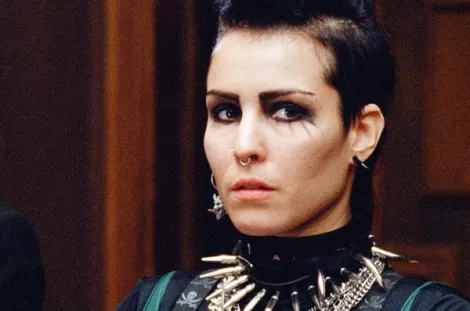 There's no way of knowing what to expect from Rooney Mara as Lisbeth Salander in the English-language version of Stieg Larsson's Millennium trilogy books due out next year. But I find it hard to believe she will be as compelling as Noomi Rapace while she's simply staring blankly, defiantly, at nothing.
The third and final Swedish installment, The Girl Who Kicked the Hornet's Nest, picks up right from the conclusion of The Girl Who Played With Fire, with Lisbeth badly injured and facing charges for the attempted murder of her father, Zalachenko (Georgi Staykov). But she's still got investigative reporter Mikael Blomkvist (Michael Nyqvist) looking out for her, and he's determined to prove her innocence by blowing the lid off the shadowy conspiracy called "The Section" that has been protecting Zalachenko for decades.
The series remains frustrating as constructed—a plot-heavy monolith where the plot isn't nearly as interesting as the characters. There's a bit more action and forward momentum this time around, as The Section attempts to erase the threats to its exposure, and the pain-immune hulk Niedermann (Mikael Spreitz) continues to inflict damage. And through it all marches Nyqvist, providing the thankless, square-jawed, journalistic determination as counterpoint to Lisbeth's combination of animal cunning and technological savvy.
She's still the main reason to come to these movies, and the only reason to sit through Hornet's Nest's sprawling 150 minutes of wrap-up. Even while spending a healthy portion of the film in a hospital bed, Rapace's Lisbeth is a magnetic presence; when she enters the courtroom defiantly clad in leather and spikes, and sporting a fierce mohawk, she's a force of nature. Seven-plus hours has been a long time to spend with one story, but Rapace has created a character so indelibly hers that it's difficult to imagine anyone else fighting or speaking with as much authority as Rapace can generate in a stare.

THE GIRL WHO KICKED THE HORNET'S NEST


Noomi Rapace, Michael Nykvist, Lena Endre
Not Rated