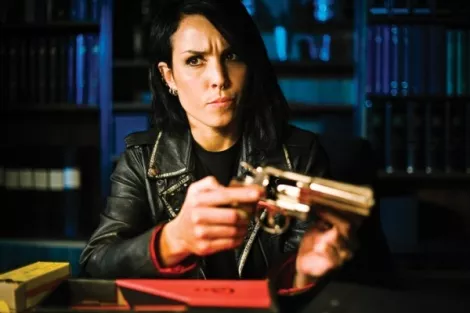 The Girl Who Played With Fire
If you still don't know who Lisbeth Salander is, you just haven't been paying very much attention. Over the past few months, the heroine of the late Swedish author Stieg Larsson's
Millennium
trilogy has taken over American popular culture like nothing since
Twilight
and
Harry Potter
. The Swedish film adaptation of the first book,
The Girl With the Dragon Tattoo
, became an art-house hit; the English translation of the third book,
The Girl Who Kicked the Hornet's Nest
, shot to the top of the best-seller lists; and director David Fincher (
Fight Club
) is preparing to shoot an English-language version of
Dragon Tattoo
. And now, here comes the film version of part two,
The Girl Who Played With Fire
, to your local theater.
Such things just don't happen in America when the source material in question is in another language. But something about Lisbeth—that ass-kicking, bisexual computer genius with a photographic memory and enough history of abuse at the hands of men to fill another trilogy—has struck a chord. We just can't seem to get enough of her singular personality—and depending on what you're expecting from The Girl Who Played With Fire, you still may not get enough.
The events here pick up a year after the end of The Girl With the Dragon Tattoo, with Lisbeth (Noomi Rapace) living abroad off the fortune she scammed from a bad guy, and journalist Mykael Blomqvist (Michael Nykvist) returning to his normal life at the investigative magazine Millennium. But the possibility that her abusive caseworker Bjurman (Peter Andersson) may be trying to ditch the tattoo memento she left him with brings Lisbeth back to Stockholm— just as Millennium is preparing to publish a story naming names of important people connected to a sex-slave-prostitution ring. Soon, three people are dead, and Lisbeth's fingerprints are on the murder weapon, but Blomqvist is sure that something else is up.
Like Dragon Tattoo, The Girl Who Played With Fire positions itself first as a journalistic suspense thriller. With Lisbeth a fugitive, that means her storyline and Blomqvist's take largely parallel paths. And frankly, Blomqvist isn't a particularly compelling character. While his struggles with a false libel accusation in the first film added some drama to his story, here he's defined largely by his staunch defense of Lisbeth's innocence in the face of daunting circumstantial evidence. That leaves him with most of the exposition scenes for the complicated back story—which is the only thing that prevents his appearance from being a cue to hit the restroom.
Meanwhile, we're all really just waiting for Lisbeth to make her appearances, too few and far between though they may be. As played with dark-eyed ferocity by Rapace, she certainly scores her biggest hit with audiences as an angel of vengeance, whether it's "checking in" on Bjurman, or interrogating a journalist while decked out in white fright makeup with a slash of red. But, she's also terrific in small moments that convey her affection for Blomqvist, like catching him in her apartment via her remote surveillance equipment. Once The Girl Who Played With Fire focuses on Lisbeth's dangerous attempts to clear her name—and the piercing intelligence Rapace can convey without a word—it's easy to understand the continuing fascination with this character.
But Stieg Larsson didn't write stories just about Lisbeth Salander; he wrote tangled morality plays about the comeuppance awaiting evil men who prey on women, in which Lisbeth plays only a co-leading role. And those morality plays are compromised somewhat by their over-the-top antagonists: unrepentant Nazis in Dragon Tattoo, and here a thuggish bleached-blond henchman (Micke Spreitz) whose entire character seems to have been stolen from a Roger Moore-era James Bond flick. Director Daniel Alfredson—taking over for Niels Arden Oplev—struggles to pull the wild action elements together with the story of this wounded woman warrior who seems to deserve a much better showcase for what she's all about.
The truth is, Lisbeth is the only subtle thing about these garish melodramas, and it just doesn't feel like there's nearly enough of her. Stieg Larsson created a character that may have become a pop-culture icon, but that doesn't mean he figured out a story that was truly worthy of her.

THE GIRL WHO PLAYED WITH FIRE


Noomi Rapace, Michael Nykvist, Peter Andersson
Rated R