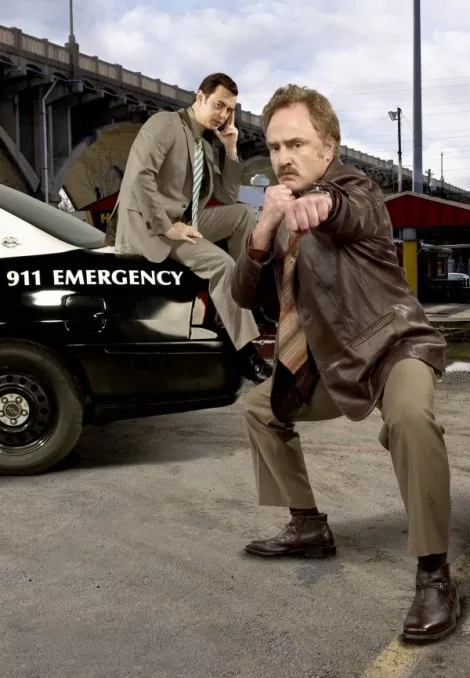 The Good Guys
Wednesday, May 19 (Fox)
Series Debut:
Bradley Whitford (
The West Wing
) and Colin Hanks (son of Tom) star in a cop dramedy so smart and quirky, it oughta be on cable—ABC fumbled
The Unusuals
last year, and odds are only slightly better that Fox won't blow it now with
The Good Guys.
Whitford is Dan Stark, an old-school detective who doesn't trust DNA, "computer machines" or working sober; Hanks is his partner Jack Bailey, a young straight-arrow prone to correcting his superiors' grammar and being an annoying know-it-all. They're stuck working routine "5-8" property crimes rather than the big cases Stark used to get (his career and mustache peaked in 1985 when he saved the governor's son—there was even a TV movie about it) and Bailey believes he should be on instead of baby-sitting Stark. Naturally, they stumble on a Big Case while investigating a "stolen humidifinder."
What ensues is a winking tribute to the cop-show canon that includes squealing car chases, flying-through-the-air gunplay, strip-club shakedowns and most every other beloved TV cliché (Whitford even clings to a fleeing felon's car hood at one point, a la T.J. Hooker), with a rock & roll soundtrack and no small amount of heart. Creator/writer/producer Matt Nix (Burn Notice) never lets The Good Guys slip into parody; Stark, Bailey and the colorful cast of bad guys are real people with cartoon tendencies, not the other way around. When the inevitable "you-cracked-the-case-but-broke-all-the-damned-rules" dressing-down from the district attorney closes the pilot episode, it evokes classic Starsky & Hutch, not Stroker & Hoop.
Starsky & Hutch


Turner & Hooch


Tenspeed & Brown Shoe

The first episode of The Good Guys might seem too good, like they blew their wad of genre gags right off the bat—after high-speed freeway car-jumping, what's left?—but there's plenty more to explore with Stark and Bailey. Like, what happened to Frank Savage, the '80s partner Stark reverentially brings up every five minutes? Why did Bailey split up with the DA (Jenny Wade, channeling The Closer's southern lilt)? Who played Stark in that TV movie, Savage & Stark? Why Dallas? (Says Nix: "It's a great city to jump on the hood of a car.")
The Good Guys moves to Mondays at 8 p.m. on May 31—and it's already the best summer series of any broadcast network.
Season Finales
Thursday, May 13: The Vampire Diaries, Supernatural (The CW); Private Practice (ABC)

Friday, May 14: Smallville (The CW); Funny or Die Presents (HBO)

Saturday, May 15: Saturday Night Live (NBC)

Sunday, May 16: Desperate Housewives, Brothers & Sisters (ABC); Survivor: Heroes vs. Villians (CBS); American Dad (Fox)

Monday, May 17: House (Fox); One Tree Hill, Gossip Girl (The CW); Castle (ABC)
Tuesday, May 18: 90210 (The CW); V (ABC)

Wednesday, May 19: The Middle, Modern Family, Cougar Town (ABC); Law & Order: Special Victims Unit (NBC)

Thursday, May 20: Bones, Fringe (Fox); Community, Parks & Recreation, The Office, 30 Rock, The Marriage Ref (NBC); CSI, The Mentalist (CBS); Grey's Anatomy (ABC)
Friday, May 21: Ghost Whisperer, Medium, Miami Medical (CBS); Kitchen Nightmares (Fox); The Ricky Gervais Show (HBO)

Saturday, May 22: Legend of the Seeker (Syndicated, Series Finale)

Sunday, May 23: The Simpsons, The Cleveland Show, Family Guy (Fox); The Apprentice (NBC); Lost (ABC)

Monday, May 24: How I Met Your Mother, Rules of Engagement, Two & a Half Men, Big Bang Theory, CSI: Miami (CBS); 24 (Fox); Chuck, Law & Order (NBC)

Tuesday, May 25: NCIS, NCIS: Los Angeles, The Good Wife (CBS); The Biggest Loser, Parenthood (NBC)

Wednesday, May 26: American Idol (Fox); Criminal Minds, CSI:NY (CBS)