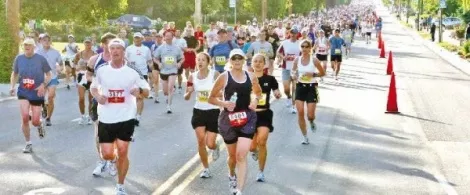 Marathon! The very word strikes a mixture of awe and terror even into people who are in some kind of shape, let alone those of us who are more conversant with Ben & Jerry's than with a bench press. But the Salt Lake City Marathon, even with its own financial challenges and recent bad publicity, will go on. It can be a fantastic experience, even if you're not participating in it—and a great way to enjoy our newfound springtime weather.
"Springtime weather in Utah?" you scoff. "The third weekend in April was chosen specifically because it tends to be clearer than the second or fourth," says assistant race director Dustin Stark. For runners from out-of-town, it's a great tour of the city, and for residents, there are lots of reminders of the natural beauties right at hand. Some spots provide energizing supporters, and others are moments of solace to commune with nature.

Marathons used to be the sole province of elite athletes, but that's changing. "People can go from couch to course—possibly to train—in three to four months," explains Stark. But you can also go from couch to porch and enjoy the race (depending on where you live) not far from your front door.
Our marathon is a qualifying event for the Boston Marathon, so it's a chance to see highly competitive athletes. It's a thrill to watch a runner blaze past in a blur when the leaders emerge toward the end. The list of registrants isn't set, but Stark expects one of the participants to be Russian Nadezhda Tuptova, who had the best women's time in Las Vegas and other races this year.
Runner's World magazine has called our route "one of the most scenic courses." It's also relatively flat, making it more manageable for a beginner. When the course was laid out, Stark explains, it was important to incor porate local landmarks. "It was major to have ties to the Olympic legacy, and the race starts at the Olympic Legacy Bridge at the University of Utah." With nearby roads blocked off, many runners get to the starting point via TRAX— check newspapers or the marathon's Website for details regarding road closures.

From the starting point, the runners head down Foothill Drive—viewing the snow-capped mountains—veering west towards SugarHouse Park, a favorite of runners and nonrunners alike as a spot to recreate. The race continues through the picturesque neighborhoods of Millcreek, Holladay and Murray, some points with such lush spring foliage that it's almost like being in the canyons.

An especially alluring spot is Knudson's Corner in Cottonwood Heights, with local eateries Tuscany Restaurant and the Cotton Bottom, which beckons with the aroma of garlic burgers. Then the race follows Van Winkle into Murray. Stark says Fitts Park, at 3050 S. 500 East, is a favorite spot for spectators to gather and cheer.

The last leg follows 500 East to Liberty Park—another favorite scenic spot with its pond and tree-lined track—to 900 South, up State Street to South Temple, nearing the Capitol. Runners pass the LDS Temple before they circle to the finish line at the Gateway and its Olympic Legacy Fountain. At that point, it's a celebration, with 25,000 spectators in addition to the runners.

In addition to the 26.2 mile full marathon, there is also a half marathon, handcycle and wheelchair races, a 5K and bicycle tour, all starting at staggered times to prevent congestion. In the shorter events, some wear crazy costumes. "We always see an Elvis," Stark says. The marathon itself starts at 7 a.m. All the events were close to being sold out at deadline, and there is no race-day registration.

The race actually provides some convenient entry points into running. "The 5K is the best distance for most," says Travis Hildebrand of the Salt Lake Running Company. "Many people who are sedentary their whole lives can do a 5K, and a competitive racer can turn a 5K into a very challenging experience."

SALT LAKE CITY MARATHON
Saturday, April 18
7 a.m. start at U of U Olympic Legacy Bridge
801-456-2540
SaltLakeMarathon.com