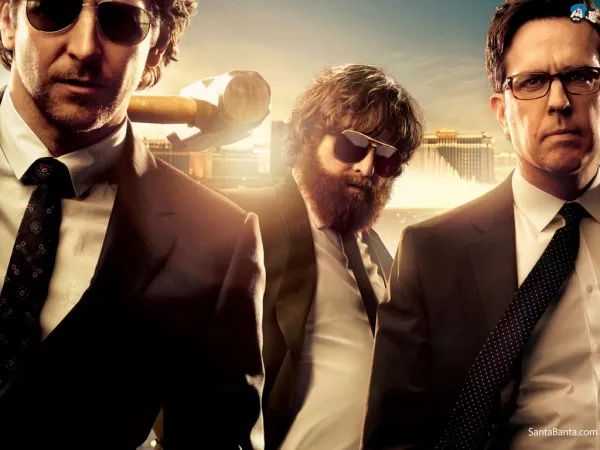 When The Hangover Part II was released two years ago and turned out to be virtually a note-for-note duplication of the original, many of us found ourselves thinking, "Couldn't they do something new?" But apparently we learned nothing from "The Monkey's Paw"; you've gotta be more specific.
The Hangover Part III does head in a different direction, completely scrapping the "what happened to us and how did we end up here" concept for the latest reunion of Wolf Pack members Phil (Bradley Cooper), Stu (Ed Helms) and Alan (Zach Galifianakis). A dangerous criminal (John Goodman) is searching for the crazy Mr. Chow (Ken Jeong) to recover a fortune in stolen gold, and he's given the trio three days to find him, or else he's going to kill Doug (Justin Bartha), and let's just not bother digging too deeply into the rest of the details, shall we?
The pursuit involves plenty of car chases, gunfire and screaming, yet for all the frantic forward momentum, virtually nothing that happens is actually funny, or even particularly transgressive. Jeong's deeply grating Chow gets a front-and-center role, which distracts somewhat from the fact that Cooper and Helms no longer have anything to do in these movies but react to lunacy and see how many different ways they can read the line "What the fuck?"
Ah, but then there's Zach Galifianakis, who has turned Alan into a singularly brilliant comic creation—a man-child tornado of pure chaos. The Hangover Part III briefly comes alive during moments like his improbable romantic interlude with a pawn-shop proprietor, or a reunion with the baby (now a toddler) from the first film. Galifianakis remains the only truly original thing in this series; he does more with a single goofy sustained smile than director Todd Phillips can do with the entire rest of the movie, no matter how many severed giraffe heads he throws at us.

THE HANGOVER PART III


Bradley Cooper, Ed Helms, Zach Galifianakis
Rated R