THURSDAY 10.13
Sting & Honey: The King's Men
Women playing men playing women: William Shakespeare might have approved, but England probably wasn't ready for it in the Elizabethan era. Good thing it's the 21st century now, where theatrical gender-bending is becoming a norm.
Writer/director Javen Tanner brings this fantastic idea to the forefront in The King's Men. Tanner utilizes the works of Shakespeare (brilliantly played by Susanna Florence Risser) to show how a man writes a woman's character even though it's played by a man.
Set following the death of Queen Elizabeth (Kathryn Atwood), Shakespeare is caught between his home life in Stratford with his wife Anne (Colleen Baum, pictured) and daughter Susanna (Ali Kinkade) and the London playhouses. Except, no plays are being performed. That is until the new King Edward requests Shakespeare and the rest of Lord Chamberlain's Men perform for him personally. They have the old standbys—The Taming of the Shrew and As You Like It—ready to go starring Richard Burbage (Susan Mauer Barry), John Heminges (Nova Calverley-Chase), Henry Condell (Michelle Lynn Thompson), Edward (Carlie Young) and Robert (Hannah Minshew). Following a dream, Shakespeare decides to write a play involving Queen Elizabeth that might or might not ever come to fruition.
Tanner's prose claims there is no moral or lesson to The King's Men. However, it's about perception—how men see women—and vice-versa. It's an interesting concept; one wrapped up in a delightful and refreshing original story. (Missy Bird)
The Sting & Honey Co.: The King's Men @ Rose Wagner Center, 138 W. 300 South, through Oct. 15, Thursday-Saturday, 7:30 p.m.; Oct. 15, 2 p.m., $18. StingAndHoney.org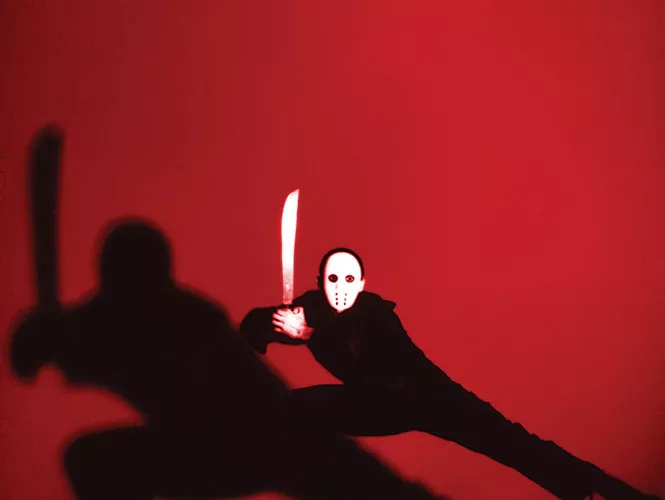 FRIDAY 10.14
Odyssey Dance: Thriller
If it ain't broke, don't fix it. The motto seems to apply to Odyssey Dance Theater's annual Halloween spectacular, Thriller, which in the last 20 years hasn't received more than a minor tweak. Popular dances like River of Blood, Dem Bones, Jason Jam, The Lost Boys and Frankenstein & Frankenstein, have been part of the production for at least the past six years (maybe even from the beginning).
But rehashing the same stuff year after year doesn't keep audiences away; the current production will be showing in seven locations around the state through October (see website for details). And maybe people keep coming back year after year because it's just that good.
Thriller—including the number set to Michael Jackson's hit song—calls on all your favorite spooks. There's Bubbles the Clown, who turns from happy to psychotic at the switch of a red light and might be coming for someone in the audience. White ghosts fly through the air, and aliens await to make their entrance from inside a performer's stomach. There are sexy, toothy, hissy vampires, tap-dancing skeletons, machete-wielding masked men ... and every piece is danced with drill team-like precision. Who knew that zombies could do jump splits? If these guys were at a dance competition, no doubt they'd all come home with trophies.
And the best part about Odyssey's Thriller? It's totally Utah-grade family-friendly. Anything scary eventually takes a comic turn. That masked man with the machete? He's kind of a klutz. The Frankenstein? Totally hilarious. (Katherine Pioli)
Odyssey Dance Theatre: Thriller @ Kingsbury Hall, 1395 E. Presidents Circle, 801-581-7100, through Oct. 29, 7:30 p.m., Saturday matinee, 2 p.m., $30-$50. Tickets.Utah.edu
SATURDAY 10.15
Ballet West II: Piece of My Heart
Many of the country's best ballet companies have a pre-professional group of dancers, waiting in the wings for their chance to join the main troupe. Ballet West II, created in 2004, is Ballet West's two-year training program that gives a select group of young dancers the attention and performing opportunities they will need to make it in the dance world. Currently, 25 dancers in Ballet West's main company have come out of this program. And while Ballet West II takes their talent to stages around the region, they have not been seen performing in Salt Lake City—until now.
In a short, single-weekend run, Ballet West II will present Piece of My Heart, a program that showcases the range of styles executed by these young dancers. The title work, "Piece of My Heart"—set to music by Janis Joplin—comes from resident choreographer Nicolo Fonte, and magnifies the raw power of ballet with a rock 'n' roll sensibility. As contemporary movement continues to find its way into more of ballet's repertoire, mixing pirouettes with rock seems to be the art's next level of avant-garde.
Not that modern, rock-inspired dance is about to take over ballet completely; old works are still essential, and Ballet West II can perform the classics as well. This evening's program includes "Tarantella" by the early 19th-century Danish master August Bournonville, and a restaging the of the Minkus Pas de Trois from the 19th-century ballet Paquita. (KP)
Ballet West II: Piece of My Heart @ Rose Wagner Center, 138 W. 300 South, 801-355-2787, Oct. 14-15, 7:30 p.m.; Saturday matinee, 2 p.m., $30. ArtSaltLake.ArtTix.org
TUESDAY 10.18
James Dashner: The Fever Code
Utah author James Dashner's Maze Runner series has already inspired a movie franchise, and a fan base so devoted that they needed a prequel to feed their hunger after the original trilogy ended. Now, Dashner has provided a fifth book in the series, returning to the story of how a world dealing with the after-effects of an apocalyptic plague turned to children as their saviors.
Specifically, that world turned to Thomas, Teresa and their other friends—the heroes of the original Maze Runner trilogy. But as the events in The Fever Code begin, they're not yet the teenagers who are tested in a massive, potentially deadly maze. They're merely pre-schoolers—most of them orphaned by the effects of the brain-destroying disease known as "The Flare"—whose immunity makes them uniquely valuable. And as they are subjected to years of tests and training, Thomas and Teresa learn that they might have a particular talent even among the other immune children: They might be the ones who are actually tasked with designing the maze.
While the process of writing a prequel might in some ways seem easier for a writer, Dashner notes by email that there were challenges to concluding this decade-long series. "I felt more pressure than ever, because the readership has grown so much. ... Also, I had to end the series strongly, and I wanted everything to be consistent," he says. "These characters have been in my head for over 10 years, and have become very real to me. Writing The Fever Code was the epitome of bittersweet." (Scott Renshaw)
James Dashner: The Fever Code @ The King's English Bookshop, 1511 S. 1500 East, 801-484-9100, Oct. 18, 7 p.m. KingsEnglish.com