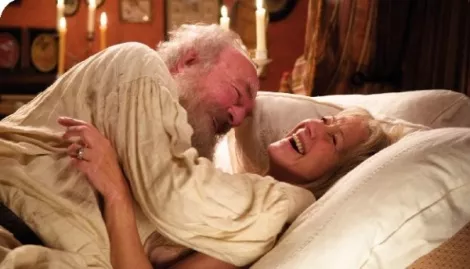 There are moviegoers who use the annual Academy Awards nominations as a guide for what not to miss in any given year. And then there are movie nerds who view that list with considerably more … skepticism.
The Oscars have provided plenty of reasons over the years to laugh heartily at the notion that they truly represent the best of cinema: Ordinary People over Raging Bull, Crash over Brokeback Mountain, etc. Every fall and winter, the studios trot out their prestige-laden "Oscar bait" films, and every year the bait is gobbled up. The whiff of importance has been an irresistible pheromone to Oscar voters, leading to nominations and awards for stuff that they seem to be suggesting we should all see because it's good for us—without challenging us too deeply, or making us too uncomfortable.
So, if you looked at The Last Station, noticed it had received two acting Oscar nominations, and was about the last months of War and Peace author Leo Tolstoy in 1910 Russia, you could be forgiven for asking yourself if you'd rather just take your two-hour nap at home rather than paying to take one in a theater seat. And you'd miss out on something with more charm and energy than you might expect.
Director/screenwriter Michael Hoffman (Restoration)—adapting the historical novel by Jay Parini—begins with on-screen captions describing Tolstoy's "living saint" stature in 1910 Russia. Revered not just as a great writer but also as a social philosopher, the 81-year-old Tolstoy (Christopher Plummer) has inspired an entire movement based on asceticism, pacifism and renunciation of private property. Among his young adherents is Valentin (James McAvoy), a would-be writer who relishes the opportunity to become Tolstoy's personal secretary.
But he's also being placed in the house hold by leading "Tolstoyan" Vladimir Chertkov (Paul Giamatti), who wants reports on the efforts by Tolstoy's wife, Sofya (Helen Mirren), to hold onto the family's assets rather than have Tolstoy sign them over to the movement. And Sofya, in turn, sees Valentin as a potential ally in finding out what Chertkov is plotting.
The duel of wills between Chertkov and Sofya—with the nervous, idealistic Valentin caught in the middle—becomes fodder for some broad comedy, which isn't necessarily where The Last Station is at its best.
Mirren—one of the aforementioned 2010 Oscar nominees, and a previous winner for stench-of-respectability Hall-of-Famer The Queen—has a fun role as the overly dramatic Sofya, whose passions for her husband spill over into rages that he'd even consider surrendering his family's inheritance. This isn't to say that it's a particularly challenging role—it's easy to get people to notice you when you're smashing dishes and throwing yourself into the nearest lake.
Mirren does, however, certainly keep things in The Last Station hopping, and provides enough spark to make the rest of the film's content even more engaging. Hoffman spends a fair amount of time on Valentin's relationship with Masha (Kerry Condon), a fellow member of the Tolstoyan commune with a considerably less orthodox approach to the movement's tenets. Their romance allows Valentin to challenge his own perspectives, but it also serves as an entry point to an intriguing look at how quickly any movement can veer from focusing on underlying principles to nitpicking the trappings that collect around those principles.
It's here that Plummer—the second acting nominee—really earns his honor. Unlike other philosophers and religious teachers who didn't live to see their ideas become fodder for bitter in-fighting, Tolstoy is already somewhat amused to see Chertkov and the commune's leaders becoming "better Tolstoyans than I am." For all his sincere activism, he stands in a place between the attachments to people and things represented by Sofya and the abstracted fundamentalism of Chertkov. Hoffman and Plummer allow us into the great man's anguish over the war between those sides, and the inability of each to moderate itself toward the center.
That anguish eventually leads to an illness that's telegraphed by any number of coughing fits and a final act that descends into the kind of melodrama that the rest of the film had managed to avoid. The Last Station is much more about finding the love at the core of all great movements, and at times radiates the warmth of that love. Only near the end does it turn into the kind of drama that the Oscar tag could lead you to fear it might be.

THE LAST STATION


Helen Mirren, Christopher Plummer, James McAvoy
Rated R