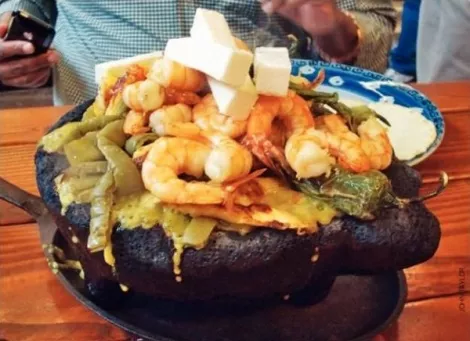 Like many modern love affairs, this one began on Facebook. That's where I first learned about a mythical dish called el molcajete. It started with longtime fellow food enthusiast Mick Huerta extending an invitation to meet for lunch at Rancho Market to investigate said dish. Within an hour, a lunch involving Huerta and a friend, myself, my son Hank, and musician/foodies Joy Tlou and Rich Daigle had been organized via Facebook. Tlou's sentiment, upon hearing about the legendary el molcajete, was: "We gotta eat that thang!" We did. And it was good.
Thanks to Huerta, I've also been introduced to the wonders of the Latino Mall on Redwood Road. Frankly, I'd never heard of the place prior to our expedition. It's a minimall filled with Hispanic stores, restaurants, a supermarket, and even a Vietnamese noodle shop. Walking through the front doors of the Latino Mall is like strolling into Tijuana; it's a lively, vibrant place where English mostly is spoken as a second language. Gringos, however, are warmly welcomed.
In multiple trips to the Latino Mall—now one of my favorite Salt Lake City destinations—I've had the opportunity to sample dishes from an array of eateries, such as Braza Chicken, Paisa Grill Express, La Bonita Ice Cream, Nuestra Cocina, Mariscos Nayarit and Pho Chau. It's like a one-stop ethnic neighborhood.
At Paisa Grill Express, you'll find Mexican and Salvadoran cuisine served fast-food style. Selections range from birria de chivo (goat stew) and homemade menudo (tripe stew) to tacos, burritos, sopitos and pupusas (stuffed masa flatbread). Paisa Grill also has a version of the famed molcajete, but here, you're better off with the deep flavors of the slow-cooked birria, served with fresh tortillas for only $6.99. Wash it down with a cold jarrito or agua fresca and you'll swear you're south of the border.
Braza Chicken specializes in a popular Peruvian-style roasted chicken called, predictably, a la braza. Typically, chicken braza is marinated in a mixture of vinegar, garlic, rosemary, cumin, paprika, achiote, soy sauce, lemon juice and garlic before roasting. At Braza Chicken, you'll find combination meals involving quarter, half or whole (entero) chickens along with fries and side salad. The combos range from $5 for a quarter chicken and sides to $17 for the whole bird. Since I was planning to take my chicken braza home to eat and had a while to travel, I was in the market for a whole chicken, but no sides. Oddly, Braza Chicken doesn't sell chicken solo. However, I successfully negotiated a $13 price in not-so-expert Spanish for a whole chicken and no sides. It was delish, even reheated at home.
Next stop: Mariscos Nayarit, where you'll find a vast array of seafood dishes (mariscos). Nayarit is a Mexican state that borders the Pacific Ocean, so seafood is central to that area's cuisine. Begin at Latino Mall's Nayarit with a snack of a half-dozen oysters on the half-shell ($8) before moving on to shrimp ceviche ($8) or maybe a tostada with pulpo (octopus). For entrees, the shrimp house specialties ($12) here are your best bet: Try the shrimp with fiery chile sauce (a la diabla), garlic sauce (mojo de ajo), melted butter (mantequilla), or ranchero sauce. There's also whole fried tilapia ($12) and soups like the tasty crawfish soup available, plus a good selection of imported Mexican beers.
When I asked Lam, the owner of Pho Chau, what "Chau" meant, he said, "It's the name of the most beautiful, most elegant woman from Vietnam."
"Is she a movie star or celebrity?" I wondered.
"No, she's the most wonderful, kind, special, beautiful woman!" Lam replied. As he spoke, he pointed across the room to his wife, whose name is Chau. Lam, Chau and Lam's sister serve up terrific pho (Vietnamese noodle soup), along with bun (vermicelli bowls) and an amazing dinner special consisting of seven courses of beef, with sides. But pho is the real attraction, and the basic pho tai (noodle soup with steak) is superb: light homemade broth and oodles of rice noodles, topped with tender slices of beef, spring onions and cilantro. Sprouts, fresh basil and sliced jalapeños are served alongside. I love Pho Chau for pho, and not only because Lam complimented me on my use of chopsticks. Nice people and great food—what's not to like?
OK, El Molcajete. On one side of the Hispanic supermarket called Rancho Market, you'll find an eatery called Nuestra Cocina. It's an open kitchen with counter seating and picnic tables, where a team of friendly Mexican women make everything from fresh tortilla chips and tamales to posole, menudo, tacos, gorditas, tortas, chilaquiles and more. But the main draw is the stupendous dish called el molcajete.
A molcajete is a Mexican mortar and pestle, usually made from lava rock. Lots of restaurants serve guacamole in them. Well, at Rancho Market, the molcajete is turned upside-down and heated until nearly molten lava-hot, directly over a gas flame. The fiery-hot molcajete is then turned right-side-up and the fun begins. First, a layer of Oaxacan cheese (similar to mozzarella, which I believe is called queso asadero) is placed into the bottom of the molcajete. It melts immediately, creating a beautiful, brown, cheesy crust. Next, strips of napolitos (cactus), cooked shrimp, chicken and thin strips of beef are placed into the hot molcajete, along with whole charred jalapenos and plump Mexican-style green onions. Finally, the entire thing is topped with thick chunks of cheese, somewhat similar to feta, and delivered to your (picnic) table hot enough to cause concern. Simply grab a fork or tortilla and dig in! El molcajete is $19.95 and easily serves four.

LATINO MALL
2470 S. Redwood Road, West Valley City
LatinoMallUtah.com