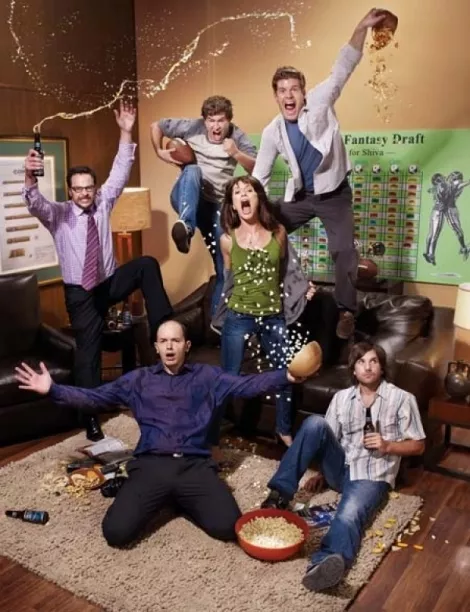 The League
Thursday, Oct. 29 (FX)
Series Debut:
Someday, FX is going to produce a comedy worthy of being paired with
It's Always Sunny In Philadelphia
on Thursday nights:
Testees
wasn't it,
Starved
wasn't it, next year's
Archer
and
Louie
(as in, C.K.)
might
be it, but how about
The League
? To cop a phrase from a character in the pilot episode, it just doesn't go "balls deep." Like
Sunny
, the show's about a group of friends who aren't exactly glowing examples of adulthood: They're all more concerned about their fantasy football league (and drinking, and getting high, and smack-talking each other, etc.) than their suburban wives and lives—and really, who wouldn't be? But, despite a decent cast that includes Nick Kroll (
Reno 911
), Paul Scheer (
Human Giant
) and Jon Lajoie (who created the Internet-sensation video "
Show Me Your Genitals
") and a handful of funny bits (Lajoie's self-penned kids' birthday song should be his
next
hit),
The League
doesn't live up to the risk-taking rep of FX—Fox, maybe, but not FX. Hell, even Comedy Central's
Secret Girlfriend
is more raucous than this, and that show
suuucks.

Halloween Marathons
Saturday, Oct. 31 (Various Channels)
Some of these make sense: FX is showing Halloween movies (but none of the good ones), AMC has Night of the Living Dead on a loop, Comedy Central is loaded up with Scary Movies, SyFy is all Ghost Hunters (ha!) and Bravo's running with those scary Real Housewives of Atlanta bitches. But why is Spike showing Bad Santa all night? G4 got it right: Back-to-back showings of The Toxic Avenger 2 and 3, and The Class of Nuke 'Em High—that's how you do Halloween!
Touchdown


Touchback


Fumble

Sex Rehab With Dr. Drew
Sunday, Nov. 1 (VH1)
Series Debut: Speaking of scary … Are we still considering Dr. Drew a real "doctor"? Said VH1 originally, Sex Rehab is celebrity-free—it's just regular folks who compulsively jerk-off to Internet porn or Daisy of Love reruns. Of course, that's not entirely true: The cast of "patients" includes adult-film starlettes Penny Flame and Kendra-Jade Rossi, Playboy Playmate Nicole Narien, pro surfer James Lovett, actress (and VH1 Rehab vet) Amber Smith and ex-Skid Row drummer Phil Varone. So really, Sex Rehab is just a rehash of Sober House and the rest of Dr. Drew's humiliation-therapy ouvre, so The Only TV Column That Matters™ has a show pitch: Put Dr. Drew, Dr. Oz, Dr. Phil and the rest of the TV "doctors" in a house for a month, toss in some rabid ferrets, let the cameras roll and see who comes out alive. This fall on VH1: Douchebag House.

V
Tuesday, Nov. 3 (ABC)
Series Debut: Back in the '80s, NBC aired this miniseries called V (for "visitors," alien flavor) and your dad geeked out on it. ABC's remake is essentially note-for-note, just with cooler effects, better actors and a new climate of redneck fear in ObamaNation: An alien race (fronted by Firefly/Serenity's Morena Baccarin) arrives all friendly on earth with fancy technology (as in … green?!) and the promise of universal health care (WTF?!), but are, of course, soon revealed to only be interested in enslaving and/or destroying the human race (just like Obama, the Democrats and MSNBC!); siege wackiness and not-so-subtle terrorism parallels ensue. The V pilot looks amazing, setting up what could become a Landmark Series that plays like a far-less-stoopid Independence Day (lines from the first episode: College Dude 1: "Dude, this is Independence Day." College Dude 2: "Independence Day was just a rip-off of any number of alien-invasion predecessors." But, as we've learned from ABC's other epic Earth-in-Crisis series, FlashForward, a killer plot doesn't always carry through the following episodes. Deal-breaker: Rodent cuisine (Wiki it, kiddies).