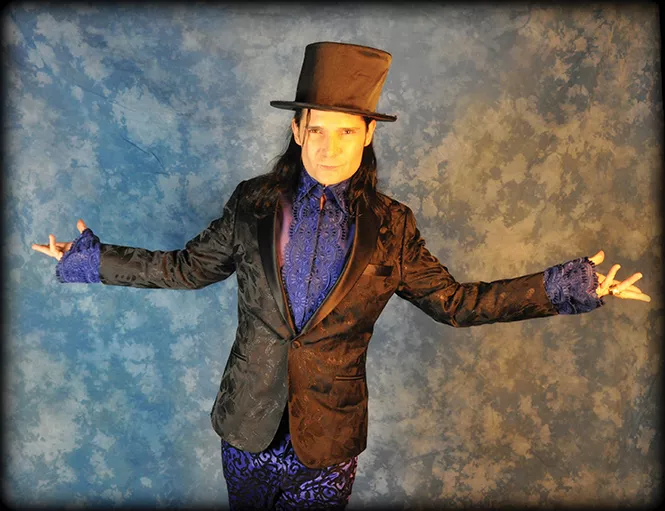 Updated Nov. 7: Corey Feldman's Salt Lake City performance has been postponed until February.
The idea was to fly down to Los Angeles, or wherever Corey Feldman would be, in early October. Access permitting, it would be full immersion, a headfirst dive down the batty rabbit hole of his world so that I might surface with tales of mad hattery. And I was so in.
I'm only seven months younger than Feldman, so I spent my teens adventuring vicariously through him. I felt like part of his gang: racing the Fratellis to treasure in The Goonies; trekking with his friends to see a dead body in Stand by Me; devouring comic books and hunting vampires in The Lost Boys; helping real-life bestie Corey Haim make a love connection with Heather Graham in License to Drive. The nostalgia factor was high.
Then there's the fact that, 30 years later, Feldman is more notorious than famous. Vice chronicled his odd behavior in the 2013 article, "I Went to Corey Feldman's Birthday Party" and its follow-up pieces. Millions of us saw his viral Today appearance last year where—backed by a band of attractive women in angelic white lingerie—he aped the moves, attire, hairstyle and vocal stylings of his old friend Michael Jackson. It could get deliciously weird.
But the trip to L.A. didn't happen. Corey and the Angels' upcoming performance was advertised on Liquid Joe's marquee and website. Smith's Tix was selling tickets. But Feldman's publicist insisted that the show wasn't officially contracted, so we couldn't set up an interview. By the time a date solidified, there was only enough time for a phone interview.
So there would be no awkward, poorly attended house party like the one Vice described. Nor would there be visits to the Playboy Mansion—the Angels' birthplace—or bongers on his back patio. No scenes, no observational inferences. But a voice in your ear can feel intimate; an honest connection is possible.
When Feldman calls, he tells me that one of the first Angels performances was here four years ago during Sundance. At the time, it was just Feldman and DJ AC (his current wife, Courtney) and a couple of background dancers doing EDM-style tracks. "We just wanted to start putting it out into the ether, getting it out into the social conscious collective," he says, calling it a "subliminal advertising ploy, if anything, to get people talking about the brand, which worked very successfully because we had the brand kind of as a household name before we ever even released the album."
"Brand." It's hard to know if Feldman has been media-trained or if he's simply another 21st century American who has picked up on ubiquitous self-promotional lingo. Let's say it's both—after all, he is a celebrity with a publicist. But if guile was a quality he possessed, he wouldn't put himself out there like he does, when every new project meets derision. Then again, you could ascribe all of that to crazy, which is how some people see him.
Feldman is aware of his reputation. Returning to the Angels' Today debacle, he says it seems like controversy follows them everywhere: "But, you know, that said, hey, it's me. What can I say? That kinda summarizes it, right?"
He laughs a sheepish laugh that offers a glimpse at both the younger, heyday-era Feldman and the present-day vulnerable man-child. The contrast appears to stem from a desire to be genuine, to really connect with people, while keeping up—as he's been conditioned to do, working in showbiz since age 3—the hustle. It's the only way he knows.
So when he tells the Angels' origin story, he mythologizes the project as something more than a band of hot chicks formed from women he dated while freshly divorced. He says the project started when, while posing for a Halloween photo, one woman quipped, "We're Corey's Angels!" Since most of the women he dated wanted to get into Playboy hoping it would lead to a career, Feldman sought to form a company that would help streamline the "very long and tumultuous" Playmate selection process so the women wouldn't be taken advantage of by the wrong people. It was meant to be a partnership with Playboy Enterprises, with noted Playboy photographer Stephen Wayda on board, but it fell through.
It gave Feldman a chance to question his concept—the Playboy part, anyway. "It's a dead end, and it's not gonna get them anywhere," he says. Corey's Angels remained an institution for the advancement of hot chicks, but to promote their other attributes. He asked each woman why she wanted to be in Playboy and heard their dreams of acting, modeling and playing music. He proposed Corey and the Angels as a way to use their beauty in a classier way, while focusing on their artistic centers.
He says hundreds of girls have auditioned for the Angels, and that successful candidates demonstrate beauty, talent and a knack for business. The band members change with every tour. He attributes the high turnover to "tainted talent" and a "dark force" in the industry that's at odds with his desire for the Angels to be about positivity, as well as self-sabotaging behavior fueled by insecurity intrinsic to beautiful women who need constant reassurance but also "to be told reality." He relates to the insecurity, having been abused and taunted as a child actor—but he's trying to teach the women to ignore their insecurities and "look at things through a new perspective."
Feldman's been pushing positivity since his first album Love Left (1994), where he condemned racism ("Bi-Got"), promoted brotherly love ("Love Left") and sought to uplift others ("Vision for You"). His desire to inspire continues today on the 23-track Angelic 2 the Core, but you already knew that from Today, where he twerked to his single "Go 4 It." In spite and because of its odd disjointedness, spanning rock, EDM, pop, funk and more, some lyrical strangeness and lengthy Charlie's Angels skits, it's actually a fun listen. It's like '80s Saturday morning cartoons meets Schoolhouse Rock! with affirmations by Al Franken's SNL character, Stuart Smalley. Only it's Corey Feldman saying you're good enough, you're smart enough and, doggone it, people like you.
Considering his history—enduring and observing sexual abuse as a child star, struggling with addiction in his teens, weathering constant judgment and internet cruelty—it's impressive that Feldman's stayed on message this long. How many of us could do that? What's the secret to picking yourself up and heading once more into the fray?
"I'll tell you what it is," he says. His fans, whom he calls the Feld fam, keep him going with, he claims, 100 positive comments for every negative one. God and prayer also factor in, as does a "fighter mentality; this burning thing inside of me that says, 'Don't give up.'" Above all that, however, is fatherhood; his son is No. 1 in his life. "He's a beautiful, respectful, mature adult. That is how I mark my success as a human being. I know, coming from my past, I must have learned something and I must be doing something right."
Feldman can teach us all a thing or two in that regard. Dance like no one is watching; sing like no one is listening. In that sense, he might be better off than most of us. A mad hatter in his own wonderland, he's free.