We need your help.
Newspapers and media companies nationwide are closing or suffering mass layoffs since the coronavirus impacted all of us starting in March. City Weekly's entire existence is directly tied to people getting together in groups--in clubs, restaurants, and at concerts and events--which are the industries most affected by new coronavirus regulations.
Our industry is not healthy. Yet, City Weekly has continued publishing thanks to the generosity of readers like you. Utah needs independent journalism more than ever, and we're asking for your continued support of our editorial voice. We are fighting for you and all the people and businesses hardest hit by this pandemic.
You can help by making a one-time or recurring donation on
PressBackers.com
, which directs you to our Galena Fund 501(c)(3) non-profit, a resource dedicated to help fund local journalism. It is never too late. It is never too little. Thank you.
DONATE
The Meg
Rated PG-13 113 minutes 2018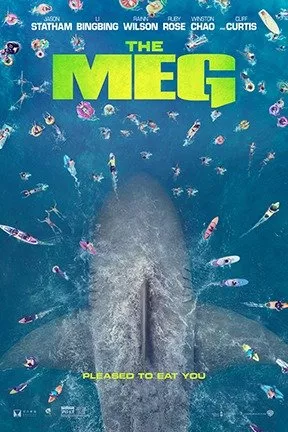 A movie about a 90-foot-long prehistoric shark has some simple requirements: Don't take things too seriously, and give us a lot of 90-foot-long prehistoric shark. Director Jon Turteltaub (National Treasure) hits most of his marks in a story about undersea rescue expert Jonas Taylor (Jason Statham), who gets pulled into the threat of a killer megalodon when it heads into open water from its deep-sea habitat. Plenty of the pieces seem creaky in isolation—Taylor's redemption quest; an adorable kid; a romantic interest for Taylor (Li Bingbing); shorthand plot reasons for which cast members are sympathetic or antagonistic—leading to one of those scripts that feels built to check off boxes. But the set pieces deliver the requisite mix of shrieks, chuckles and cringes, including plenty of neat narrow escapes as limbs dangle tantalizingly close to an open megalodon mouth. And it's good for a giggle when the screenplay offers nods not just to Jaws, but even to Finding Nemo. As summer movie season winds down, it's okay to have one of those movies that only wants to do the silly, satisfying things that a summer movie can do.
Film Credits
Official Site: www.warnerbros.com/meg
Director: Jon Turteltaub
Producer: Lorenzo di Bonaventura, Colin Wilson, Belle Avery, Randy Greenberg, Ben Ji, Wayne Jiang, Gerald Molen and Barrie Osborne
Cast: Jason Statham, Li Bingbing, Rainn Wilson, Cliff Curtis, Winston Chao, Sophia Cai, Ruby Rose, Page Kennedy, Robert Taylor, Ólafur Ólafsson, Jessica McNamee and Masi Oka