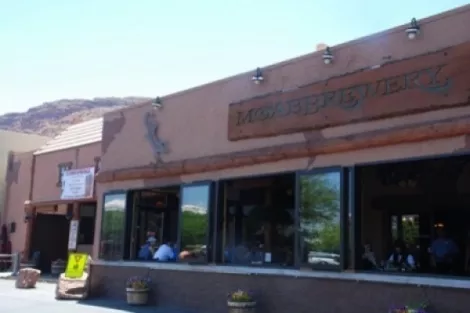 Unlike most people who come to Utah, it took me five years to discover the joys of Moab. Since then, I've been back a half-dozen times in the past year. And, every time, there is one thing I always have to do: visit
Moab Brewery
.
Despite its location in the middle of a scorching desert, the Moab Brewery has the best fish & chips I've had this side of the Atlantic. Breaded and deep-fried in beer batter, these flaky fish pieces drizzled with lemon and malt vinegar and surrounded by big, fat fries—make the restaurant a favorite.
I'm not the only one in on this secret: The Moab Brewery is almost always packed—a testament to its tempting food entrees. So, you'll likely need to put your name on a waitlist for a table and wander around the gift shop or hang outside in the beautiful desert air, grab a gelato from the stand right outside the door or just chat with the 25 other people all waiting for tables. It's worth the wait.
Since it's also a microbrewery, there are eight beers brewed on the premises, the most popular being Dead Horse Ale. After rock-climbing on the cliffs of Wall Street or hiking around Arches, kicking back with one of those beers, paired with the jalapeño cornbread or pistachio-crusted chicken, makes for a perfect ending to the day. The fish tacos and Southwestern chicken chipotle wrap are also amazing. The theme inside the brewery is uber-Moab, with bikes and kayaks hanging from the ceiling and TV screens featuring videos from off-road vehicle rentals; it's always loud, crowded and full of fun friends and good food—which is why I keep returning. 
MOAB BREWERY
686 S. Main
Moab
435-259-6333
TheMoabBrewery.com