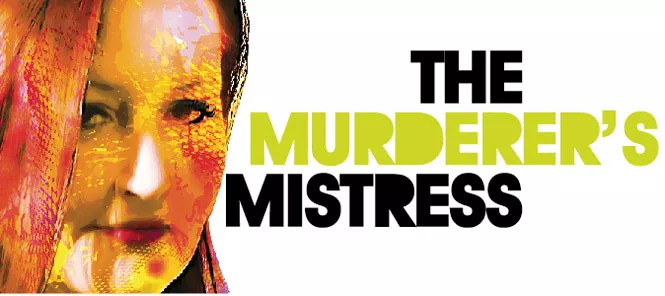 When Gypsy Willis received a text from her married lover that said he'd just lost his wife, she had no idea what it meant. "I didn't have any idea what he was talking about," she says. "I joked back, asking if she had gone for a walk or something. I felt terrible and was in utter shock when he told me she had died."
Willis also had no idea that she'd find herself the subject of worldwide media attention—profiled on Honduran TV, chronicled in London's Daily Mail and featured on ABC's 20/20—or that her lover, Dr. Martin MacNeill, would be accused and later convicted of murdering his wife.
MacNeill's wife, 50-year-old Michele, was found dead in the bathtub of her Pleasant Grove home April 11, 2007. Pleasant Grove police and an autopsy initially ruled that the death was accidental, but Martin's daughters and Michele's sisters were convinced that MacNeill had killed his wife.
MacNeill had encouraged Michele to have a facelift, and had asked her plastic surgeon to prescribe stronger drugs than usual, according to testimony at the subsequent murder trial. Daughter Alexis MacNeill testified that her mother was unusually lethargic and unwell after the surgery, and that she told her daughter, "If anything happens to me, make sure it wasn't your dad."
The next morning, her mother was dead.
The two oldest daughters became driving forces in the case against MacNeill. Both they and prosecutors stated that MacNeill killed his wife to pursue a full-time relationship—and marriage—with Willis.
Willis, 37, is articulate and reflective. Her self-assurance was on full display during her testimony in the 2013 MacNeill trial, which was the first Utah trial to be televised and became a national sensation thanks to the tabloid-ready combination of a mistress and Mormonism. On the stand, Willis calmly responded to questions regarding phone and text contact with MacNeill around the time of Michele's death, and described their relationship, including how she became the nanny for his children after his wife's death and his marriage proposal. She also read excerpts from letters she and MacNeill exchanged while both were in prison on identity-theft charges.
She says she's glad no one could tell how scared she was while testifying in the murder trial: "I felt like a hummingbird on the inside."
Long before she ever crossed paths with Martin MacNeill, Willis' struggles against her conservative Mormon family's values led to her own share of sorrow. Her quest for a successful adult relationship included recovering from a failed marriage, and having access to her child curtailed following bitter conflict with her parents. While her relationship with the charming doctor offered excitement, their lives were both shattered when he was charged with murder.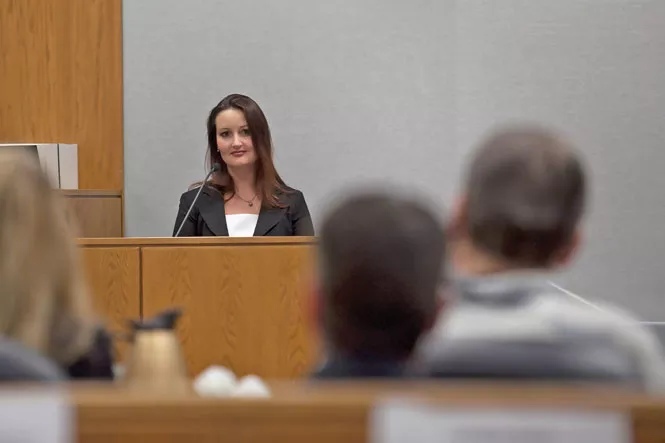 THE DAILY HERALD // MARK JOHNSTON
Gypsy Willis looks at defendant Martin MacNeill as she testifies about their relationship during an October 2012 preliminary hearing.
In October 2012, Willis and MacNeill, then 56, were both in court for a preliminary hearing. It was the first time Willis had seen him since January 2009, she says. Although he looked much older and thinner, she says, "I would look at him and remember our life together. I don't think anyone could do that and not feel something. Most of it is just sorrow that it didn't work, that people were hurt, that we were in these circumstances. But I loved Martin, and I don't think that was a bad thing."
PARENT TRAP
Willis was born in St. Anthony, Idaho, in 1976. She was a dark-haired, dark-eyed baby who got her name after her mother put a red cap on her and remarked that she looked like a gypsy. "That should be her name," her father said.
She came from a conservative Mormon family "that is a little bit on the fringy side," she says. "While the Mormon church does encourage preparation, my dad had The Anarchist Cookbook and sold guns to add to our income when he was in medical school."
The family lived in Pocatello, Idaho, until Willis was 13, when they moved to a town 30 miles from Des Moines, Iowa, where she lived during high school. She became a licensed nurse when she was 18, but wanted to be a doctor. "I thought I would use this skill to pay my way through medical school," she says.
In 1995, at 19, she was working as a nurse and going to college when she became pregnant. Her family, she says, "freaked out and acted like we were in another century, saying, 'Look at the horrible example you've set.' "
She decided to keep the baby—a daughter, later named Heidi Marie. The father, an engineering student, was living out of state, but told her they would get married. But when her daughter was born, "I was having her in the hospital by myself. When I did reach him, I got his fiancee. He had moved on."
Later, she was married for about two years to a man whom she put through school while he studied to become a chef. But, she says, he became verbally and then physically abusive. She returned to live with her family in Idaho, where she worked as a nurse, attended college and began dating a man her family initially thought was wonderful.
The wages in Pocatello were too low, she says, so she decided to move to Salt Lake City. Her family, she says, pressured her to let Heidi remain with them during the workweek.
She agreed to a temporary custodial care agreement that granted her parents rights over practical matters such as Heidi's schooling and any necessary hospital visits, then eventually agreed to a full adoption.
But tensions soon grew over the arrangement with her parents. They changed their minds about her boyfriend, she says. She told them she wouldn't bring him to their house, but was going to love whomever she wanted. "At that point, they said, 'Don't come back here,' " she says.
In 1999, she sued her parents to try to get custody of Heidi. In a mental-health assessment, counselor Karen Anderson of Pocatello, Idaho, stated that Willis was forced into relinquishing control of her daughter. "Gypsy was mentally and physically abused and ultimately signed adoption papers while in a state of duress and threat," Anderson wrote in her report.
Willis eventually dropped her custody battle. "I pushed the ends of my finances as much as I could until she was about 5 1/2, then thought that it might be too traumatizing to take her away," she says.
While she wasn't able to see her daughter, she stayed in contact with her paternal grandmother. Through that contact, Willis learned that her brother was blessing his baby at a church in Bountiful. She decided to try to see Heidi. "I thought my parents might not have too much of a tantrum because we were in church."
Willis arrived a bit late and sat down next to Heidi and her father. Her mother patted her shoulder. "It was great," Willis says. "I was invited to a little picnic afterward."
Over the next few years, Willis tried to approach her parents as an adult would other adults. "We slowly developed contact, which opened my heart up to being hurt more later."
SPLIT LIFE
Willis met Martin MacNeill online in 2005. Back then, Yahoo had a service called Yahoo Members. "It wasn't a dating site," Willis says. "You created a post of who you were. When people with similar interests saw that, they would chat with you."
MacNeill, she says, jokingly accused her of trying to be smarter than she was when she posted, "What do you know about quantum physics?"
Their casual conversations had a spark, although he alluded to being in a relationship "of some kind." They instant-messaged back and forth for about three weeks before meeting in person.
The trial and prison life have left the present-day MacNeill looking so old and thin, she says, that he scarcely resembles the handsome, self-confident man she met in November 2005 for lunch at a Thanksgiving Point restaurant. He wore a nice overcoat and a scarf over slacks and a shirt.
She was initially attracted to his smile and tone of voice, as well as his intelligence, which she already knew about from their online conversations. "What are you doing with me?" she wondered afterward.
MacNeill seemed reserved during the lunch. "He let me talk more about myself than he talked." She told him she worked as a nurse; he told her he was a doctor, was married and had a great life. "That's kind of too bad," she says she thought.
After the lunch, they stayed in touch; instant messaging progressed to texting, their relationship eventually shifting from lunch dates to lovers around January 2006, she says.
MacNeill told Willis that he sought extramarital excitement, she says, "and that is what I was. It was very passionate and very sexual. It was so fun—this beautiful, handsome doctor taking time out of his life for me."
She recalls going with him to a building in American Fork that was scheduled to be demolished for what she calls a "rendezvous," only for someone to walk in on their tryst. "I had my coat and threw it on. I was shaken, but it was exciting."
When they weren't tempting discovery, he would visit her in her apartment or she would meet him at a motel in Orem. "It was the fun, passion and excitement that he liked," she says. "He had a lot of demands in his life—church stuff, a large family, daughters in dance, and he and his wife being social figures. ... I was the only aspect of his life that didn't drain him.
But, she says, the lines between his two lives were clearly drawn. "He had a perfect life and an image he was maintaining. I had my own life and was supporting myself. I had hobbies, friends and interests and went places."
Willis says she loved MacNeill, describing him as "the American version of Prince Charming, coming from his glorious castle." She appreciated his dry wit and spontaneity. "I tend to fall for charismatic, insincere people, but he seemed sincere."
She says she was dating other people, and she's sure she wasn't his only extramarital relationship. Such behavior seems at odds with media descriptions of MacNeill as a "former Mormon bishop" or "former Mormon Sunday school teacher," but, Willis says, MacNeill was successful at compartmentalizing his life.
"He felt his Mormon faith was very important to the structure and social support of his family," she says. "When he was there, he sincerely felt the spirit and participated gladly." But it was separate from his employment, intellectual pursuits and, obviously, the time he spent with women.
"I know he felt liberated in my presence, as I did not ask, expect, or judge anything about him," she says.
A SAFE PLACE
But their relationship wasn't all stress-free sexual liaisons. Willis found herself dealing with MacNeill's rapid cycles between manic and depressive phases, a product of his bipolar disorder. During his manic phases, he was "exciting, fun, funny and lively," she says. But "there were a few times—at least 10 times, about once every six weeks—when he was extremely manic and would get paranoid and kind of belligerent. It was exhausting, and one reason why I admire Michele so much is that she spent 28-plus years of life with him."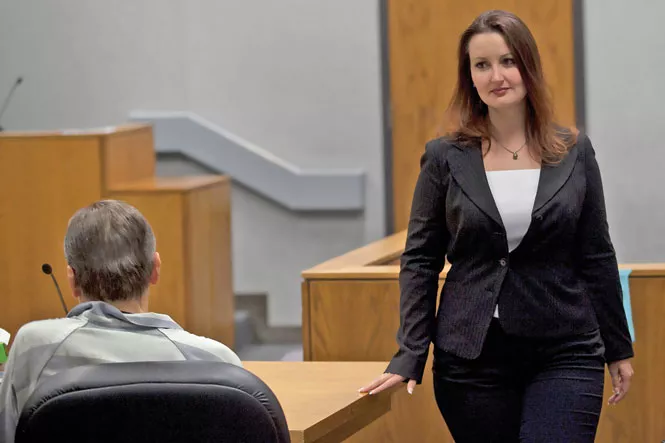 THE DAILY HERALD // MARK JOHNSTON
Willis passes MacNeill after taking the witness stand.
Willis says she admired Michele MacNeill from a distance. "Her life—with society, ballet, family and children—was not the kind of life I ever saw myself in, but I can admire a job well done, even if it is not in my field," she says. "We were obviously very different people with different interests. Martin loved her and always spoke well of her. He had chosen a life with her. I respected everything about her."
In 2006, Willis found a nursing program in Draper that she could get into right away. She gave notice at her Bountiful apartment in the fall and couch-surfed while going to school.
In January, she says, MacNeill told her that he "had leased a little duplex in Lehi for people who were working on his home. They had skipped out on the job, but he still had the obligation to pay on the lease. He put me up with the lease."
When she moved in, she says, MacNeill "gave me a debit card and said, 'Get what you need on this card. And pay me back when you are done.' "
The duplex had holes in the carpet and a dated '70s décor. But, she says, "it was a place to be; that meant a lot to me."
The nursing program was rigorous—40 hours of classroom time weekly, clinic days and a preceptorship, where students donated time. But moving to Lehi meant that she could see MacNeill more often, about twice a week. Still, she says, he was open about seeing other people, and knew that she was, too.
"He told me from the beginning that while he might care about me, our relationship would never move beyond occasional get-togethers."
FAMILY CHAOS
It was only after Michele MacNeill's death in April 2007 that she and MacNeill became exclusive, Willis says.
In May, a month after his wife's death, MacNeill had Willis move in with him and his daughters to serve, officially, as a nanny.
Willis says she was a bit taken aback by the idea of helping as a nanny and thought it would be awkward, considering that she and MacNeill were involved. "I thought that it would be better if everyone had time to regroup, but Martin was quite insistent," she says.
She describes the MacNeills' 5,000-square-foot Pleasant Grove home as "a small palace, with marble floors, large original paintings and sculpture, ballet-themed artwork and very elegant furniture."
Becoming the MacNeill nanny was quite different from her role in her own daughter's life. "I hadn't been involved with ballet or gone to church in quite a while, and I went with them," she says. "They were very sweet children. I really liked his younger daughters and learned to like the older ones, too."
THE DAILY HERALD // MARK JOHNSTON
Martin MacNeill at a January 2014 hearing in Provo for charges of forcible sex abuse. He later pleaded guilty to those charges, but is still waiting for his sentence in the murder of his wife.
During that time, Willis says, MacNeill struggled to hold together his family and his bipolar disorder. "People didn't see him falling apart until you were closer in his life," she says. "When he was alone or with me, he was thrashing, was just about inconsolable when he let down his guard. He was so choked up."
Willis' own family issues resurfaced during this time. Willis drove to her parents' house to pick up a dog that, she says, they'd agreed to release to a rescue organization. But when Willis arrived at her parents' home, she says, her mother told her she couldn't take the dog, and they got into a fistfight. Willis says her mother grabbed her from behind and choked her. "I couldn't talk anymore, and was seeing stars." Willis bit her mother's arm to get away. "Mom said, 'Get out of here, you are never going to see Heidi again.' "
Willis called MacNeill, but, she says, her mother took the phone out of her hand, hung up and dialed the police.
"As I leave, I'm seeing a fire truck and ambulance all heading back toward my parents' house," Willis says. She says no charges resulted from the incident.
When the MacNeill drama came to light, Willis says her mother and sister took it as an opportunity to "say they were right about me, that I was evil and violent. My family does not talk to me. I had no contact and they took this as an opportunity to say I am a horrible person."
Her father, Dr. Howard Willis, says that Gypsy "remodeled her memory" of the fistfight incident, where she was actually the aggressor. "She wanted to procure that dog, and she unfortunately assaulted her mother to get it. It was an ugly situation."
He says he and his wife have not spoken to their daughter since 2008.
"We feel awful for the choices she has made and cannot have her around us," he says. "She is basically not welcome on our property."
Their greatest fear is that she was somehow involved in Michele MacNeill's murder.
"When Gypsy and Martin got together, it was a perfect storm," Howard Willis says. "When you've got a daughter that loses her morals and her spiritual guidance, she could be led on by a pathological killer. The moment she found out Martin was married, she should have shut that relationship off."
BEHIND BARS
Willis says that MacNeill wanted to marry her, but didn't want her sizeable tax debts applied against his assets while he tried to sell his house. Her tax debts stemmed from growing up "with a father who was doubtful of the government, and was a tax protestor himself," she says. By the time she realized the problems her non-payments had caused, her debt to the federal government was about $50,000.
MacNeill's plan was to add her to the family under the identity of the MacNeills' adopted Ukrainian daughter Giselle.
Willis says she had reservations about the situation, but when she'd tell MacNeill that it didn't sound like a good idea, he'd ask, " 'Who has the debt—you or me?' or 'Who is the attorney—you or me?' "
She eventually put her worries aside. "Being as independent as I was, the benefits of having a guy in my life were to make me feel loved and let me feel safe," she says. "Feeling safe is big—it's not something you can always produce on your own. I don't think he intended any of it to go down like it did."
In January 2009, Willis was in the MacNeill kitchen when a SWAT team dressed in flak jackets and vests labeled FBI burst through the front doors. "They came in shouting, and I shouted, 'Get out, you can't be in here.' I was shocked, scared and angry."
As the FBI started taking pictures and doing a "ransacking search," Utah County detectives pulled Willis aside to question her. "We walked outside and there were police cars everywhere," she says.
She was arrested and booked on federal charges relating to the identity theft of MacNeill's 16-year-old adopted daughter. Before that, the only legal issue she'd had was speeding tickets.
Willis was later convicted in federal court on a count of aggravated identity theft. Part of her April 2009 plea deal was agreeing to testify in court if future murder charges were filed against MacNeill.
She served two years, surrendering her practical and registered nursing licenses. After she was released from federal prison, state prosecutors filed charges against her. She pleaded guilty to multiple felonies relating to the identity fraud and was sentenced to 36 months of probation, which ended in January 2014.
HINDSIGHT
MacNeill was also prosecuted for identity fraud and pleaded guilty to two counts of identity fraud in August 2009. He was sentenced to 48 months in prison and released July 6, 2012.
"When Martin was released from prison in 2012, they threw me in jail and tried to restart my probation," Willis says. She says law enforcement took her into custody on an alleged probation violation to make sure she wouldn't run away with MacNeill. "I was so scared. I didn't even know when Martin was being released, and wasn't allowed to have contact," she says. She was released 10 days after MacNeill got out.
The following month, he was arrested and charged with murder and obstruction of justice in the death of his wife.
Willis testified at the 2012 preliminary hearing on MacNeill's murder charges in a calm and poised manner, she and the defendant making eye contact while she was on the stand.
After a 22-day trial in Provo in late 2013, MacNeill was convicted of his wife's murder, but has yet to be sentenced. A few weeks after the jury found him guilty, MacNeill attempted suicide in his cell by taking a disposable razor to his femoral artery.
In July 2014, MacNeill pleaded guilty to forcible sexual abuse of his adult daughter, a conviction his attorney is asking a judge to dismiss because the 2007 recording made by law enforcement of their interview with the victim was lost.
Willis says she hasn't written to MacNeill since she left jail. Now, moving on with her life, she hopes to acquire skills for a new career, as she doubts that she could ever regain her nursing career. Before the trial, she drove a semi-truck in North Dakota.
COURTESY GYPSY WILLIS
Gypsy Willis and Martin MacNeill enjoy nature in an undated photo.
As for her relationship with MacNeill, she says, "Even though I have a lot of pent-up frustration that my association with this guy ruined my life, I am indignant about him being treated this badly." Willis believes her ex-lover was "crucified" by the media and bullied by prosecutors trying to make up for a flimsy case.
She says she can relate to the confinement he now faces after a suicide attempt. "I was in prison, too," she says. "I know what it is. It's hard, because it's so boring, regulated and mundane. Everything is difficult, from the other inmates, the abandonment of people you thought cared, the horrible food and the harsh treatment. For someone with Martin's mental stimulation needs, it would be living hell. ... The conditions he has been subjected to on maximum-security suicide watch for the last nine months are absolutely inhumane. I have no doubt that they have severely affected everything about his physical and mental health. "
Willis says she still believes that Michele MacNeill died of natural causes and that her relationship with MacNeill had no bearing on his wife's death. She doesn't believe MacNeill killed his wife in order to be with her. "He had me any time he wanted me," she says.
Still, she says, if she'd known in advance how her relationship with MacNeill would turn out, "I really can't even say that I would have met him for lunch."