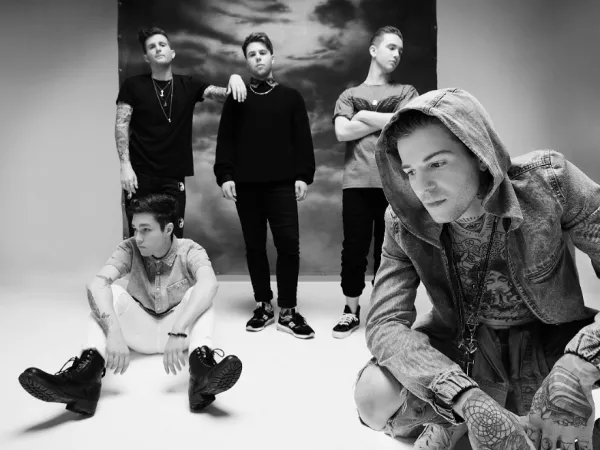 For The Neighbourhood, the past year has been a roller coaster that only goes one direction: up. The California-based five-piece released their first full-length album, I Love You; their song "Sweater Weather" went gold; they played at Coachella; and they performed on both Conan and Jimmy Kimmel Live. But drummer Bryan Sammis says they are already primed to take on new things.
"We're different from a lot of other bands; we're young and we're very hungry for this," Sammis says. "We're grateful and humbled by every success that we have, but all that really means is that it's time to tackle the next one."
The members of The Neighbourhood had been friends for a while before they started making music in 2011. When the band recorded its first EP, Sammis was in college and was unable to be a part of it. But later, when Sammis had only three weeks left of his five-year college career, he left school to rejoin the band.
"When they had hit me up and said, 'We always wanted you to be in the band, we really want you to come back and do it,' it was kind of a no-brainer," Sammis says. "It was sweet to have my best friends not let me give up on music, basically."
Since the beginning, The Neighbourhood's sound—indie rock with overtones of R&B and electronica—has been hard to nail down to an established genre, but the band has a name for the type of music they play: dark pop. "It is definitely pop music, but I don't think it's necessarily the traditional pop music people are used to hearing nowadays," Sammis says. "It's not necessarily upbeat; it's very moody and very emotional. Sometimes it comes from a darker place than most normal music."
Sammis says he feels that the band gets misunderstood for many different reasons, including their age (at 23, Sammis is the oldest member) and their tattoos, but he thinks that will change in the future.
"I feel like we have a lot to prove; I think we have been paying our dues and I think people will look at us on a more serious note," Sammis says. "It's just about breaking out of stereotypes, because some people will be like, 'Oh, the sweater band with the young fans?' We're more than that; we're trying to make an impact on the world."
The Neighbourhood has already tackled a few new projects, including a music video for "Afraid," which was recently released, and has new music in the works. "We just love making music," Sammis says. "We always are creating and we always are evolving. … I'm looking at brand-new Neighbourhood songs, the progression of our band. But what's next is always bigger and better things."
THE NEIGHBOURHOOD
w/Lovelife, Ghost Loft
In the Venue, 219 S. 600 West
Saturday, Oct. 26, 8 p.m.
$15 in advance, $18 day of show