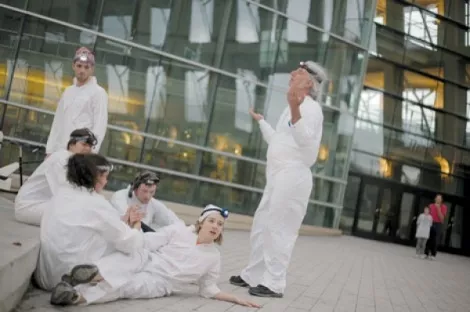 It's around 7 p.m. on Library Square, and a half-dozen people in white jumpsuits are getting strange looks from passersby. Two teenagers snark as the group,
The New Pedestrian
, dance, improvise or enact semi-choreographed skits. "What the hell are they doing?" asks one. The other replies, "I don't know man, but, actually, it's kinda cool."
The New Pedestrian doesn't mind the comments. In fact, that's the goal: to question preconceived notions of movement and transportation.
During the Salt Lake City Gallery Stroll, The New Pedestrian chart a course around downtown at historically or culturally significant points. The New Pedestrians incorporates components of theater, mime, modern dance, and even ballet in their playful form of movement. Currently, the group consists of nearly 20 members, and on any given Gallery Stroll up to half of them will perform.
Founder Corinne Cappellitti started The New Pedestrian in 2008 as a graduate dance student at the University of Utah, while researching wellness, connection through place—something she initially lacked when moving to Salt Lake City—and dance. "A lot of it is about having an awareness of what's around you, making you more alert," says Cappellitti, who moved to Brooklyn in 2009 and no longer performs in the ensemble.
The expedition starts on the third Friday of the month during the Salt Lake City Gallery Stroll at Temple Square around 6 p.m., travels to Library Square around 6:45 p.m., north to Plum Alley at 7:20 p.m. or so, then snakes its way up to the Broadway art district (300 South, between 200 West and 200 East), ending at Red Light Books at about 8 p.m. In the transportation process, there are certain walks, each incorporating four or five particular movements. Layered on top of that, each dancer can call upon different improvisational cues to add variation. Each site's unique characteristics determine a theme, reason or function; there's method behind the madness. "We built these scores, a set of parameters, to engage the dancers. While it can be improvised, it gives us something to be aware of at each site," Cappellitti says.
For example, the Library Square dance was set on basic tenets of a communal meeting place. The dance is called "Scatter. Gather." and looks like it sounds—the group repeating the process several times from a focal point. "They sound infantile, but that's what made it last; it's playful for everybody, and it's given participants a new way of interacting with the city as adults, to do things that are less functional," Capellitti says.
Despite underlying themes, many casual observers don't get it; performance art is easily misunderstood. Perhaps that's because, as Ririe-Woodbury Dance Company artistic director Charlotte Boye-Christensen has observed, at times it can be too precious and pretentious. But, as long as it stays specific and focused on its point of view, it's relevant. "At times, there is a very traditional perception of what the arts [are] supposed to be, in its format. However, the entire premise of the arts is to push boundaries, in terms of social commentary ... come to grips with humanity and be in the moment," Boye-Christensen says.
Those characteristics, along with allowing the project to evolve, are The New Pedestrian's founding ideals. "The city is not static. It changes all around us. We are also not static," says Hillary Van Moorleghem, who took The New Pedestrian helm after Cappellitti's departure.
However, despite minor additions—white jumpsuits, headlamps, more improv—the mission remains the same. "We want to challenge the perception of what our streets are about. [People's movement] is dictated by crosswalks, signs and rules. They can make walking mundane. The New Pedestrian play on the sidewalk—but don't do anything illegal—and interact with architecture and structure like a playground," says Van Moorleghem.
As the evenings begin, they are usually initially greeted with more ignorance and brashness, partly because of the location and the unprepared after-work crowd. Although they wear white jumpsuits for uniformity, to appeal to the working person—a utilitarian ethic—people might associate them with an odd cult or rave dancers. However, the group doesn't fit into any regular box or stereotype, and a lot of people don't want to expend the effort to understand them, says Van Moorleghem.
Later in the evening, as the crowd and locations change, spectators begin to embrace the performances as art, in that they begin to comprehend the significance in the performance in abstract ways. "A lot of it is about your own interpretations; the final meaning is very personal," Van Moorleghem says. Some observers are so moved, they join in, which is encouraged and amplifies the performance.
As art lovers desire a weirder, more diverse Salt Lake City arts scene, The New Pedestrian has gained in popularity. Recently, they decided to expand performances to downtown weekend summer festivals. Salt Lake City is proving that artists can do something radical wherever they are, although the gallery stroll crowd seems most embracing of their work. Truly, the unexpected lives everywhere.
THE NEW PEDESTRIAN
Salt Lake City Gallery Stroll, Third Fridays, 6-8 p.m.
See map for location and times
NewPed.Wordpress.com