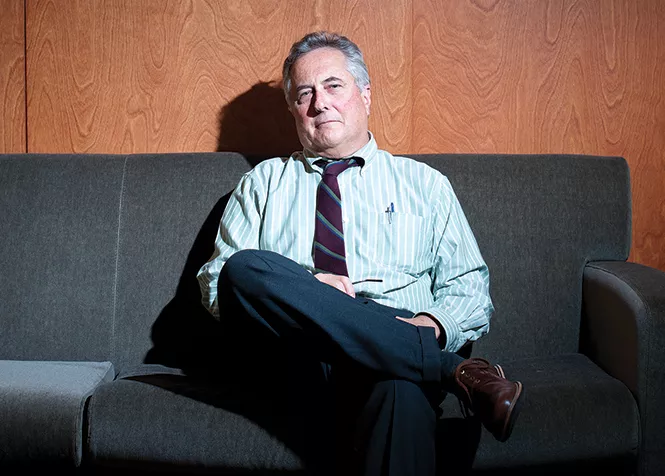 Salt Lake Tribune editor and publisher Terry Orme
The Salt Lake Tribune, like many other daily newspapers, has struggled to figure out how to squeeze a dollar or two from the digital desert of online ad revenues in order to help offset the costs of its online edition. Now, the Trib wants to sell readers exclusive online memberships that would come with special-event invitations and access to an ad-free site where members can read the news without being waylaid by pop-ups or surveys about what kinds of jeans they buy.
Whether that "Save-the-Trib" mentality translates into meaningful revenue for the paper, however, is another matter—especially as some media experts question whether such voluntary paywall models can be successful on the local level.
To paywall or not to paywall has been a troubling question for the nation's media bosses, many of whom have seen meager gains in online ad revenue. According to the Pew Research Center's "State of the Media" report released in April 2015, digital ad revenue across all media grew 18 percent from 2013 to 2014. Unfortunately, the legacy news industry, which includes newspapers like The Tribune, has barely a sliver of that revenue pie. Instead, according to the Pew Center, five technology companies took in half of all display-ad revenue, with Facebook alone accounting for 24 percent of that pie.
Tribune editor and publisher Terry Orme says he considered the idea of charging all online readers for content but realized that "we'd take a terrific hit in [web] traffic"—especially when stacked up against competitors like the Deseret News and KSL.com.
Instead, the model the Trib is now rolling out will be purely optional. A "premium" $9.99 per-month membership gives readers access to the ad-free site and invitations to special events, while a "sustaining" $4.99 per-month member would receive only special-event access.
Orme says the program would expand on the town-hall events the Trib has held in the past, such as its forum on police use of force, or a recent "What Mormon Women Want" event the paper hosted at the Salt Lake City Main Library. Orme says other events would be more hands-on: For instance, a photography class where members could come to the office one day to learn photography basics from Trib photographers and then go out on another day to shoot pictures in Memory Grove. Food writer Kathy Stephenson could teach members how to cook up a mean dish of baklava. Or, members could have a cup of coffee and breakfast with Pat Bagley, other editorial columnists and even Orme himself.
"We'd say, 'Hey, look ... come out on Saturday morning. We'll feed you and we can talk politics. You can tell us how full of crap we are because of our election coverage'— that sort of thing," Orme says.
Richard Hanley, a professor of journalism at Quinnipiac University in Connecticut, says this "value-added" kind of paywall is being tested at a variety of newspapers, including The New York Times, which gives its members opportunities to rub elbows with sports athletes, famous authors and political newsmakers.
Such efforts have met with mixed results: "The jury is still out," Hanley says.
The Times paywall members "get into these big events with heavy hitters, newsmakers— it's the insider's perspective," Hanley says. "There's a certain allure to that, but for local newspapers, I don't know if the celebrity roster is such that it can sustain that model."
This model also presents another challenge: adding the role of entertainer to journalists' already stacked workload. Orme, however, says that, so far, Trib reporters have been willing to go the extra mile with such events, though he hopes it doesn't add too much of a burden.
"The big danger is that we're burning people to a cinder," Orme says. "That's not just in our newsroom, but all newsrooms."
Orme only expects around 1 percent or fewer of the site's unique visitors to sign up for a membership. But no matter how small that number, all the funds go to help support the newsroom and help journalists do their jobs better.
The move is a gamble, but Orme hopes it's one that readers will bet on when it comes to supporting the Trib's role in propping up the Fourth Estate in Utah. "I'm confident in saying that no one has really figured digital advertising out," Orme says. "So I think it's a good time to try something new and play on the goodwill of readers, and the fact that people do want to support us."