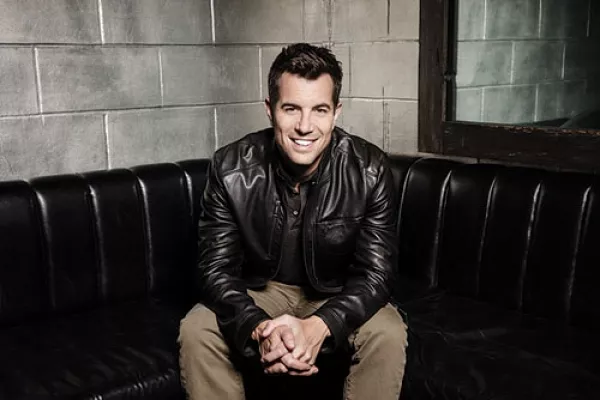 Nick Hexum wants you to know that he can do more than just sing and play the guitar for the rock band 311. He's got a jazzy, funky, swinging side to his creative spectrum as well, which is on full display in My Shadow Pages, the debut album from The Nick Hexum Quintet, released in October. The album is aptly titled because it effectively describes the unassuming manner in which the record was created.
The album was recorded "mostly in the shadows," Hexum says. "Nobody really knew I was doing it, and there were absolutely no [commercial] expectations, so it was a very freeing thing."
Hexum treated this project as a way to keep the creative juices flowing between new 311 releases. Knowing that he wanted to experiment with different sounds that did not necessarily work for the band, he needed an outlet for exploration, as well as an avenue to help him evolve as a musician, so he started jamming with his brother, Zack, and waited to see what resulted.
"It was a project for personal fulfillment and edification of my own self and my playing," Hexum says. "It wasn't for any business goals. It was just for fun. The best music always is."
While tracks like the first single, "Super Natural," have a groovy mid-tempo rock vibe that would not be out of place on a 311 record, there are a lot of new wrinkles on this album. "Just Give it to Me" is a funky dance track, "The Dreamer" wanders languidly into the realm of piano pop, and if you've ever wondered what it might sound like to hear Hexum play the blues, then check out "You'll Do it Again." "Sideways" is driven by jazzy drums and piano.
On the whole, the record feels like a time capsule, and that did not happen accidentally. "Everything that is on that record is instruments that existed in, say, 1970," Hexum says. "There's nothing modern on there. It's all Hammond B-3s, vintage hollow-body guitars, piano, sax and drums. So it sounds timeless and very warm."
Using this solo project as a way to satisfy alternative creative urges was one thing, but deciding to release an album was another. Hexum was not going to have the backing of a big label to help him out, which meant having to finance this labor of love by himself. But there were certain advantages to the situation that Hexum relished.
"It is a different thing for me, going from a pure democracy like 311, to where I'm kind of a benevolent despot in The Nick Hexum Quintet," Hexum says with a laugh. "I definitely take input from all my collaborators, but then it's kind of up to me after that."
The experience working on this endeavor has opened up a whole new series of doors for Hexum. He is already thinking about his next solo project, which will most likely be worked on after 311's next release comes out March 11. And the things he learned throughout this process have helped breathe some fresh air into a music career that already spans almost 25 years.
"Opening up this new avenue, completely unfettered, to go in new directions, was really exciting for me," Hexum says. "I felt a kind of renaissance to my creativity. There's been nothing but support from the other guys in 311 for it. 311 is our life's work. It's the mothership. We definitely don't want to do anything to mess with that, but it's healthy for people to have other outlets."
THE NICK HEXUM QUINTET
w/Kevin Miso
The Depot
400 W. South Temple
Thursday, Jan. 16, 8 p.m.
$23 in advance, $26 day of show
DepotSLC.com