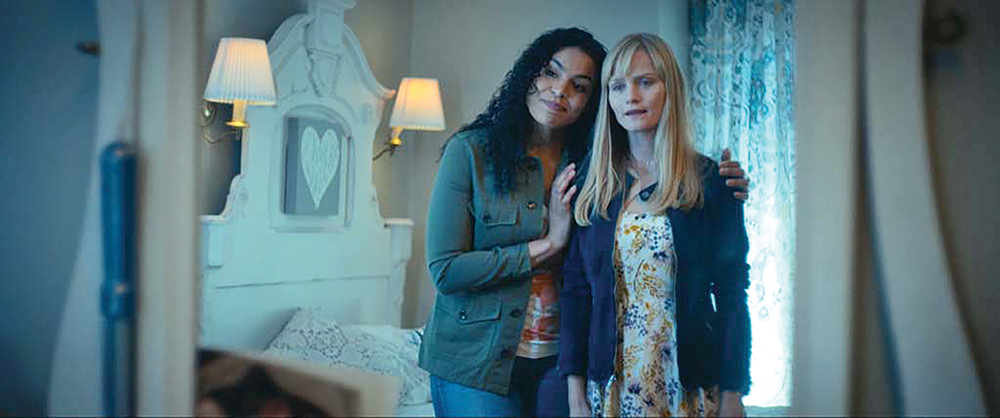 Freestyle Releasing
Lindsay Pulsipher (right, with Jordin Sparks) in God Bless the Broken Road.
God Bless the Broken Road (opening in local theaters on Friday, Sept. 7) tells the story of a young mother named Amber Hill who experiences a crisis of faith after her husband is killed in action in Afghanistan. Actor Linsday Pulsipher (True Blood), a native of the Salt Lake Valley, plays Amber, and spoke to City Weekly by phone about her career and her role in the film.
City Weekly: You grew up with a mom who was an actor in local Utah theater productions. I wonder if you had a different experience from a lot of people whose parents might not have been supportive of a career in the arts.
Lindsay Pulsipher: I feel very fortunate because my mom was my biggest supporter, and still is my biggest supporter. She never dissuaded me from following my passion for acting, and I definitely owe a lot of that to her. I had a lot of friends who really had to fight their parents to get that opportunity.
You started at a relatively early age, with a few credits on Touched by an Angel, which was shot in Utah. Are there ways in which starting out in your hometown was a benefit in getting your feet wet in the industry?
Absolutely. I really didn't have aspirations of leaving Salt Lake as an actor when I was first starting out. I thought, "This is something that's really fun for me to do, it's a great artistic outlet," but when I originally started acting, I never thought, "Maybe this will take me to L.A. or New York." Because of my work on Touched by an Angel and a local film in Utah called Jumping for Joy—that role actually got me an agent in Los Angeles. I feel like it was kind of fateful and instrumental in getting me a career as a professional actor.
Starting out in acting with Touched by an Angel, and at the time the LDS-themed films were beginning to appear, I wonder if you recall the way audiences respond to stories with these themes.
I don't really have any recollection of the term "faith-based film" being part of my vocabulary until recently. Doing Touched by an Angel, because it was on network television, it didn't feel like it was super-specific in its sub-genre. I definitely remember [the LDS films] being around, and it was a great opportunity for a lot of actors in Utah.
To prepare for the role of Amber, did you talk with military widows, and were you concerned about doing justice to such an intense experience?
It was really important for me to be authentic in my portrayal, and I wanted to give respect to women who had actually lost their husbands in wars. So I had conversations with widows, and it is extremely heartbreaking, and really difficult to hear their stories and put myself in that position. I'm fortunate enough not to have lost a loved one in a war, but hearing stories about the coping that had to take place, and the emotional toll it takes, it was really hard. The thing that was amazing for me, and I think our film portrays this, is that you're never alone, and there definitely is hope at the end of any difficult journey, if you can persevere through the darkest times. A lot of those stories ended in a brighter way than they started.
Chemistry with romantic partners is kind of a cliché of movies, but to me, it also seems really important for actors playing parent and child to have chemistry—to be convincing in that relationship.
[Makenzie Moss, who plays Amber's daughter] is such an amazing little firecracker, so luckily it was very easy for me to warm up to her and build that relationship early on. You're right, chemistry is everything in those type of relationships. Andrew Walker, who plays the love interest in the film, is a good buddy of mine; we've been friends for probably five or six years. So when I found out he was playing Cody, I was really excited, then really nervous: "I hope that there's chemistry." I think that our friendship allowed us to go there and have fun with it. It was very comfortable and easy.
What's on your professional bucket list for the kind of role you might not have had the chance to play yet, but absolutely want to get a shot at?
I would love to play a really strong, stoic cop. I usually get to play really emotional, fragile characters. Or a Western, as a ringleader of a girl gang in the 1800s. I'd really love that.