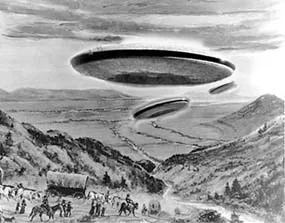 Eight popular myths about Utah's Pioneer Day, July 24:
8. After declaring "This is the place," Brigham Young followed up with "Smoke 'em if ya got 'em."

7. The "Wasatch Drag Queen Handcart Re-enactment" is an officially sanctioned event.

6. Added together, the numbers 7, 2, 4, 1, 8, 4 and 7 (July 24, 1847) equal 33, thus connecting Mormonism to Freemasonry and Rolling Rock beer.

5. This Pioneer Day sale is a once-in-a-lifetime opportunity.

4. State Liquor Stores are really open, but only to those who know the password: "33."

3. The Salt Lake Valley was originally an alien landing strip and outlet mall.

2. At the end of the parade route, the Days of '47 Queen is sacrificed to the Drum Circle Tribe to ensure six days of quiet in Liberty Park.

1. You get July 24th off work (City Weekly only).