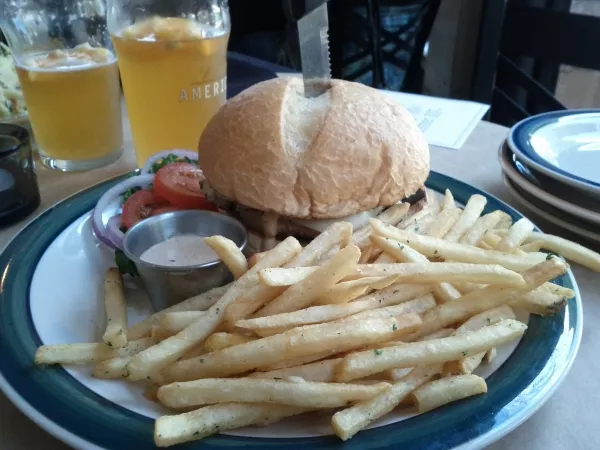 During the night, the Madison is a loud, rambunctious club where the Utah County locals dance well into the wee hours of the morning. But during the day, the downtown Provo space is home to the Old Towne Grill, serving up, as stated on its logo, "inspired American grub."
Transforming a hip club into a rustic American diner is no small task, but the Old Towne Grill does its best to create an intimate dining experience. When you walk in, the actual club space is blocked off by cloth partitions, and rustic signs decorate the walls. Tan butcher paper lies on top of black tablecloths, exemplifying the upscale/down-to-earth juxtaposition the restaurant attempts to exude.
The dedication to old-timey ambiance comes with some awkward features. For instance, the menus are tacked onto rectangular wooden boards. While it's a cute idea, the bulk ends up being rather clunky and annoying. Similarly, Old Towne Grill's drinks are served in 1-quart Mason jars. Again, it's a cute idea, but unless the patrons have hands the size of professional basketball players', the jars are awkward to handle. This is especially true when the sides of the jars begin to sweat on a warm day.
Despite these less-than-ideal elements in the nuts & bolts end of the restaurant, the food is exceptionally good. The menu boasts a fine variety of burgers, served with fries, salad or a cup of soup. The "inspired" turkey burger is served with charred mushrooms, avocado and the delicious Madison sauce—a light mayonnaise spiced with cilantro and herbs. The menu also offers a slew of more upscale entree options, such as the pan-fried cod, served with pineapple rice, shaved carrots and sliced onions. Beer and wine are also available.
THE OLD TOWNE GRILL
295 W. Center St., Provo
385-204-3707
TheOldTowneGrill.com