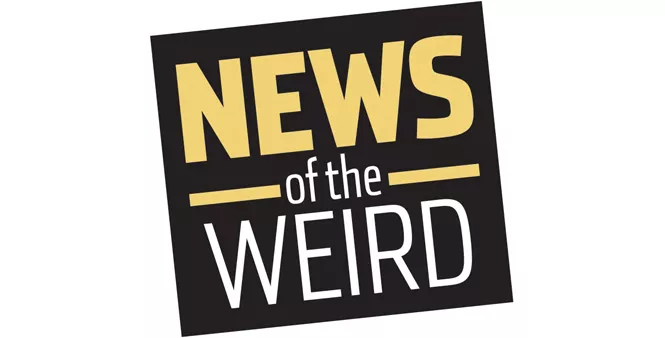 The Passing Parade
Ninety-six-year-old Barney Smith of Alamo Heights, Texas, is known around those parts as the King of the Commode for his life's work: more than 1,300 decorated toilet seats, all displayed in the retired master plumber's Toilet Seat Art Museum. But now, he concedes, it's time to put a lid on it: "I'm beginning to feel like I'd rather be in an air-conditioned home in a chair, looking at a good program," Smith, who is bent with arthritis and uses a cane, told the Associated Press on May 22. Inside the metal-garage museum, the collection includes toilet lids decorated with a chunk of the Berlin Wall, a piece of insulation from the Space Shuttle Challenger, Pez dispensers and flint arrowheads, along with the toilet lid from the airplane that carried Aristotle Onassis' body back to Greece after his death. Smith told his wife, Louise, that he would stop at 500 pieces, but that was 850 lids ago. "If I would have just read my Bible as many hours as I spent on my toilet seats, I'd be a better man," Smith said. Louise died in 2014, and Smith took a fall recently and broke some ribs. Now he's looking for someone who will keep the museum intact: "This is my life's history here."
Precocious
On May 20, as a handful of adults enjoyed the swings at Angel Park in southwest Atlanta, two children walked up and asked to use the swing set. The adults agreed and started to walk away, reported The (Macon, Ga.) Telegraph, when the boys, about 6 and 12 years old, pulled out rocks the size of baseballs and what appeared to be a black handgun. They threw the rocks, hitting one man on the calf and causing an abrasion, according to Atlanta police. The older boy held the gun and pointed it at the adults, who ran away as the boys ran in the opposite direction. Earlier in May, two children were reported for an alleged armed carjacking in the same neighborhood.
Compelling Explanation
Claiming the shooting was an accident, Angelo Russo, 55, told police in Tatura, Victoria, Australia, he tripped over an eggplant during a dispute with a man who had run over his dog, which caused the gun Russo was carrying to go off, striking David Calandro in the head and killing him. Calandro and a friend had gone to Russo's farm on Feb. 18, 2017, to buy some chilies, 9News reported, but as he drove away, Russo's dog, Harry, began barking and chasing the vehicle. Calandro swerved toward the dog to "spook him," the friend told a Victorian Supreme Court jury on May 23, but swerved too far, running over the dog instead. Russo pleaded guilty to manslaughter on May 25.
Oops!
Pesky weeds around his garage caused a Springfield Township, Ohio, resident to resort to extreme measures: The unnamed homeowner tried to eliminate them with a torch, and instead set the garage on fire. Firefighters were called to the scene at 4 a.m. on May 24, where they found the detached garage "fully involved," according to the Springfield News-Sun. The structure was a total loss, including tools and appliances inside, valued at $10,000 to $15,000.
Crime Report
Three men were arrested on May 20 after stealing a 25-foot-long shed from a foreclosed property in Lebanon, Maine, and dragging it down the street behind their pickup truck, according to the Portland Press Herald. Matthew Thompson of Lebanon, Timothy James of Pembroke, N.H., and Robert Breton of Milton, N.H., were spotted in the act by a concerned citizen, who alerted Maine State Police. In addition, Thompson was found to have crystal meth and prescription pills that were not prescribed to him. All three were taken to the York County Jail and held on $5,000 bail.
• Patrick Gillis, 18, a senior at Highlands High School and a volunteer firefighter for the Pioneer Hose Fire Department in Brackenridge, Pa., told police he "just wanted to respond to a fire" on May 21, when he was arrested for starting a blaze in a vacant duplex where he used to live. The Pittsburgh Post-Gazette reported that witnesses told investigators Gillis was seen at the home before the fire started, then returned as a firefighter to help put it out. He admitted to setting a piece of paper on fire and putting it in the microwave, then leaving. The Allegheny County Fire Marshal's Office estimated damage at $150,000, and Gillis was charged with arson.
Bright Ideas
Toronto police constables Vittorio Dominelli, 36, and Jamie Young, 35, had to call for backup in January during a raid on a marijuana dispensary after allegedly sampling some of the evidence. CTV News reported the officers called for help after they began hallucinating, one eventually climbing a tree. In a May 23 news release, Toronto police announced the two officers had been suspended and now face criminal charges in the incident.
• A senior prank went unexpectedly wrong for high school student Kylan Scheele, 18, of Independence, Mo., when he was slapped with a three-day suspension on May 23 and barred from participating in graduation after putting his high school up for sale on Craigslist. Scheele said it was meant to be a joke. "Other people were going to release live mice ... I thought, let's do something more laid back," he told Fox 4. The ad for Truman High School listed attractive amenities such as newly built athletic fields, lots of parking and a "bigger than normal dining room." A lawsuit filed against the school district by the ACLU of Missouri failed to reduce the punishment.
Still Creepy
Before Chuck E. Cheese was a thing, it was ShowBiz Pizza, complete with the Rock-afire Explosion Band, an animatronic combo that is still the stuff of nightmares. On May 24, the Rock-afire Explosion Band was reunited at a new arcade bar in Kansas City, Mo., also called Rock-afire. The band's inventor, Aaron Fechter of Creative Engineering in Orlando, Fla., refurbished the band members with new masks, skin and costumes, and the playlist is set to include old standards as well as more contemporary hits. Bar owner James Bond was a huge fan of the band as a child: "You didn't know whether they were fake or real," he told The Kansas City Star.
Least Competent Criminal
Rowdy Lapham, owner of Old to Gold Hardwood Floors in Grand Rapids, Mich., arrived at work May 21 to find that someone had broken in. Surveillance footage showed that around 2 a.m. the day before, a burglar had thrown a rock through his store window, apparently tempted by the "gold" bars stacked in the window. Unfortunately for the thief, the bars are promotional items made of foam rubber and stamped with the store's logo, reported WZZM TV. The squeezable bars are meant for stress relief, employee Nick Butler said, supporting the company's motto of "stress-free flooring. ... I think this falls under you can't fix stupid."
Send tips to weirdnewstips@amuniversal.com