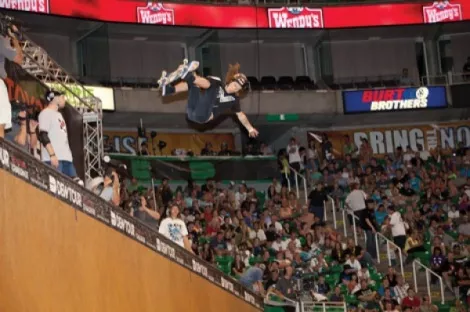 Talking physics with Shaun White will blow your mind. Not many people know that the world's best skateboarder and snowboarder has a surprisingly developed native intelligence. His knowledge of physics is innate, rather than intellectual; it's what allows him to do what he does.
Every elite athlete has a subliminal knowledge of physics. They have to be aware if the forces of gravity will allow one more spin; if that explosive extension will provide enough amplitude to pull off that new trick. They must know the forces acting upon them as they move through the atmosphere. Will the wind keep them from gapping the jump? Can they do the trick without a setup trick first?
White is one of the few athletes aware of physics on a conscious level. It showed in his winning run on the skateboard vert ramp (halfpipe) at the recent Dew Tour stop in Salt Lake City.
On the final trick of White's next-to-last run, his board flew an arm's length away. He was almost out of the vert that provides momentum. There was no way—no way at all—he could nail it. The board was too far, the flat part too close, he was falling. It was beyond even the beloved physical-mutant-of-action-sports to pull this off.
Yet, impossibly, he curled his body up tightly enough, quickly enough, to slam the board under his feet just as he reached the "tranny"—the transition to the flat bottom—then moved with gravity to stand up and use the momentum of his fall to skate up the vert wall on the other side and land on the deck. An ovation—a scream of disbelief and tribute—rose from the crowd.
When the points were announced, White had won. Even with one heat remaining, there was no way anyone could catch him.
On the podium, White stood in his frayed cutoffs while two young children stepped on the podium, one on each side of the Dew champion. They were gold medal speedskater Eric Heiden's kids, Connor and Zoey.
Heiden, now a renowned orthopedic surgeon, looked stunned. I asked him, "Have these athletes reached the limits of the laws of physics, or have they passed them?"
Heiden answered, "I think they're still exploring them. You see some very fantastic athletes, and then you see somebody like Shaun White, who definitely is pushing the envelope. So I think that we're still exploring the laws of physics."
White, informed of the remark, said, "Thank you, doctor. I concur. I am exploring these realms. You really have to adjust in your mind. A lot of people want to compare this to snowboarding, but you take snowboarding, it's 22-foot walls, you angle the whole halfpipe downhill, so as you take off, the mountain's dropping away from you. So the gravity seems to be less. There's a bit more of a floating sensation. On the vert here, the nice part is that it never changes."
Then White indicated that to break the laws of physics, one must ignore them. It's a head trip. "That third run, I basically willed it. I landed on the very end of my board. It was kind of like [the movie] Inception, when they went to the third level of dreaming. That's what it was like," White explained.
He added, "I was standing up there (on the deck) and I knew I had to put the score on the board that I wanted and narrow the gap for anybody else deciding to take the win from me. It just pushed me to do things I've never done before."
Like nail a grab that was mathematically impossible. White is taking it beyond the "zone."
What did young fan and friend Connor Heiden think while watching White's unexplainable performance? The 7-year-old thought, then said, "It makes me want to be in the Dew Tour when I grow up."