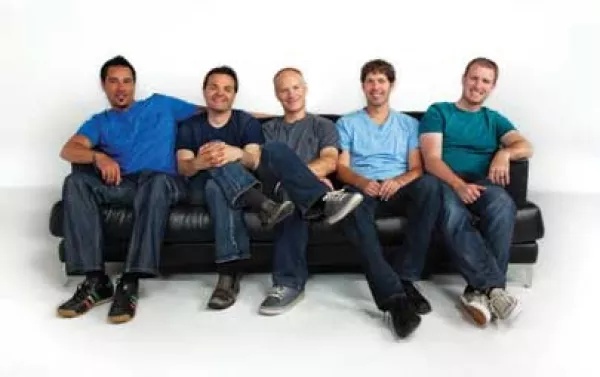 Just last week, Paul Anderson received a complaint—one of many he's gotten recently. A schoolteacher in St. George called him and said that because of The Piano Guys, there aren't enough cellos for all the students requesting them in the school orchestra.
"It's not like we're trying to cause problems, but it's cool to see a movement, to see kids getting excited about instruments and classical music," says Anderson, The Piano Guys' co-videographer and producer, on behalf of the group.
The five dads from Utah—St. George and Salt Lake City—have had astounding success with their pop-classical mashups released on YouTube. Their channel has more than 790,000 subscribers, with more than 143,000,000 million total views of their videos.
The videos feature the group's two musicians, "New Age Classical" pianist Jon Schmidt and innovative cellist Steven Sharp Nelson. The group's name is misleading: Schmidt is the only pianist. Co-videographer Tel Stewart and studio musician and songwriter Al van der Beek round out the lineup.
From their wide-sweeping following, The Piano Guys hope to convert folks, especially a younger generation, to the realm of classical music—and, possibly, help spread the word of God. More on that later.
Anderson was the group's first classical-music convert, actually. "Before I met Steve, I didn't know what a cello was, and I could care less about classical music. I thought it was boring," he says.
"A lot of young people don't get into it, because it isn't cool," Anderson continues. "Maybe we'll be able to help the future of classical music."
To do so, they cover current Top 40 pop songs, albeit with a classical twist (e.g. Coldplay's "Paradise," Adele's "Rolling in the Deep" and Bruno Mars' "Just the Way You Are"). But it's the mashups that are their bread & butter, like "Beethoven's 5 Secrets" (OneRepublic's "Secrets" and Beethoven's 5th Symphony), and the video that launched their career into full-on production, "Michael Meets Mozart" (the King of Pop meets the King of Classical).
For "Michael Meets Mozart," The Piano Guys hired videographer Devin Graham to both film the group and train Anderson and Stewart. Anderson knew nothing about producing videos two years ago, when this Piano Guys venture began. Stewart, then employed at Anderson's piano shop in St. George, was studying videography. They've learned as they've gone—"some things the hard way."
However, Anderson and Stewart's piano-shop experience proved useful in getting pianos onto the Salt Flats or on top of a giant red sandstone cliff. "I've always wanted to put a piano where you've never seen a piano before," Anderson says.
The awe-inspiring vistas and diverse scenery of southern Utah are like the group's sixth member. The geography has helped gain traction and increase numbers on YouTube, Anderson notes. "Putting a still image up there isn't going to get people excited [about listening to classical music]," Anderson says.
Anderson is somewhat obsessive about the numbers. "I check the YouTube charts every day," he says. "When we release a video, we look at our statistics and additional subscribers," Anderson says. It's about perfecting a marketing strategy.
Sony Masterworks realized this and signed the group this summer. The Piano Guys' self-titled, 13-track album will be released Oct. 2, featuring YouTube covers and mashups.
After that, they'll evaluate the timing for a potential additional musical shift toward religious tunes.
"We—all of us—have a strong faith in God. We pray all the time, especially during video shoots. We believe there is something deeper than just some guys making music videos," Anderson says. "[Religion] is a part of us, and we want to be able to [perform those songs]."
The pop songs, which established them, were a kind of marketing strategy. "You have to become cool first before putting out religious music," Anderson says. "We knew that if we started putting it out all of the sudden, there's a chance that we would've never been seen or heard. We know it turns off a lot of people."
This October, they will release the song "O Come, O Come, Emmanuel," Anderson says. "It's going to be a test. We picked a Christmas song to help introduce [religious music]," he adds. "The timing of it is what we are concerned about—where more people will accept it rather than reject it."
But before The Piano Guys start affecting listeners' souls, they will continue to inspire new classical-music fans and take calls and read letters from overwhelmed schoolteachers or proud parents.
"What's motivating us more than anything isn't the money or the fame," Anderson says. "It's getting these letters from people that's say The Piano Guys got their kids excited to play cello or piano."