SOO-EY!
When a pair of Utah lawmakers who had long championed nuclear energy turned up this fall working together to build a nuclear power plant, it shocked even Jordan Tanner, who thought he'd seen everything during 10 years as an ethics reformer in Utah's Legislature.
"The denial of the two that there is a conflict of interest is so contemptuous of the public interest, the degree and magnitude of money involved and the benefits to be derived by those two representatives—during my decade in the House I never saw anything hit that level."
As a result, he says, the public "is not only interested in ethics reform but almost demanding it."
So, with calls for reform ringing in the air and Utah legislators converging on a newly renovated Capitol for the 2008 session, City Weekly is presenting awards—the Piggies—to a short list of lawmakers who, through hard work and tenacity, have outperformed their peers in turning part-time elected office into a full-time gig.
There were plenty of contenders who didn't make the cut. Like the legislator/boxing manager who tried to disband Utah's athletic commission after the body sanctioned his trainer. The legislator/insurance broker who ran a bill for an insurance company, after that company forgave his old debt. The legislator/pediatric dentist who proposed boosting Medicaid payments—but only for pediatric dentists. The legislator/lobbyist who runs a donation-funded lobbying group for big business.
The list of nominees was long. Readers may argue with our picks. Just remember, not everyone can be a winner.
Best Comedic Performance:
Rep. Mike Morley, R-Spanish Fork
Rep. Mike Morley, R-Spanish Fork, keeps Utahns in stitches with his "tough cop" stance on illegal immigration by supporting legislation to cut in-state college tuition for children of undocumented immigrants. Now, for the upcoming session, Morley is sponsoring a bill encouraging companies to hire illegal labor by letting employers off the hook for having to pay for their work injuries. Hey, if immigrant kids can't afford college, they can always look forward to a promising future in construction helping build charter schools at Morley's U.S. Charter Development company. With Morley partnered up with former lawmakers Jim Ferrin and Glen Way, charter-school construction will have lots of job openings. Just don't forget your hard hat.
Past Credits
Morley came into power in 2002 to fill state House District 66, one of the most conservative in the state. He took the seat over from his current business partner, Glen Way.
Way, a developer by occupation, set Morley up as his successor after a restraining order issued against Way by his wife Shelina forced him into early retirement from the Legislature. Way still keeps in touch, though. His joint partners in U.S. Charter Development include fellow former lawmaker Jim Ferrin as well as Mike Morley.
As a prominent Utah County construction magnate, Morley hit up construction and development business buddies like Way for campaign support, and has been riding a river of special-interest money through every election since his first victory in 2002—over $9,000 from development, realtors and construction lobbies.
Lights, Camera, Conflict
In a December, 2007, Labor Committee meeting, Morley proposed a bill for the upcoming session that would prohibit workers from drawing medical benefits for on-the-job accidents if they couldn't prove legal status to work. Morley argued that if they legally shouldn't work, then they shouldn't receive benefits from work-related accidents. The punch line: This is after they've already paid into the worker's compensation fund.
So who pays when an undocumented worker breaks his leg on the construction site?
You do.
Mike Martinez, a Salt Lake City attorney and Latino's rights advocate says undocumented injured workers' medical costs will end up being covered by Medicaid or other taxpayer-funded services. Morley's bill is "not legislation you're going to want to pass if you want to stop companies from hiring illegal aliens. It's actually penalizing the public. We're the ones who have to pick up the tab," Martinez says.
So, who benefits? Since construction is one of the top industries for serious work accidents—and since experts say most construction jobs are filled by illegal labor—anyone who owns a construction company would stand to see insurance premiums drop faster than a bucket of nails from 10-story-high scaffolding, including companies like Morley's M-13 and his joint venture, U.S. Charter Development.
Ferrin, an Orem Republican and Morley's business partner, was notorious during his time in the House (2000-06) for pushing pro-charter-school bills such as HB172, which made it harder for city councils to turn down charter-school construction within their cities.
While Morley didn't sponsor any charter school bills himself, he can't deny that U.S. Charter Development also dumped $14,000 in donations to Ferrin's campaign fund to try and get him re-elected in 2007. Ferrin lost, but with 58 charter schools now in operation and eight to open next year, the charter biz is going strong.
You are too funny, Mr. Morley. Please, someone, stop this guy. We're all laughing so much we're in tears … but seriously, stop it. No, seriously—stop it.
What Critics Are Saying
"He's [Morley] the type of person that will be the first to complain about 'welfare moms,' even though he's got his snout right up to the public trough, and even uses his political power to clear the way to the trough."
—Joel Bradford, Utah Valley State College instructor and Democratic challenger to Glen Way in 2000.
—Eric S. Peterson
Best Original Plot:
Rep. Aaron Tilton, R-Springville
Frank Capra couldn't have written a script this hokey. It's a sort of Mr. Smith Goes to Washington, in which a mild-mannered Viagra salesman gets himself elected to the Legislature and quickly lands seats on committees that will decide Utah's future energy policy. Then, surprising everyone, the committees recommend going nuclear. In the last act, we learn Tilton is in the nuclear power-plant business.
Past Credits
The Utah County native ran for the state House of Representatives in 2004 after trying his hand at short-lived careers in restaurant operation, real estate, construction and online Viagra sales. He swept into office unchallenged after news surfaced that Tilton's only opponent had been nabbed in a State Street prostitution sting in Salt Lake City. A member of the Conservative Caucus, Tilton is known for last year's bill aimed at stamping out gay student clubs and a failed attempt to lower the legal age for riding ATVs—to 6.
Lights, Camera, Conflict
Long before anyone knew Tilton had started Transition Power Development for the sole purpose of permitting nuclear power plants in Utah, Tilton was framing state energy policy. In 2006, he authored three bills requiring environmental groups to post pricey bonds before filing lawsuits against power plants. One Tilton bill specifically aimed to slow protests to the Radiation Control Board.
Tilton landed an appointment to Gov. Jon Huntsman Jr.'s Blue-Ribbon Advisory Council on Climate Change, a group charged with reducing Utah's carbon output. Although a subcommittee had largely dismissed nuclear power as a low-carbon alternative, noting problems disposing of waste, the group's final report gave nuclear the thumbs up. The change followed a vote participants say included one-on-one lobbying from Tilton.
In the Legislature, Tilton was named vice-chairman of the Public Utilities and Technology Committee overseeing power companies and pressed for financial incentives to attract a nuclear power plant to Utah.
In October, Tilton amended his official conflict-of-interest form to note the nuclear-power business he had formed eight months before. Unabashed, he testified in front of his own public utilities committee—as CEO of Transition Power.
What Critics Are Saying
"This was one of the biggest critics of the governor in trying to address climate change. He didn't believe global warming was real. Suddenly, he's a supporter of nuclear power to lessen our carbon footprint? It was obvious to a lot of us he was using this as an opportunity to pursue his own economic interests. … People were volunteering a lot of their time for the common good. His motive was purely financial."
—Tim Wagner, Utah Chapter of the Sierra Club, who served with Tilton on the governor's Blue Ribbon Advisory Council on Climate Change.
"I told him, 'No.' I said I'm happy to vote for nuclear if he was happy to put the nuclear plant in his back yard. … At that point I had no idea he was involved [in building a nuclear power plant]. He had said nothing to anyone about it."
–Rep. Phil Riesen, D-Salt Lake City. Riesen served with Tilton on Huntsman's climate change panel where, Riesen says, Tilton tried to secure his vote for nuclear power as an "alternative fuel."

—Ted McDonough

Best Performance in a Supporting Role:
Rep. Mike Noel, R-Kanab
Every buddy movie needs a sidekick and the folksy Noel is just the ticket for leading man Aaron Tilton's nuclear power play (see above). Both are members of the Conservative Caucus and serve together on the Public Utilities and Technology Committee, where Noel is chairman and Tilton vice-chairman. Noel has long been among the Legislature's most ardent supporters of nuclear power, but until recently, few suspected he was in the business. Tilton's plan to build nuclear power plants in the desert state of Utah will require lots and lots of water. As manager of the Kane County Water Conservancy District, Noel was in a position to sell Tilton's nuclear power-plant company billions of acre-feet—a contract worth up to $1 million per year to the water district Noel will head when the plants come online.

Past Credits
A Kane County cattle rancher and former executive of anti-environmentalist group People for the USA, Noel is a longtime battler against federal regulators, Utah environmentalists and anyone who would close public land to grazing or off-road vehicles. He quit a job with the federal Bureau of Land Management after the Clinton administration created the Grand Staircase-Escalante Monument, a move that ended a coal mine Noel was preparing for the agency. Noel won election to the House in 2002. The following year he won a dubious award from legislative watchdog Common Cause as the "most gifted" lawmaker for receiving the highest value in Utah Jazz tickets and other lobbyist gifts.
Lights, Camera, Conflict
In 2006, Noel surprised some by standing on the Utah House floor to call for an amendment to Utah's energy policy—a study of nuclear power. A state energy task force that met earlier had decided against specific mention of going nuclear, but Noel insisted, even suggesting a power plant could be built on state trust land near Lake Powell. Nuclear plants would be a "great resource for the children of this state," he said. Fast-forward one year and the water district Noel manages had inked a deal to sell billions of gallons of water to Transition Power, a company that wants to build nuclear power plants.
The study Noel called for on the House floor never happened. Still, last summer, the Public Utilities Committee headed by Noel was framing laws—at Noel's request—to provide incentives for companies to build nuclear plants in Utah. The committee discussed having Utahns pay for nuclear power-plant construction through their utility bills, whether or not the plants ever came online. The anti-nuke crowd never had a chance, says utility ratepayer advocate Claire Geddes. With Noel and friend Tilton in charge, it was "a railroaded deal."
What critics are saying:
"We couldn't figure out for a long time what Noel's interest was, what was driving this so fast. Some of it may be the uranium down there [in Noel's southern-Utah district]. But we had no idea of the water situation. … We're not sitting down and asking whether [nuclear power] is renewable, clean energy, or if it's economic. Those questions are taking a back seat to an interest of a lawmaker."
–Claire Geddes, utility ratepayer advocate.
—Ted McDonough

Best Director of Conflicted Legislation:
House Speaker Greg Curtis, R-Sandy
Speaker of the House Greg Curtis directs a cast of dozens of legislators to oversee his masterpiece. For the man with the gavel, it's "lights, camera, action" on choice bills benefiting Curtis' private law client, Anderson Development, and if any legislators forget their lines—well, it's "cut!" for them.

Past Credits
Greg "the comeback kid" Curtis may now be basking in his second term as house speaker, but he'll be the first to tell you it's not easy being king. That's because Curtis has dodged scandals damaging enough to convince some critics that kryptonite is the only weapon that could drive this man from office.

Curtis' most notable 9-to-5 job outside of lawmaking was as counsel to former Salt Lake County Mayor Nancy Workman during an era of criminal acts the local media dubbed "guzzlegate." In 2004, Salt Lake County Auditor Craig Sorensen was caught, as were two other country workers, collecting fuel reimbursements for personal use of a county-owned vehicle. Workman was embroiled in her own criminal trial (and found not guilty) for misusing tax dollars to help get her daughter a job. Curtis didn't just pick up collateral scandal here; he was caught collecting reimbursements for driving his county-owned and fueled SUV to the state Capitol. He called his actions an "oversight."

Since then, Curtis has landed himself a nice job as partner in the law firm Hutchings, Baird, Curtis & Astill, where he's worked since 2004. The firm courts some of the state's most powerful development interests around.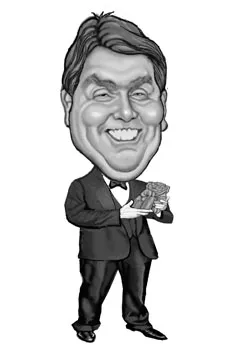 Lights, Camera, Conflict
Curtis actually sponsored no bills of his own last year, but when you're house speaker, you sit in the director's chair and control your fellow reps' seating arrangement, committee assignments and committee chairmanships. That makes it easy to get others to enact your legislation for you.
Anderson Development, the biggest client of Curtis's law firm, was quite happy with some of 2007's bills, such as SB271. It allowed Anderson Development to move ahead with cleaning up the old Geneva Steel site in Utah County without having to wait for approval from Geneva's out-of-state partner U.S. Steel. This would permit Anderson to defer the majority of costs onto U.S. Steel—a potential windfall of millions of dollars for Curtis' law client.
SB271, heard in the waning days of the 2007 session, was put up by Sen. Sheldon Killpack, R-Syracuse, a Curtis ally. Killpack made a quick pass through committee to House sponsor Dave Clark. Clark, R-Santa Clara, ran the bill through the House with floor discussion running a little over four minutes. SB271 was easily passed 68 to 1. Cut!
To his credit, Curtis didn't vote on this bill. But that's not to say he wasn't pleased at the work of sponsoring legislators—not only did they make good on the direct campaign donations both Killpack and Clark received from Anderson Development and its PAC, the Utah Property Rights Coalition ($1,500 for Clark and $4,000 for Killpack), but they're also guaranteed starring roles in the upcoming 2008 session—keeping seats on powerful committees such as Higher Education Appropriations (Clark), Capital Facility and Appropriations (Killpack) and Executive Appropriations (Clark and Killpack).
What Critics Are Saying
"It's amazing that so many legislators don't take a step back from their conflicts of interest—at least Curtis has other people run his legislation for him."
—Todd Taylor, Utah Democratic Party executive director
—Eric S. Peterson
Th-th-th-that's all for this year, folks!
Former legislative watchdog Claire Geddes calls conflict of interest the No. 1 problem in Utah's Legislature. It's not just that lawmakers get rich, she says, but that state policy gets written only to suit the narrow interests of individual elected officials. And no one is watching, says Geddes who folded her Utah Legislative Watch organization three years ago. Utah's last surviving good government group, Common Cause of Utah, closed its doors last year.
That leaves lawmakers to police themselves. This year, a few aim to tackle the conflict-of-interest problem. One bill would allow conflicted lawmakers to get out of embarrassing votes. Another would revamp the Legislature's entire ethics process. (More can be read about the proposals on page 14)
"A lot gets under the radar," Geddes says. "Issues are being decided in a vacuum by people who have a vested interest and not necessarily the best interest of the public. It's so hard to sit back and watch this."