Page 3 of 3

Best Director of Conflicted Legislation:
House Speaker Greg Curtis, R-Sandy
Speaker of the House Greg Curtis directs a cast of dozens of legislators to oversee his masterpiece. For the man with the gavel, it's "lights, camera, action" on choice bills benefiting Curtis' private law client, Anderson Development, and if any legislators forget their lines—well, it's "cut!" for them.

Past Credits
Greg "the comeback kid" Curtis may now be basking in his second term as house speaker, but he'll be the first to tell you it's not easy being king. That's because Curtis has dodged scandals damaging enough to convince some critics that kryptonite is the only weapon that could drive this man from office.

Curtis' most notable 9-to-5 job outside of lawmaking was as counsel to former Salt Lake County Mayor Nancy Workman during an era of criminal acts the local media dubbed "guzzlegate." In 2004, Salt Lake County Auditor Craig Sorensen was caught, as were two other country workers, collecting fuel reimbursements for personal use of a county-owned vehicle. Workman was embroiled in her own criminal trial (and found not guilty) for misusing tax dollars to help get her daughter a job. Curtis didn't just pick up collateral scandal here; he was caught collecting reimbursements for driving his county-owned and fueled SUV to the state Capitol. He called his actions an "oversight."

Since then, Curtis has landed himself a nice job as partner in the law firm Hutchings, Baird, Curtis & Astill, where he's worked since 2004. The firm courts some of the state's most powerful development interests around.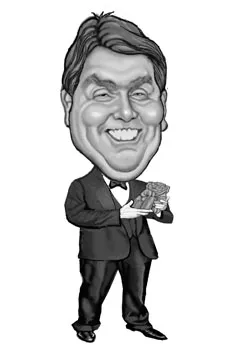 Lights, Camera, Conflict
Curtis actually sponsored no bills of his own last year, but when you're house speaker, you sit in the director's chair and control your fellow reps' seating arrangement, committee assignments and committee chairmanships. That makes it easy to get others to enact your legislation for you.
Anderson Development, the biggest client of Curtis's law firm, was quite happy with some of 2007's bills, such as SB271. It allowed Anderson Development to move ahead with cleaning up the old Geneva Steel site in Utah County without having to wait for approval from Geneva's out-of-state partner U.S. Steel. This would permit Anderson to defer the majority of costs onto U.S. Steel—a potential windfall of millions of dollars for Curtis' law client.
SB271, heard in the waning days of the 2007 session, was put up by Sen. Sheldon Killpack, R-Syracuse, a Curtis ally. Killpack made a quick pass through committee to House sponsor Dave Clark. Clark, R-Santa Clara, ran the bill through the House with floor discussion running a little over four minutes. SB271 was easily passed 68 to 1. Cut!
To his credit, Curtis didn't vote on this bill. But that's not to say he wasn't pleased at the work of sponsoring legislators—not only did they make good on the direct campaign donations both Killpack and Clark received from Anderson Development and its PAC, the Utah Property Rights Coalition ($1,500 for Clark and $4,000 for Killpack), but they're also guaranteed starring roles in the upcoming 2008 session—keeping seats on powerful committees such as Higher Education Appropriations (Clark), Capital Facility and Appropriations (Killpack) and Executive Appropriations (Clark and Killpack).
What Critics Are Saying
"It's amazing that so many legislators don't take a step back from their conflicts of interest—at least Curtis has other people run his legislation for him."
—Todd Taylor, Utah Democratic Party executive director
—Eric S. Peterson
Th-th-th-that's all for this year, folks!
Former legislative watchdog Claire Geddes calls conflict of interest the No. 1 problem in Utah's Legislature. It's not just that lawmakers get rich, she says, but that state policy gets written only to suit the narrow interests of individual elected officials. And no one is watching, says Geddes who folded her Utah Legislative Watch organization three years ago. Utah's last surviving good government group, Common Cause of Utah, closed its doors last year.
That leaves lawmakers to police themselves. This year, a few aim to tackle the conflict-of-interest problem. One bill would allow conflicted lawmakers to get out of embarrassing votes. Another would revamp the Legislature's entire ethics process. (More can be read about the proposals on page 14)
"A lot gets under the radar," Geddes says. "Issues are being decided in a vacuum by people who have a vested interest and not necessarily the best interest of the public. It's so hard to sit back and watch this."