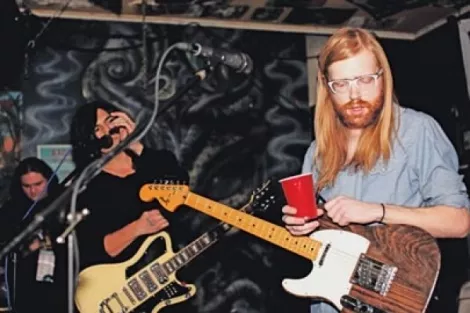 It's been a long 2 1/2 years for fans of The Plastic Furs as they've waited patiently for an album. But, finally, after two lineup additions, a lengthy recording process and time spent solidifying their live performances, the heavy-psychedelic rockers are ready to unleash their latest release on the Utah music scene via a new collection called Does It Explode.
After spending a year playing gigs and working out a new set list, the trio gave fans a taste of things to come in April 2010 with the release of a three-song EP titled Kissing With Knives and Acid. But as they were gearing up to record a full-length album, a chance request landed the group a second guitarist in former Astrals member Ian Moore. "Ian came to a show of ours and asked if he could play tambourine that night," recounts Bryan Holbrook. "It was a lot of fun having him up there with us, so we said he could play whenever he wanted. He joined the band as our tambourine player and slowly was moved to guitar. We're all good friends, so it led to a positive addition."
When the new configuration of the band hit the studio, the group took their time perfecting their sound, taking 13 months to write, record and master the tracks. While each member was busy balancing school and work, sessions would revolve around recording, mixing and mastering—all at the same time. The initial tweaking of microphone placement, amps and pedal levels went smoothly. Justin Langford served as audio engineer while all four members of the group produced the album as a collective, with open collaboration and creative discourse as important parts of the process.
When asked about recording the album, Holbrook said they were "collectively producing something that we are all emotionally tied to, and we're using any and all spare time to do it. If you do that long enough and add in any kind of chemicals, you're bound to have some problems. Even without the chemicals. It's pretty standard stuff, though, misunderstandings and differences of opinion. We're fine, the album is done and we're still good friends."
Does It Explode is a beautifully raw album that's sure to be playing in the background in record shops and dimly lit apartments for years to come. While the album is, by design, incredibly distorted, you can still hear every instrument.
Holbrook and Moore play off each other perfectly in the traditional lead/secondary guitar roles while providing gritty vocals, and Langford keeps pace with tricky change-ups, maintaining a cool pulse throughout the album. Not to be outshined, Marlow holds her own behind the kit, at times becoming the centerpiece with her steady rhythms.
The record as a whole sounds like the group took a trip through the southern red rock canyons, dunked all their equipment in the mud and played as loud as they could through all 13 songs, with every track echoing off the walls, flying back into the reverb and distortion, shaking the rocks down to the floor in a rumble and crashing at the end in a cloud of dust and amplified noise.
The Plastic Furs will also be releasing a split 45 with Pretty Worms at the Does It Explode release show.
THE PLASTIC FURS CD RELEASE SHOW
w/ Pretty Worms, Night Sweats
The Garage, 1199 N. Beck St.
Saturday, Sept. 10, 9 p.m.
$5