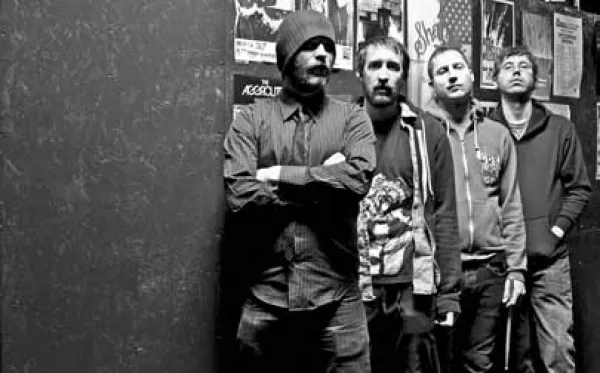 Some things are just better if you wait long enough—like a good whiskey, a bottle of French wine or, in some cases, a band. And with two lineup changes and a two-year hiatus since The Pleasure Thieves began their first album, The Empire Never Ended is worth the wait.
The local rock band first got together in 2005 out of "boredom." However, that was not what one would assume when seeing them in concert, where they'd give it their all, no matter the number in attendance. Guitarist Dave Combs recalls that one of their best shows was seen only by local music group The Rotten Musicians and the bar staff.
With their original lineup—Combs, Doug Grose (keyboards), Dave Durrant (bass) and Jeremy Smith (drums)—the band did eventually build a loyal fanbase, but their effort to release a debut record was met with terrible luck.
"We had a five-song disc that was more or less finished, [but] the computer it was on was thrown out of an apartment window, along with a number of other local bands' material," Combs says, not wanting to embellish on any more specifics, to let bygones be bygones. Back up your hard drive, kids.
During their first run, the band released one track, "Serotonin Blue," on SLUG Magazine's Death By Salt II compilation in 2006. Shortly afterward, the band lost Smith and replaced him with Mike Sartain. The Pleasure Thieves took a back seat to the band members' other projects. Durrant left the band in 2008, which eventually pushed the remaining members to take a hiatus.
Shortly before the hiatus, though, Lance Saunders had become the group's biggest fan and was continually pushing Combs to release an album. Once Durrant left, Saunders started practicing with Combs to learn all their songs, and within eight months, he had mastered the entire catalog.
So, the seed was planted and the manpower was set. All that was needed was time. "Life and work caught up, and Doug and myself needed an indefinite hiatus thing," Combs says. "In part, it had just become work. And to a great degree, if it's not fun, then why do it? I never really intended [the break] to be two years, but I didn't really think about it too much until about a year ago or so when I decided I really wanted a document of what we had all created."
Roughly a year after the band officially dissolved, the group reunited with Saunders in the lineup and started work on their first full-length album. The group hooked up with Mike Sasich of Man Vs. Music Studios for principal recording and Terrance D.H. of Counterpoint Studios for mastering.
"There were some snags and frustrating moments, but no TVs through windows or drug overdoses," Combs says. "We got in and tried to be creative and make these songs come alive."
With Saunders onboard, it was a no-brainer to release the album on Kilby Records (Saunders co-runs the label). Additionally, the band hired local artist Travis Bone—known nationally for his concert-poster screen prints under the moniker Furturtle—for the artwork. They completed The Empire Never Ended as an exclusively locally produced album.
The album itself is a rock & roll wake-up call—or, at least, a highly caffeinated shot in the dark. Combs and Grose play off each other beautifully and even switch roles between songs. Combs' exciting and almost anger-fueled picking through the intros and solos found in "24/7" and "Thanx For The Fucking Hugs" is a cornerstone to the band's sound. The steady rhythm section between Sartain and Saunders makes it sound as though they've been playing together for years. But it's Grose who really completes the ensemble—almost like their secret weapon. He keeps a lively harmony behind the upfront action and is a standout on songs like "Searchlights & Razorblades" and "Gotta Get It All."
Truly, this is one of the best local rock albums you'll find this year.
THE PLEASURE THIEVES
CD Release w/ Nautical Sons, Light Black
The Urban Lounge
241 S. 500 East
Saturday, July 28, 9 p.m.
$5