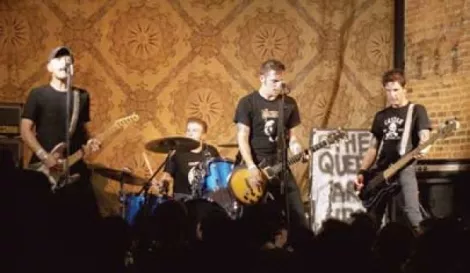 It's been 35 years since punk reared its mohawked head with self-effacing irreverence and joyous chaos, laying waste to the pretense of its rock-god forebears. But somewhere along the way, like a game of telephone, the message was lost on this latest generation.
"Now it's come around where these so-called punk singers have their wife-beaters on and they do the same moves as the lead singer from Journey," Queers guitarist Joe King says. "You're not getting the joke, guy. You're what punk started against. But once the Warped Tour and money came into it, it lost a lot of its integrity."
King knows—he was there at ground zero. He and his friends would hang out backstage at Ramones shows during the mid '70s. ("It wasn't like security for the Rolling Stones," he says.) Then King moved to Los Angeles to do construction work for his brother and saw bands like the Dickies, the Circle Jerks and Black Flag.
"[Black Flag's] TV Party really struck a chord with us. That was just like us. We were hanging out [at home] watching TV, smoking weed and drinking Bud," laughs King. "Black Flag really influenced me when I saw them … I remember I got home the next night, called my friends back home and said, 'Dude, we could start a band. I just saw Black Flag, and we could fucking do it.' "
That was more than 30 years ago, and in that time, the Queers have recorded 11 albums and played thousands of shows, all driven by a similar sense of playful pop-punk irreverence. King's lyrical style is deeply inspired by the Ramones, managing a similar smart/dumb duality on songs like "Born To Do Dishes," "My Old Man's a Fatso" and "I Don't Wanna Go To the Moon."
It's been a long, strange journey. They signed to Lookout Records in the '90s, just before Green Day hit it big, and rode their coattails to success. "I remember getting quarterly checks for $14,000," King recalls. "I wanted to say, 'We were only kidding! We just wanted to drink some beer!' "
The money fueled several drug-addled years and intra-band dissension, culminating in the dissolution of the classic lineup of drummer Hugh O'Neill and bassist B-Face in '98. (O'Neill died of brain cancer a year later.) King passed through rehab and kept driving the band forward, backed by a revolving door of players before settling on a steady lineup four years ago.
Last year, they released Back to the Basement, a glorious return to their punk roots. Always known for their catchy melodies and shout-along choruses, this disc is a bit more raw and biting, highlighted by tracks like the Circle Jerks-ish "White Minority," punchy anthem "Keep It Punk" and chunky rave-up "I Knew GG When He Was a Wimp," an ode to when the late, notorious, feces-flinging punk icon G.G. Allin drummed for his band.
"He was a helluva drummer," King says, relating an occurrence when their giant, whiskey-drunk, size-14-shoe bassist tried to kick in their car windshield with them in it. Allin ran. "I had told him I was going to write a song about that, and he got a big kick out of that."
The album was recorded just like the old days, when they didn't have enough money to pay the engineer, so they didn't do second takes if they could help it. "If we started together and stopped together, then fuck it. It was like taking a flight, we used to say. As long as takeoff and landing is OK—we don't care what happens in the air," King says.
Simple fact: Growing older doesn't need to be synonymous with growing up or growing stale, something the Queers demonstrate nightly.

THE QUEERS
w/ Knockout, Reno Divorce, Victims Willing, Vena Cava
Burt's Tiki Lounge
726 S. State
Saturday, Dec. 3, 9 p.m.
$10 in advance, $12 day of show