Page 3 of 3
Letter of the Law
The city and county, McCracken argues, have sided with The Rail. Salt Lake County´s Bennett described Bliss Court residents as possibly "hypersensitive" in one e-mail. After Bennett met with Scott Gollaher at The Rail during a late October concert and identified some noise issues, primarily an air-conditioning unit, Bennett gave The Rail time to resolve the issue. What infuriated Bliss residents was that Bennett set no deadline for The Rail to fix the problem.
The city's attitude pleased them even less. Salt Lake City's community liaison Michael Stott argued in an e-mail to Bennett that what the city had to decide was whether to "stick to the letter of the law" and issue citations following complaints or "take into account the significant efforts of [Rail] management to mitigate this, and hold off on citations."
Frustrated, McCracken wrote to the DABC on Dec. 23, 2009, detailing from documents she obtained from records requests to the city and county how Gollaher was acting as The Rail's owner. Numerous e-mails from city and county officials identified Gollaher as the owner of The Rail Event Center. A Salt Lake Valley Health Department's warning letter dated Oct. 7, 2009, over noise ordinance violations was also addressed to Gollaher. Given that felon Gollaher was, she alleged, acting in an ownership and management capacity, McCracken requested the DABC revoke The Rail's alcohol permit. The DABC's Earl Dorius said several undercover investigations of The Rail revealed no violations and that the city and the county were unclear whether Gollaher was the owner or not.
While Gollaher laughingly acknowledges he has a reputation as a small-time Al Capone, who, he says, "owns nothing but controls everything," he insists it's not true. "I can tell you with absolute certainty," Nakamura says, "Scott Gollaher does not insert himself within the operations of the Rail Event Center. He acts on behalf of his wife managing that property."
The Price of Friendship
For all the people out to get him, Gollaher, it seems, is his own worst enemy.
On Jan. 19, Gollaher played what he calls the "20-questions game" with his parole officer about an anonymous allegation that Gollaher was with a Hispanic woman and her two children in a Walmart on Christmas Eve, buying one of the children a present. Because he was not authorized to be around the children, Gollaher was returned in handcuffs to the Utah State Prison.
"I believe these allegations have no merit," Nakamura says, acting as Gollaher's counsel. At a Feb. 17 parole hearing, the board took Gollaher's case under advisement.
"Every time I think about it, I shake my head," Cook says, way past feeling betrayed. Gollaher's actions, he says, "are flat-out stupid." He recalls Gollaher's fondness for saying his friendship comes with a price. "It's never been this large," Cook says.
Gollaher's imprisonment, The Rail management say, will not impact its operation, but Gollaher is less optimistic. He and his wife are $200,000 short of certain financial obligations. "This is the most serious cash-flow crisis of my life," he says in a small, cramped room in the state prison. "It's questionable whether we will [succeed]."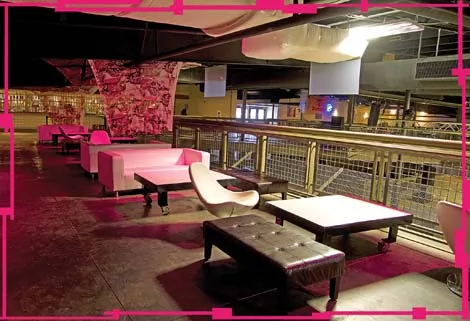 With 23 hours under lockdown to fill, Gollaher, in his prison whites and sporting a trimmed gray beard, found a copy of Nathaniel Hawthorne's The Scarlet Letter in the unit. It was like finding an old friend. He first read it in 1997 in state prison and, he wrote in a letter to City Weekly, "felt it was one of the top 5 books of the 500 or so I read while in prison." Re-reading it, he was deeply moved by the last chapters. The scarlet letter, he wrote, was "society's public branding for cause." The lead character, adulterer Hester Prynne, chose, he wrote, "to rise above its label until the branding ceased to be the stigma; in the end alone, yet no doubt in peace."
The Whore Next Door
If things could not have gotten worse for Gollaher, several days after his arrest, McCracken and the residents' already strained relationship with law enforcement hit a new low. On Jan. 24 at 8:45 p.m., Salt Lake City Police Department Lt. Mark Scharman knocked on the door of McCracken's townhouse. Scharman had had enough of Bliss Court residents pestering his officers with their complaints.
"If a sex offender doesn't hang his head low and walk around unseen, that is very irritating to some people."
Officers were not going to respond to the calls they were making "every 10 minutes," Scharman told her. "It's not healthy for [The Rail], it's not healthy for you or my patrolmen."
McCracken lost her temper. Because of the bass vibration coming from The Rail over numerous weekends, "I have not been allowed to sleep in my own bed for four fucking months. Have you got that?" Scharman urged her to sue The Rail civilly. "I have to file a lawsuit to fix something that isn't my fault?" McCracken said, incredulously. "What have we done wrong? Why is it every weekend we get lectured on [The Rail]'s rights, their [business] permit, their noise abilities, and how it's our problem to fix?" Bliss Court phone calls to the police did prompt some city action, though. On Feb. 2, 2010, The Rail Event Center, represented by Nakamura, faced two counts of noise-ordinance violations, with an additional nine counts pending.
McCracken and six other Bliss Court tenants and property owners sat in Judge Jeanne Robison's court for two hours that afternoon while Salt Lake City prosecutor Scott Fisher and Nakamura negotiated in a nearby room.
Fisher asked Robison for a trial date, but Robison was initially unwilling to put aside two days. However, Fisher said that the case "merits departure from the norm," so Robison agreed to set a date for mid-April.
"We finally have an avenue," McCracken said afterward. Nakamura says The Rail wants to be a good neighbor. "And we want [Bliss Court] to be good neighbors in return."
The Rail controversy has also prompted change at the city level. Salt Lake County's environmental health director, Dr. Royal Delegge, says that the health department will now "be involved in reviewing applications the city thinks would generate noise." Becker notes The Rail's problems helped inform decisions about their proposed neighborhood bar ordinance, which is being considered by the City Council.
That's cold comfort for McCracken. Since the court hearing, she says, things have only gotten worse. The Friday-night Pure is louder than ever and feels like, she says, "a 'fuck you' from The Rail."
While she doubts that "ordinary people can make a difference," she also says that "unless we agree to shut up, they can't shut us up." She honestly doesn't care, she continues, if the warehouse overlooking her back patio wall is home to "a whorehouse.
As long as it's quiet."