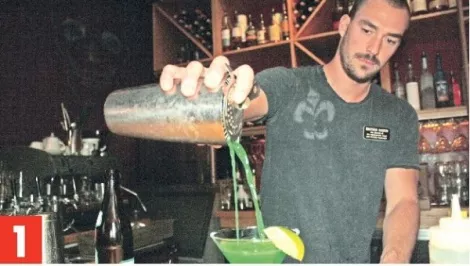 Lucky Number 7
The Red Door
shocked people when it first opened as a non-smoking venue, and it continues to strike an innovative chord with the Seven Deadly Cocktails, new menu items the downtown spot debuted at its 7th anniversary party Sept. 25-27. Devilish concoctions include "Greed"—a Hennessey and Goldschlager combo—"Lust" and an appropriately titled cream confection, "Gluttony," featuring caramel syrup and indulgent liquors. Try the standout "Wrath" with jalapeno-infused tequila and cilantro. All cocktails, available weekends only, are served by bartenders wearing nametags denoting them as Sisters or Brothers in the "Church of The Morally Tired and Spiritually Bankrupt."
Bar Deluxe: Halloween Extravaganza
After a brief absence, Bar Deluxe is back and preparing for its "Halloween Extravaganza." Check out the new lineup featuring DJ Street Jesus spinning hip hop on Tuesdays, and DJ Ewok with Temporal Phonic on Fridays playing "crazy party music," according to manager Kaci Tokumoto. The bar is still booking national bands on Saturdays and Fridays, as well.
College kids get frisky: Club Sound
Thursday nights are the de facto college night for partying because the concept of Fridays has not yet hit the college set. Club Sound (579 W. 200 South) is taking advantage of that with a new night for kids ready to raise hell without mom and dad shadowing them. The cover is cheap, $3, and plenty of cheap drinks are to be had for a song.
1. Dustin Smith at Red Door
2. Ryan Tomita at Red Door
3. Red Door employee nametag
We want to keep Utah up to speed on local nightlife. Submit tips about club openings, closures, remodels, special events, drink recipes and noteworthy changes to comments@cityweekly.net