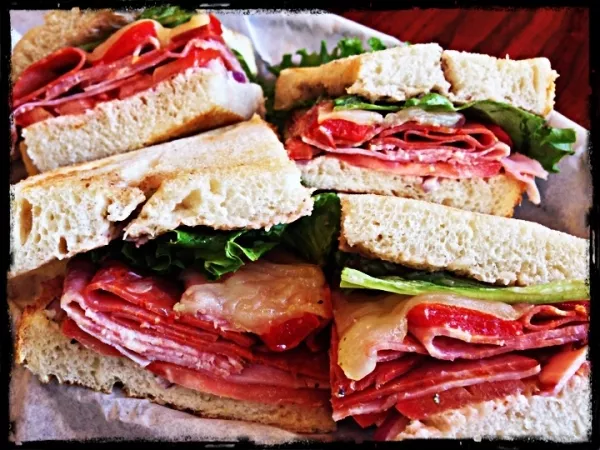 Jeffrey David
The Heritage sandwich.
While visiting Cape Ann, Mass., I walked into a quintessential sandwich shop in Gloucester and ordered an Italian sandwich. They asked if I wanted "the works." Not really understanding, I said, "Sure," so as to not seem ignorant. We boarded a whale-watching cruise and I took my first bite. I ignored the scenery and gorged on the amazing sandwich.

Seven years have come and gone since that vacation, and during that time, The Robin's Nest moved from 3300 South to its current location on Main Street in downtown Salt Lake City. I met the owner's son while eating at another restaurant, and he invited me to try their gourmet artisan sandwiches.

The Heritage is a tribute to owner Robin Paluso's Italian heritage, with Genoa salami, mortadella, capicola, ham, melted provolone, red onions, sweet roasted red peppers, tomato, lettuce and a house-made olive tapenade on sourdough. One bite and it was nostalgia: I was instantly somewhere off the coast of Massachusetts enjoying "the works."

Paluso says that "it's always fresh, all the time." She couldn't have been more correct about the Heritage. The freshness of those Italian meats, paired with the tangy roasted red pepper, is a delicious marriage.

Each sandwich comes with orzo pasta or house chips. I went with the orzo, which has olive oil, pine nuts and basil. The day I was there, the daily special was the H&H: ham, havarti, tomato, lettuce, mayo and bread & butter pickles on a soft, flaky croissant. This had a calmer, sweeter flavor profile than the Heritage. One has you conquering the world; the other has you relaxing. The good news is that we have different needs on different days.

Paluso says that the thing to know about The Robin's Nest is that "it's a true, local business with a community feel, from a native of Salt Lake." And a tasty one, too.

THE ROBIN'S NEST
311 S. Main, Salt Lake City
801-466-6378
RobinsNestSLC.com