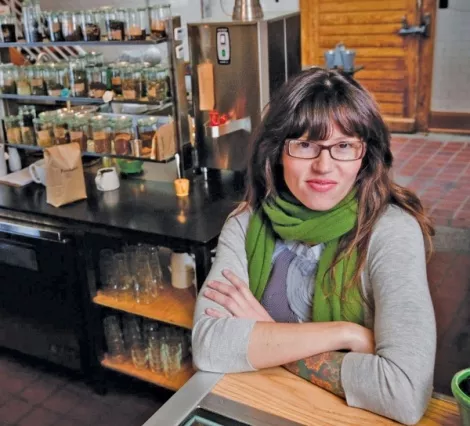 William Shakespeare wrote, "A rose by any other name would smell as sweet." But when speaking of coffee shops, few smell as sweet as The Rose Establishment.
Located by The Gateway, it's an unplugged cafe that doesn't offer Wi-Fi, in order to encourage face-to-face conversations. "It's an inspired community atmosphere where people get to know each other," owner Erica O'Brien says. Rose also distinguishes itself through service, simplicity and an excellent brew.
That vision came about slowly, though. In the winter of 2009, O'Brien and her father began remodeling the old building's interior into its current charming, minimalist form. "My whole life has been about restoration," O'Brien says. "Dad and I have always done cars or old stoves. This was Dad's last big project before retirement. It was incredibly sweet." The two made the tables and bar from trusses and beams salvaged from the Rio Grande railroad in Central Utah. While sanding an old door, she uncovered a carved rose and knew the business's predetermined name was spot-on.
"For us, opening, there was never a good time. We thought we'd just evolve as we'd go," O'Brien says. "We stand for what we believe in: simplicity and select, quality choices." Two of the soups du jour—French lentil and cauliflower kale—are made in-house; others are made by Cali's Natural Foods. The Rose also offers three house-made salads, including the impressive tahini beet salad.
For drinks, there is a wide selection of tea, but the main attraction is the coffee, and each cup made is individually—French press or pour-over. They offer micro-roaster Four Barrel beans for one of the best cups in town, which enhances the stay-for-a-while vibe.
THE ROSE ESTABLISHMENT
235 S. 400 West
801-990-6270