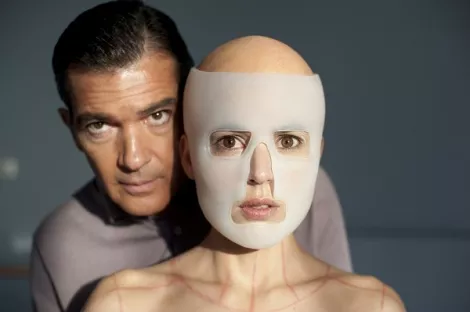 For more than 25 years, Pedro Almodóvar's penchant for lurid melodramatic plot twists and kinky sexuality has generally been softened by a frisky sense of humor and a fundamental affection for his characters. The Skin I Live In marks the first time that the director has lost sight of nearly everything that's been effective about his work, leaving something that's just fundamentally unpleasant.

Adapting a novel by Theirry Jonquet, Almodóvar tells the story of brilliant Spanish cosmetic surgeon Dr. Robert Ledgard (Antonio Banderas), who's carrying out possibly unethical experiments in his home clinic on a patient named Vera (Elena Anaya), who appears to be a prisoner. In flashback, we learn about the tragedies that have driven Ledgard to extremes, including the death of his wife and an assault on his daughter (Blanca Suárez) by a young man named Vicente (Jan Cornet).

For a while, the simple mysteries behind Vera's identity and Ledgard's past drive interest in where the story is going. Almodóvar trots out his familiar bold, bright visual style, undercutting what could feel like grotesque exploitation in a way that highlights what he does best: sweeten content that would taste sour in other hands.

But that sweetness all but vanishes in the film's second half, when Almodóvar focuses on the narrative's freaky twist. He seems not the least bit concerned about understanding the characters involved in all this creepiness, their actions ranging from incoherent to inexcusable. And suspension of disbelief that might have been possible in literary form becomes absurdly implausible when it's staring you in the face.

Perhaps most baffling is that Almodóvar's trademark emphasis on fabulous, resilient female characters is replaced by a parade of sexual violence that never pays off with insight or satisfying dramatic resolution. After nearly two hours, the skin I live in was crawling, and itching for it all to be over.

THE SKIN I LIVE IN


Antonio Banderas, Elena Anaya, Jan Cornet
Rated R