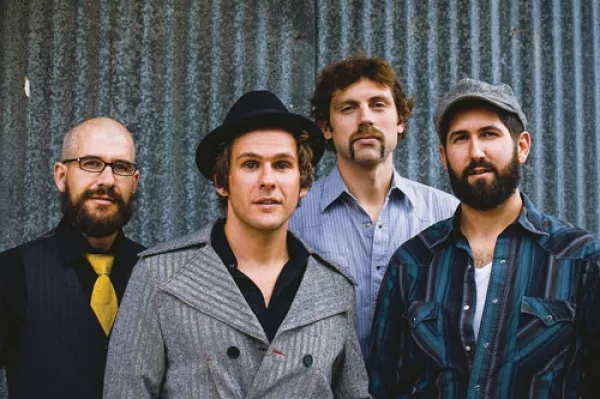 The Steel Wheels are more than a string band; they're a revival. The Americana quartet—from the Shenandoah Valley in Virginia—draw upon their shared Mennonite heritage to share old-time music sounds and a strong collective spirit.
"It's hard to divorce who you are and some of your background and know where that comes together and separates, but all four of us in the band do come from a Mennonite background, and one of the things they do very well is community," says band frontman Trent Wagler.
This sense of camaraderie has earned The Steel Wheels more than a strong following of their captivating mountain music. In 2013, they successfully launched the annual Red Wing Roots Music Festival, an idea that Wagler says stemmed from seeing so many great bands out on the road and at other festivals like the Ogden Music Festival, which The Steel Wheels are headlining this year.
The Steel Wheels bring their own unique style of Americana to music festivals around the country. Growing up in the Mennonite tradition, the four band members learned to sing different parts, so their acoustic music is rich with three- and four-part harmonies and frequent a cappella segments. "Historically, in the Mennonite tradition, there weren't a lot of musical instruments," Wagler says. "They were slow to bring in the piano and the organ to ... churches, so most of the time the singing had to hold down the music."
These harmonies and the a cappella moments of their live shows are accessible no matter who you are, even to those who may not consider themselves fans of bluegrass or old-time music, according to Wagler. "Maybe it's something about the human voice or voices singing in harmony," he says. "You don't have to be a fan of a certain style for that to really speak to you."
The Steel Wheels are often seen crowded around a single microphone during shows. Their strong sense of community also shows in their music, which focuses on the whole rather the individual. "We don't spend a lot of time focusing on who is going to solo next or get a big moment," Wagler says. "We approach it more about songs and arrangements that really communicate something.
"This method is slightly unique if you look at bluegrass," he continues. "But it's not as unique if you look at Irish or old-time music where oftentimes it is about the collective."
Despite these influences, Wagler says, his songwriting isn't necessarily religiously rooted. "Some of the metaphors used lyrically may come out of a biblical context," he says, "but if you look closely, it's not necessarily always pointing you in the direction of a religious community. Sometimes it's actually calling for questioning that."
Everything from "the Mennonite hymnal to Jerry Garcia," Wagler says, are among the band's influences. "Some are the people you've played with," he says. "Sometimes it's the jam session sitting on someone's front porch. ... It's the local and international heroes that keep you going."
Their summer tour is based largely on their new single "We've Got a Fire"—released in April—an original song that was inspired by one of these musical heroes. Canadian songwriter Fred Eaglesmith—whom Wagler calls "a real troubadour"—gave the band "an unsolicited backstage inspirational speech" about the rebellious spirit of the great Johnny Cash, who never let anyone stop him from speaking his mind through his music.
The Steel Wheels give new life to a sound that predates Cash's style of old country and rock & roll; their Americana sound—old-time, Irish and blues—taps the roots of what American music has become. But the spirit of freedom and rebellion expressed in their neo-traditional brand of old-time music is still the same.

THE STEEL WHEELS
Ogden Music Festival
Fort Buenaventura State Park
2450 A Ave., Ogden
Friday, May 30-Sunday, June 1
Three-day pass $55 in advance, $60 day of event; kids 16 and under free
OFOAM.org