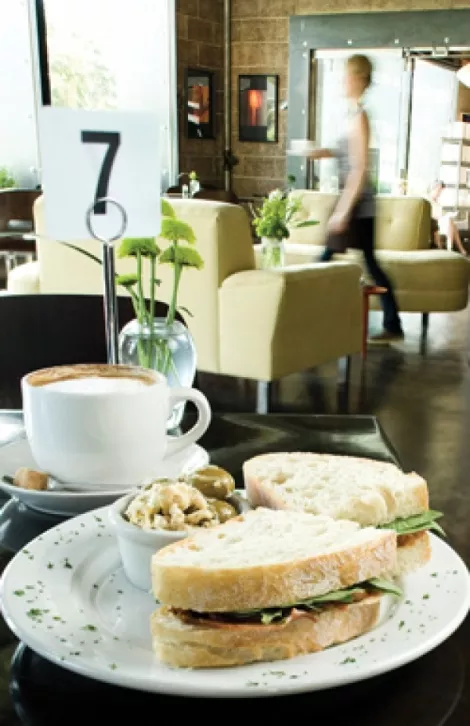 I suppose what surprised me most about my visits to Caffé Niche wasn't what was happening inside the restaurant but what was going on outside: actual foot traffic, which is a rarity at Salt Lake City restaurants besides those with outdoor seating at The Gateway. But on a beautiful Friday evening in late August, you might have thought you were on Madison Avenue or Melrose. As we sat at sidewalk tables sipping glasses of wine from Caffé Niche's limited but well-constructed wine list ($5 per glass/$25 per bottle), an interesting cross section of Salt Lake City strolled by. There was a black woman with three daughters, all wearing cute sunglasses with canary yellow frames. There was the tat-covered guy in coveralls walking a pit bull. A fellow with dreads fiddled with his iPod as he passed. A Latina woman pushed a perambulator past us as two girlfriends parked their hybrid on the street and entered the restaurant. Many more folks wandered by walking dogs, kids and one another. The corner of 800 East and 300 South was alive.

Inside, the mix is much the same. Caffé Niche draws an eclectic collection of customers from the neighborhood and beyond. As word gets out about this groovy little spot, people are coming from farther and farther away to check it out. It's worth the trip.

Customers and local pedestrians aside, what I love about Caffé Niche is the scale of the place. This is a restaurant that seems to hit the sweet spot in just about every area. First, there's the attractive, modern design—engaging and contemporary without seeming trendy or, as my son would put it, "too cool for school." There's a lack of pretention at Caffé Niche that many restaurateurs could learn from. The best example is probably the restaurant staff itself. It's a small group of seasoned pros who—get this—actually seem to like customers and enjoy their jobs. Smiles are in abundance at Caffé Niche from great servers like Sam and co-owner/general manager Tara Southard, smiles that appear genuine, not canned and rehearsed like you might find at your local TGI Chile Garden.

But where Caffé Niche really smacks the sweet spot—and where so many other restaurants often strike out—is by not swinging for the fence. The well-conceived menu is on the smallish side, with little "wow" appeal; it's Ichiro rather than Barry Bonds. But it's perfect for the scale of the restaurant and its staff. That doesn't mean that the food at Caffé Niche can't be great, just that it's not likely to bowl you over—unless you're bowled over by bright, fresh flavors, artfully presented and served.

For weekday breakfasts at Caffé Niche, there are a couple of mainstays: a quiche of the day ($5.50) and fresh granola with yogurt and fruit ($6). The weekend-brunch menu expands to include Italian scrambled eggs with pine-nut pesto and fresh goat cheese ($6.50), a huevos rancheros burrito ($7), and open-face breakfast sandwiches ($6).

But although Caffé Niche also is open on Friday and Saturday evenings with a limited dinner menu, the restaurant is primarily about lunch. Lunchtime features a daily fresh-soup special ($3 cup/$5 bowl/$10 quart); favorites include Tuesday's gazpacho and Friday's roasted carrot soup. Salads are available in small and large servings priced at $4.50 and $6.50 respectively. A "small" salad of baby arugula and watercress with toasted walnuts and a deliciously sweet pomegranate vinaigrette was plenty for me and a lunch partner to share.

Sandwiches and paninis are the centerpiece of lunches at Caffé Niche, all made with otherworldly Crumb Brothers bread. Don't go looking for corned beef and Swiss on rye or roast beef and cheddar; most of the sandwiches and paninis have a rustic Italian hue. The best, hands down, a scrumptious reworking of the classic BLT. Here, it's a "PLT" ($7) made with crisp pancetta bacon, arugula and balsamic roasted tomatoes on grilled ciabatta bread with a light, lemony mayonnaise and a small side salad. There's also a good mortadella panini with goat cheese and a trickle of Aceto Balsamico. But the Italian theme runs out of steam with the prosciutto panini ($7). In this case, the delicate prosciutto and Bel Paese cheese are overpowered by a tart, bitter layer of roasted onions. It's too bad, because with a smart choice of micro greens in place of those onions, this, too, would be a killer sandwich.

Caffé Niche has begun doing dinners on Friday and Saturday evenings, albeit with a limited menu. That's probably not a bad idea. Again, they seem to know better than to try to be all things to all comers. On the other hand, the dinner entreès consisted only of three pasta dishes, so if you're not in the mood for pasta for dinner, you're out of luck. Until a few more entrée items make their way onto the dinner menu, I'd recommend that Caffé Niche offer its robust sandwiches at night, too.

Still, the pasta dishes ($8) I tried were really good: farfalle with peas bathed in a luscious Gorgonzola sauce and penne pasta with a zippy amatriciana sauce featuring excellent Italian sausage. I'm looking forward to chef and co-owner Amanda Lundahl adding perhaps chicken piccata or maybe a Provençal-style fish dish to the menu for a bit more variety. With a few more menu choices, Caffé Niche will hit it out of the park.

CAFFÉ NICHE 779 E. 300 South, 433-3380, CaffeNiche.com. Breakfast & Lunch Tuesday-Sunday. Dinner Friday & Saturday.
 
---
FoodMatters
S.O.S.! I recently received a couple of e-mails from desperate foodies looking for their favorite hard-to-find items. Not surprisingly, I was of no help. But maybe you can help. One person was looking for a good Cuban sandwich in Salt Lake City. Unfortunately, the only
Cuban sandwich
in Utah I've had worthy of the name is the one I make at my house. The other was a request for a place that serves
real pineapple shakes
, like the
Foster's Freeze
burger joints in California "that would make shakes with actual pieces of pineapple which would stop up your straw," as my correspondent John wrote. I know of some places with great fresh fruit shakes, but I'm not hip to any dealing in fresh pineapple. Please e-mail me if you have answers for these folks!
• It's almost that time again: Time for Salt Lake City's annual
fall Downtown Dine O' Round
. This marks the fifth year that many of Salt Lake City's finest downtown eateries will come together to offer patrons value-priced dinners and lunches at their restaurants. At participating restaurants Sept. 14-30 diners can choose from specially priced lunches and three-course dinners. Some new restaurants like
Acme Burger Company, Settebello and the Tin Angel Café
are in the mix this year. In all, 34 downtown restaurants will offer three-course dinners for $15 or $30 per person, or $10 for a two-course lunch, depending on the restaurant.
• At the conclusion of the Dine O' Round, one lucky person will win
The American Express Dinner for a Year Giveaway:
dinner for two at each of the participating Dine O' Round restaurants. And, as if that weren't enough, new for this year are discounted tickets to
Ririe-Woodbury Dance Company
and
Utah Symphony
performances during the Downtown Dine O' Round. For more information and a complete listing of restaurants and reservation information, click on
DineORound.com
.
•
Quote of the week:
Eat little, sleep sound.  —Iranian Proverb
Send Food Matters information to teds@xmission.com. Hear Ted over the airwaves on Sound Bites, Thursdays on KSL NewsRadio 1160 AM and 102.7 FM.
cw