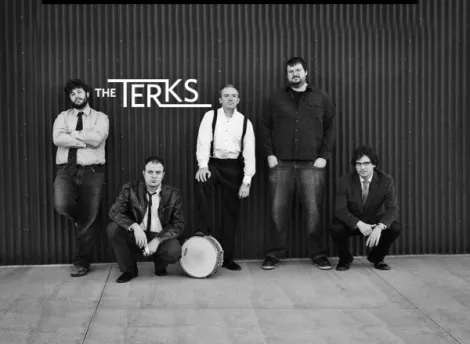 Utah may have a reputation among some for being a musical backwater, but our small fish have been making big splashes nationally of late. The Neon Trees got
Glee
-d, and Fictionist is competing for the chance to be the first unsigned band to grace a
Rolling Stone
cover. And there's one fish that had to swim far beyond Utah's borders to find the nourishing attention that keeps bands afloat: Provo's
The Terks
, led by native Idahoan Adam Reader.
"Utah's a tough market," Reader admits. "Nationally, we're getting a lot of attention." And so they are: The Terks garnered critical praise for their debut EP from Jim DeRogatis, a former editor of Rolling Stone. But the real coup came at February's eWorld Music Awards in California, where fans and judges crowned The Terks "Best Band."
Since then, things have been looking up. They've booked gigs at Los Angeles hotspots like the Viper Room and House of Blues, Reader said. A national radio campaign is in the works. Recently, the Doobie Brothers contacted Reader through Twitter to give him and his four bandmates kudos.

Reader was thrilled these titans of the 1970s reached out to him. The encouragement speaks to The Terks' musical mission, which Reader describes as "the revival of rock & roll." Accordingly, he counts among his influences Bruce Springsteen, Billy Joel and The Smiths. The first time Reader heard Springsteen's Born to Run, he says, "was like breaking out of jail."

Reader wants to share that jailbreak feeling, as well as a message that is "uplifting and inspiring." While all the members of the band are LDS, they stress that their music is meant for everyone. "Music's a universal language," says drummer Josh "Stu" Eastman. The Terks, sitting in semi-circle after a recent practice, nod their heads in agreement.

The Terks—comprised of guitarists Patrick Coffin and Eric "Yeti" Hughes and bassist Christian Williams in addition to Reader and Eastman—are unanimous in another thing: Utah could be the next big scene.

Jason Perkins, owner of Bay 4 Studios, the Terks' preferred recording spot, agrees: "There are very, very talented people right here in this town, in this region." He says he helps local bands because he's "trying to build something" for Utah.

Perkins and The Terks are trying to set the standard for Utah bands being able to break out in the music business without leaving home. The Terks were offered a contract with a major label and turned it down. Reader says the label came back twice, but he and his band stayed firm. He says he prefers to "stay indie"—and retain control of his music.

"The dinosaurs are about to be extinct," he says of the record industry.
Meanwhile, The Terks are alive and dreaming. In addition to the L.A. gigs, there are plans to play local shows over the summer, including the Utah Arts Festival. Looking forward, Reader is confident his little band will make it big and, even better, help turn the Utah backwater into the mainstream.