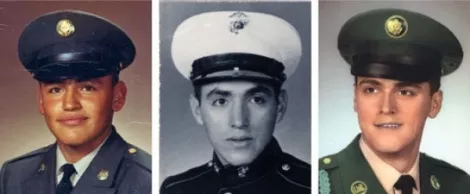 Eloy Romero sits in a booth in the Midvale Mining Café, blinking back tears of bitter 40-year-old memories. "The No. 1 motivation was to survive," the Vietnam War Marine veteran says. "I'd do anything, anything to survive."
His thoughts drift to his cousin, Jimmy Martinez, and another tear wells. Jimmy did not survive Vietnam. In a span of 16 dark days in late 1967, Martinez and two of his boyhood friends, LeRoy Tafoya and Tom Gonzales, died in the steamy jungles and paddy fields of Southeast Asia. The three friends had family roots in the mining camps of Bingham Canyon. Their strong Hispanic heritage celebrated patriotism. As teenagers they lived in Midvale. Two enlisted, one was drafted. Each, age 20 or younger, died in ground combat in Vietnam.
"The Hispanic people I knew all wanted to serve," Romero says. "It was something you did."
LeRoy Tafoya was killed on Wednesday, Nov. 22, the fourth anniversary of John F. Kennedy's assassination. Jimmy Martinez died less than 24 hours later on Thanksgiving Day. Tom Gonzales was shot dead assaulting the enemy on Dec. 7, Pearl Harbor Remembrance Day. Three hallmark all-American days. Three more names to be placed on the The Wall—the Vietnam Veterans Memorial in Washington, D.C.
They lived on three consecutive streets in Midvale's Avenues district, on Fifth, Sixth and Seventh avenues. They lived only a few yards apart. They wandered and shopped along Midvale's Main Street. They played ball at the adjacent sandlot ball field. Downtown Midvale was a lively community before the freeway bisected it, before the Vietnam War. Then, it all changed. That winter of 1967, Midvale lived through black weeks of mourning and crowded funerals.
Romero attended all three funerals and followed his cousin's footsteps into the Marines. Before he left for Vietnam, he went to see his aunt, Maria Martinez, Jimmy Martinez's mother. He sought her blessing. "She said, 'Don't go,'" Romero sadly recalls. "It was tough."
It remains tough. Forty years on, the grief wrought upon the three families is as raw as ever. "He was such a good son, and I can't forget him," Donna Cintron says of her son LeRoy Tafoya, her voice trailing into silence. Some members of the Gonzales family won't even talk about it, their pain is so lasting.
That doesn't surprise Richland College (Dallas) instructor Al Schroeder, who served in Vietnam as a medic. In 2001, battling his own war demons, he traveled 15,000 miles traversing the country, visiting the graves of the first five men from his platoon who died under his care. One of those was Sgt. Tom Gonzales.
Schroeder was caught off-guard by "the depth of emotion I would encounter on the other side of the table from these families," he says. "Somehow, I believed they had gone on and left it way behind them. But, in virtually every situation, the families had closed it off and hadn't moved forward." Instead of encountering memories laid to rest, he found himself "reopening a sore by bulldozing through a Band-Aid."
With the current Iraq and Afganistan wars, these families and others continually relive their loss with each American death they hear or read about. Jimmy Martinez's oldest brother, Norbert, says, "Every time I hear a boy is killed over there, my stomach hurts. I hate Bush for that." Another brother, George Martinez, named his own son John James after his fallen uncle. Young John James enlisted and returned safely from Iraq. Another cousin is soon off to that war.
Such news of war vividly brings back decades-old memories. As surviving family members recount the details of how the Vietnam War robbed them of time with their brothers and sons, the sheer depth of their emotional pain eloquently testifies to who these boys were. The very rawness of their despair breathes life into fading 40-year-old photographs. It's as if the boys are always present, minding their families grief.
A half a lifetime later, as Donna Cintron bitterly spits out, each word fired independently, "You … never … got … over … it."